Xgear makes cases for all sorts of Apple products. They sent us over a few to review. You've already seen Kevin's take on one of their iPhone 3G/iPhone 3GS cases, and now I'm here to tell you about their stealthy Shadow case for the iPhone 4.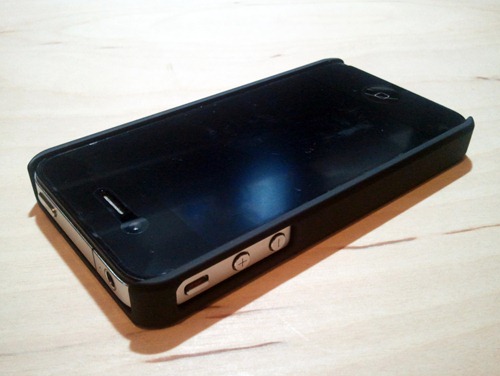 I must say, the case is well named, the dark grey/black color definitely tones down the iPhone by covering the steel band that raps around it. Save for openings on the top, bottom, and left side (for volume button/mute switch access), the case makes the phone almost completely black. However, it doesn't make the phone bland.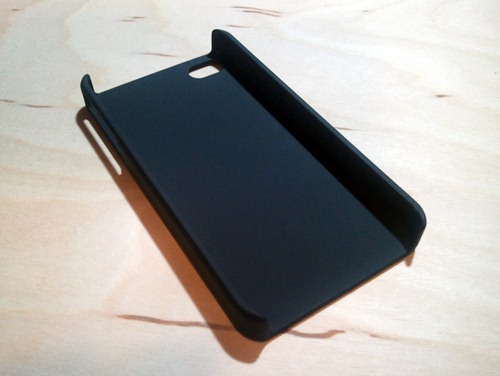 The back of the case adds some flourish with a carbon-fiber look, though it's not actually carbon fiber as that would make the case quite expensive! The material is a rubberized plastic which has an almost suede feel to it when compared to regular plastic. I got a hard plastic case, with the same basic design as the Shadow, through Apple's free case program and it's already cracked at the corners. The Shadow has held up much better thus far and hasn't cracked anywhere and doesn't seem like it will any time soon.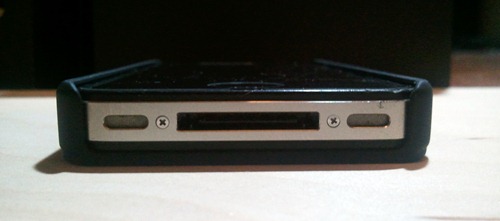 The case clips on by wrapping around the sides and front of the phone. It clips on easily and stays very firm. It feels like it becomes part of the phone itself as there is no wiggle room what-so-ever. I couldn't even detect any flexing on the back of the case where it is most prone to such a thing this means it fits really well. It doesn't use the lip of the steel band like some cases, and instead ops to hang on by grabbing on slightly around onto the front of the phone. I absolutely hate cases that have large bezels (a large area on the front of the device used to secure the case) because the iPhone is specifically designed to have a completely flat front, but luckily the Shadow's bezel is within my tolerance. It only clips over just a few millimeters onto the front, and doesn't actually cover any of the iPhone's screen itself. The only issue I've had with the slight bezel that it creates is when dragging icons from one home screen to the next (you have to drag them to the very edge of the screen to get them to go to the next), but it's really doesn't present too much of a hassle. You'll notice it if you play any games that require precise control at the very edges of the screen, but otherwise it won't be a problem for most.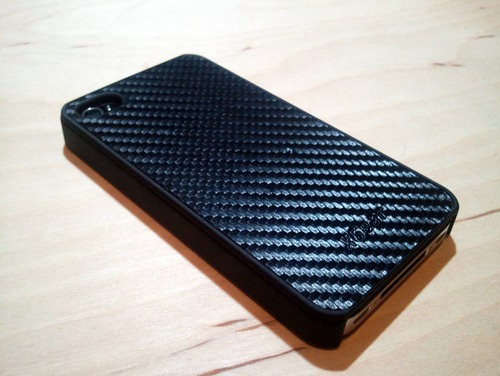 I'm generally quite weary when it comes to carbon fiber or other fake accents because when they're done wrong, they look like crap. Fortunately, the Shadow does things right. The back has a convincing look to it because it has a proper texture; it isn't just a flat printed graphic. Carbon fiber is woven carbon bands that are made of smaller carbon strands (sort of like cable, only flat) the back of the case has a well laid plastic insert that is molded to look like carbon fiber with great precision. You can see, and even feel, the texture that gives carbon fiber its unique look (the strands) and they even look like they weave in and out like the real thing. Each under and over of the fake carbon bands reflects light in a distinct way which really completes the look.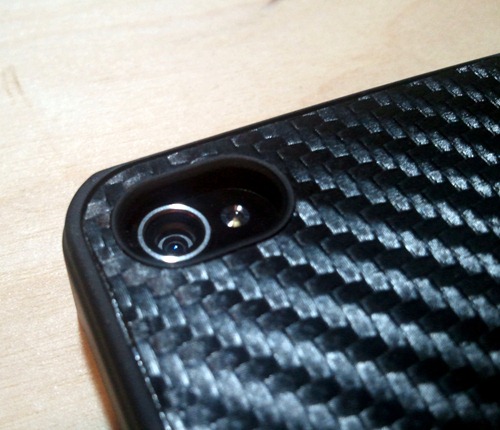 As I mentioned, the back carbon fiber look-alike piece is an insert and it's cut with a good deal of precision. If you weren't looking for it, you'd probably wouldn't even notice that it's actually a separate piece. It appears to be glued in place, and I was worried at first that the adhesive might eventually lose it's strength. Thankfully I've seen no evidence of this so far and have no reason to believe that it would give out after any extended period of time (at least not before you'd replace your phone). The back of the phone also naturally has an opening for the iPhone 4's camera and flash. Instead of a hole straight through the fake carbon fiber insert, there is a bezel that has the same plastic as the non-carbon fiber parts of the case. The radius of the circle opening matches that of the camera's lens perfectly which makes everything look nice and uniform.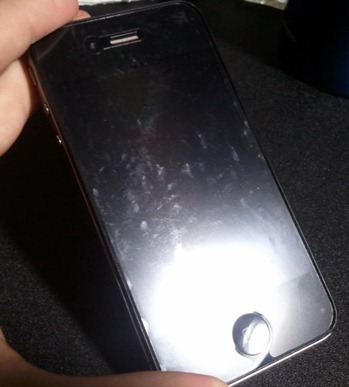 As a bonus, the case comes with a plastic screen protector, but I wouldn't recommend using it. Unless you have access to a completely dust-free NASA cleantent, you'll probably end up with some bits of dust under the screen protector which, for someone like me, is incredibly annoying. Aside from inevitable dust, the screen protector is relatively easy to apply, but it's tough to line up so that the opening for the speaker/front facing camera and home button feel properly aligned. There's definitely a different feel to the iPhone's screen when there's plastic over top of it. It isn't necessarily any worse, just… different.
The biggest issue with the screen protector is one that is inherent to all screen protectors and not just this one. All plastic screen protectors will scratch more easily than glass. This means you'll end up with a screen cover on your phone will become completely scratched and look awful. People presume that they have saved" their precious" glass screen from all of those scratches when in reality probably 99% of the scratches would have never happened to a glass screen because glass is much harder than plastic. After less than a month on my phone, the screen protector looked horrendous. I was so happy to finally take it off and have my nice glass screen back!
You can snag the Xgear Shadow iPhone 4 case for somewhere around $20 depending on where you buy, (most cases seem to be in the $20 range). If you like the styling, I can't see any reason to not recommend this case. In my usage, it's been durable, fits perfectly, and has a well done carbon accent, and let's you set you iPhone down on any old surface without worrying about the glass back.
Advertisement