The saying goes that you can have something, Good Fast and Cheap — so long as you are OK settling for two out of the three choices. Well, the Samsung RF510 15.6″ notebook goes against popular logic and delivers on all three of these criteria. It is rare to find a notebook that meets or exceeds our expectations in so many areas — and is available under $1,000 which is why we have awarded it a Notebooks.com Editor's Choice award.
The Samsung RF510 comes in two models, RF510-S01 and RF510-S02. In this review we will be checking out the higher end Samsung RF510-S02 model.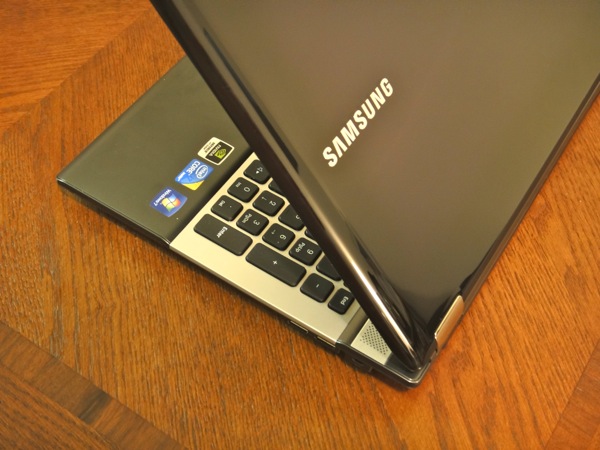 Samsung RF510-S02 Quick Specs: The Samsung RF510 S02 notebook is powered by an Intel Core i7-720QM processor and a NVIDA GeForce GT330M GPU with 1GB RAM and CUDA technology. These powerhouses are buffeted by 4GB DDR3 RAM, a 640 GB hard drive, premium sound, a dual layer DVD drive and USB 3.0 support as well as Bluetooth 3.0.
Who is this Notebook For?
The Samsung RF510 notebooks is well equipped to handle the needs of almost any users, but is really designed for individuals who want to game, edit HD video, do intensive photo editing or other intensive computer tasks. It will handle all your normal home use items like web surfing, chatting and editing documents — but if that's all you need it for you may be buying too much computer for your needs and may be able to save yourself some cash by going with the RF510-S01 model that is powered by an Intel Core i5 processor instead.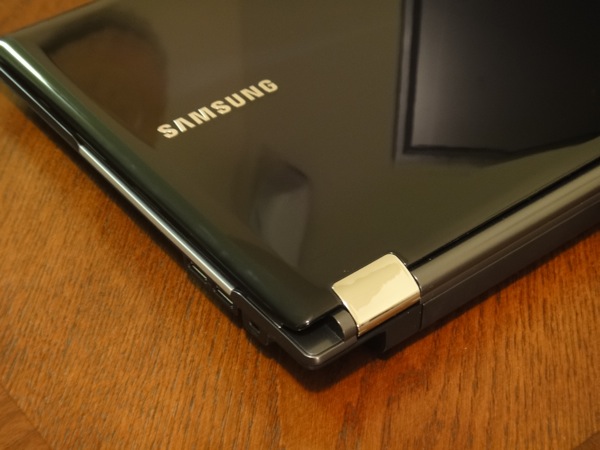 Build and Design:
The Samsung RF510 is one of the best built Windows notebooks we have had in for review lately. Everything about it feel sturdy — especially the hinges which are often a weak point in many laptops. There is some flex int eh display or in the base when you try to bend either, but you can safely pick up the notebook by a front corner and not be worried about carrying it to the table. While it does feel very well made and should stand up the the environments of most home or small business users, this isn't a business rugged notebook.
Design is another reason why we like the RF510 so much. It has a subtle design that combines textures and colors to create an overall package that looks really nice, combining black and solver without feeling gaudy. It's obvious that thought went into where the buttons went and into the curved front edge that slopes off so as not to provide a sharp edge for users who rest their wrists on it.
Unfortunately the stylish lid does attract fingerprints, but thankfully the inner area has a different finish that does not keep your prints on file.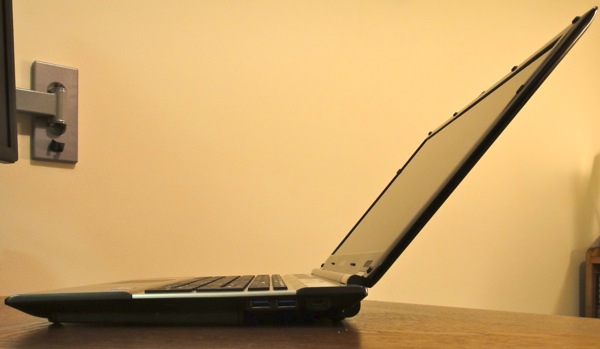 Screen:
The display on the RF510 is another shining point. In addition to offering up a wide viewing angle from side to side and an OK one up and down the screen tilts far enough that we are able to comfortably use the notebook in numerous settings. The screen offers a 1366 x 768 resolution which will be enough for most users, but it would be nice to see Samsung offer a higher resolution display in a future model given the emphasis on power and multimedia.
The brightness is just right with a highest setting that is almost too bright and a lowest setting that is still usable. Too often we find the lowest setting to be completely unusable, skewing battery tests, but the RF510 can still be used even at the lowest brightness setting.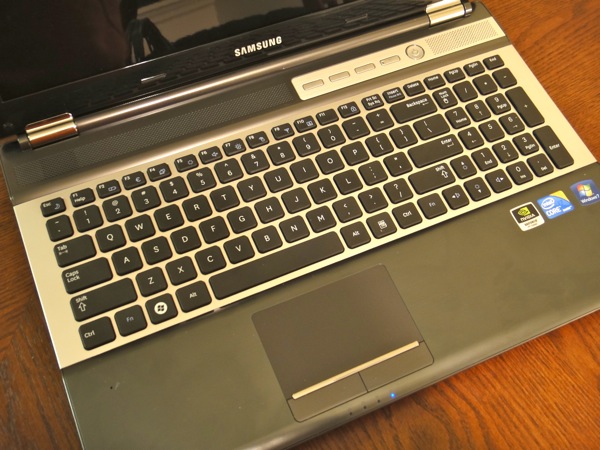 Mouse and Keyboard:
The keyboard on the RF510, like many of the other categories we have reviewed is above the competition. It is an island style keyboard with good spacing between the keys, which have a nice almost light rubbery finish, and offers a standard layout that is easy to adapt to. The only oddity is a smaller shift key on the right hand side in order to accommodate the arrow keys. Even for hard typers this keyboard will work well, with no noticeable flex while pounding out this review.
The keyboard has room for a full size number pad which includes quick access to your commonly used mathematical functions in Excel – "/, *, -, +" and a small enter key.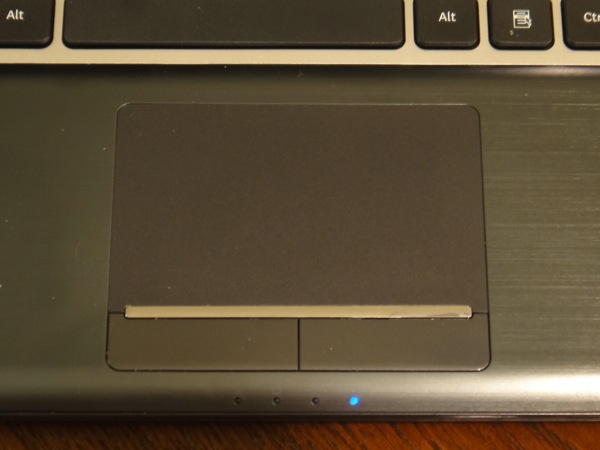 As for the mousepad, it also is a cut above the rest. We're not sure how Samsung did it, but this is one of the most responsive and large trackpads we have seen on a Windows notebook. It is also one of the few that accurately handles two finger scrolling, two finger clicking and other gestures. Easily one of the best mousepads out there on a Windows Machine. The mousepad also features two dedicated mouse buttons that offer the right amount of "click" when pressed.
Processor and Performance:
The RF510-S02 which we tested comes with a very powerful Intel Core i7 processor that is aided by an NIVIDIA GeForce 330M PUP with 1GB of Video RAM and Cuda technology. The package combines to deliver an incredibly capable system that handled anything we threw at it.
When we processed HD video on this system using Sony Vegas editing software we were able to continue as if the computer had nothing else going on while it exported the video, a task that normally slows down other tasks.
The RF510 was able to handle modern gaming including our test game Mafia II without any issues. The graphics were smooth and had no lag, even during busy police chases through town.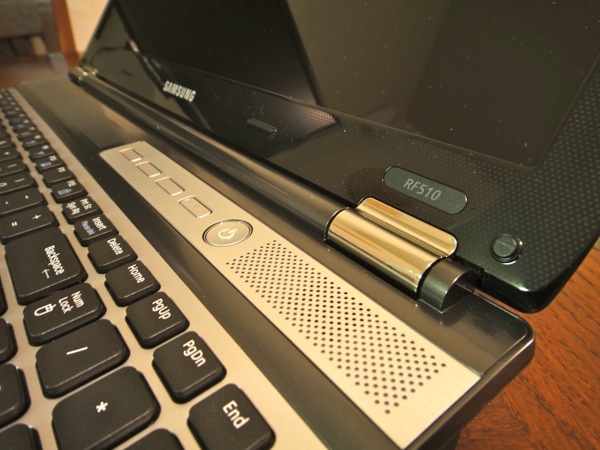 Audio:
The speakers on the RF510 were also impressive blasting out tunes at full blast without distortion and enough volume to fill a room. More than loud enough to support music or movies for the user or for sharing with friends.
Heat and Noise:
We had no issues with heat or noise while using this system. During gaming the left edge of the machine did get warm to the touch, but not to an uncomfortable level during our 20 minute gaming sessions. IF you plan to game long term you may want to look into a laptop chiller.
Battery:
The only low note that stood out was the battery life of the RF510 which came in at just an hour and a half during a browsing session mixed with 15 minutes of gaming. We recognize that the gameplay sucks the battery life down fast so you can expect to last longer when you're just browsing the web, but you'll want to make sure you're near an outlet with this notebook.
Connectivity:
The RF510 has a wide array of ports that make it easy to connect your gadgets and accessories.

Left (left to right): Power, VGA, Ethernet, HDMI, USB 2.0, USB 2.0, Mic, Headphone

Right (left to right): DVD DL, USB 3.0, USB 3.0, Kensington Lock

Front (left to right): SD card reader
Software:
The RF510 comes with Smsung Allshare technology which is designed to make it easy to stream content form your Smasung notebook to a DLNA compliant HDTV or phone. we did not have a device handy to test this out with, but it was worth mentioning. The computer comes with a version of Norton installed that will pester you until you pay up or uninstall. We really wish manufacturers would just install Microsoft Security Essentials instead of these trials that pester and confuse consumers.
The notebooks also comes with Microsoft Office Starter which provides an ad supported, limited version, of Microsoft Word, Excel and PowerPoint. This is a great inclusion since it will meet the needs of many home users, who can choose to upgrade if they need to.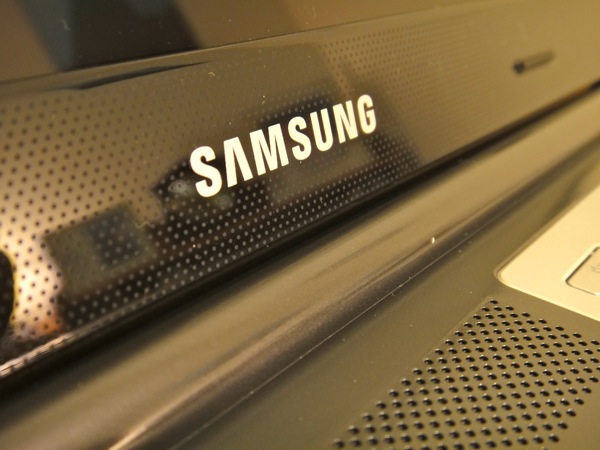 Value:
The Samsung RF510 represents a pretty amazing value. Not only is it loaded with powerful components that perform well together; it also has a quality design and feel to it while staying under $1,000.
For the best price on the Samsung RF510-S02 use the Notebooks.com Laptop Finder. As of this writing the low was $979 from Amazon.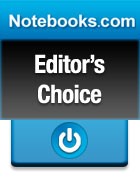 Conclusion:
The Samsung RF510-S02 is one of our favorite notebooks out on the market right now for people who need power in a portable package. The only downside we found was the lackluster battery life, but given the  power in the machine we are able to look past this one shortcoming and award the RF510 our Notebooks.com Editor's Choice Award. The RF510 is simply put, one of the best 15.6″ notebooks out there right now.
Pros:
Design shows obvious thought into the use and a sense of style.
Powerful enough to handle intense needs
Price – Under $1,000
Keyboard and Mouse are very good.
Loud and clear Audio
Cons:
Low battery life
Lid attracts fingerprints
Samsung RF510-S02 Detailed Specs:
| | |
| --- | --- |
| Brand | Samsung |
| Manufacturer Model | NP-RF510-S02US |
| Operating Platform | PC |
| Hard Drive Size | 640GB |
| Hard Drive Speed | 5400 RPM |
| Processor | Intel Core i7-720QM |
| Processor Speed | 1.60GHz With Turbo Boost Technology Up To 2.80GHz |
| Approx Battery Life | 4 Hours |
| Display Type | Widescreen |
| Screen Size | 15.6″ |
| Screen Resolution | 1366×768 |
| System Memory RAM | 4GB |
| RAM Expandable To | 8GB |
| Bluetooth Enabled | Yes |
| Built In Web Cam | Yes |
| Game Ports | No |
| HDMI Output | Yes |
| Operating System | Windows 7 Home Premium |
| Optical Drive | Yes |
| Energy Star | Yes |
| Height | 1.2″ – 1.5″ |
| Width | 14.9″ |
| Depth | 10.1″ |
| Weight | 5.7 lbs |
| Warranty Parts | 1 Year |
| Warranty Labor | 1 Year |
| Included Software | Yes |
| Processor Brand | Intel |
Advertisement