Samsung is releasing three new notebook computers for power-hungry gamers and multimedia creators who need video and processing power, along with lots of storage space to keep it all. The Samsung RF510-S01 and S02, as well as the RF710, are very similar in specs with the only big difference being their screen and chassis size.
On the lid, there is a standout black radial" design to go along with the duo-tone look inside.To go with the understated styling is some power under the hood. The RF710 and the RF510-S02 both have Intel Core i7-720QM processors.  The RF510-S01 only has an Intel Core i5-460M processor. Of course they all have Intel's Turbo Boost Technology which gives the processor some added power when needed (gaming, video editing, etc.), but conserves battery life for those times when less demanding tasks like typing and web surfing are being done. Four and half hours of battery life is not terrible for a system with these specs, but these aren't highly mobile notebooks to begin with. Gamers and video buffs alike will also enjoy the NVIDIA GeForce GT 330M graphics with 1 GB of dedicated memory.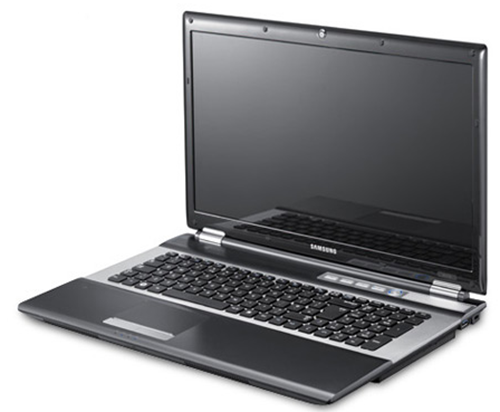 Since creating HD video or editing large RAW photos takes up a lot of space, these models can have two hard drives installed, offering up to a terabyte of storage. If users need to hook up a fast external drive there will be the faster USB 3.0 ports.
The two RF510 models come with a 15.6-inch SuperBright LED backlit display with a resolution of up 1366×768 for 720p HD video. The RF710 has a high-resolution 1600×900 display measuring at 17.3 inches. The optional Blu-ray drives will allow owners to watch high bit-rate HD content on these systems. Tru2Sound SRS Premium Sound completes the movie watching experience. The speakers are round with a larger acoustic chamber for better sound quality and SRS branded Premium Sound processing.
Along with the above multimedia hardware, the  RF series supports Samsung's trademark AllShare technology will allow a user to send their visual media via Wi-Fi to any DLNA enabled TV or mobile phone.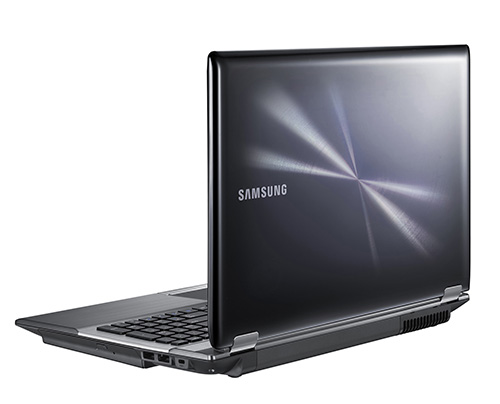 All three models come with a full island or chicklet style keyboard including dedicated number pads, useful for gaming fans or number crunching spreadsheet gurus.
Samsung is including their Easy File Share feature, which is a peer-to-peer file sharing tool that allows users to trade files including pictures, video and music files over Wi-Fi. This works in tandem with any wireless computer.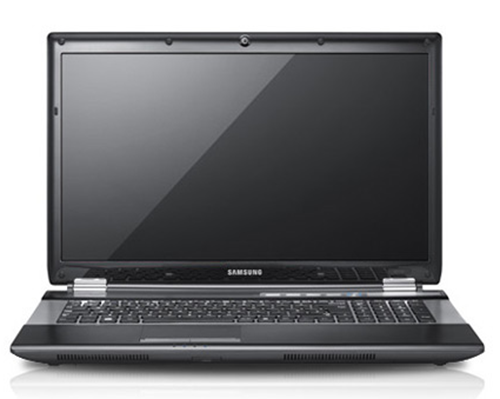 Samsung's bundling their Fast Start feature which puts the notebook into a kind of sleep mode that saves power but allows them to load into their previous work session in just a few seconds.
At $939 for the RF510-S01 with Core i5 processor and $1,079 for the S02 with Core i7, they are also not wildly expensive. The RF710 is $1,099. They will be available soon.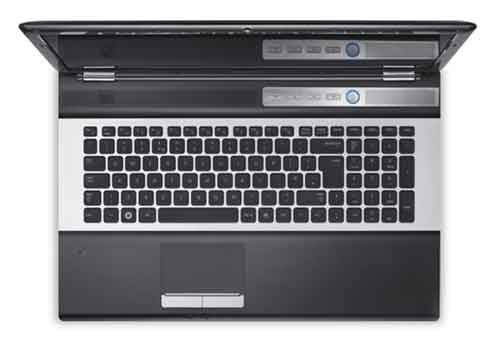 RF510-S01 / RF510-S02 / RF710 Key Features:
CPU:

RF510-S02 & RF710 Intel® CoreTM i7 processor (i7-720QM)
RF510-S01 Intel® Coreâ"¢ i5 processor (i5-460M)

Genuine Windows® 7 Home Premium 64-bit
Memory: 4GB DDR3
Hard Drive: Dual-bay architecture with up to 640GB drive (RF510-S02/RF710) & up to 500GB for RF510-S01
Screen:

RF510: 15.6-inch SuperBright HD LED backlit display
RF710: 17.3-inch SuperBright HD LED backlit display

Resolution:

RF510: 1366×768
RF710: 1600×900

Graphics: Discreet NVIDIA GeForce GT 330M with 1GB dedicated memory
Audio technology: True2Sound SRS Premium Sound
Optical Drive: RF510 DVD Super Multi DL; RF710: Blu-ray optical drive
Battery: Lithium Ion; up to 4.5 hrs
Connectivity: 802.11b/g/n; Bluetooth 3.0, Wired 10/100/1000
Weight: RF510: 5.7 lbs.; RF710: 6.4 lbs.
MSRP:

RF510-S02 w/ Intel® Core i7: $1,079
RF510-S01 w/ Intel® Core i5: $939
RF710: $1,099
Advertisement