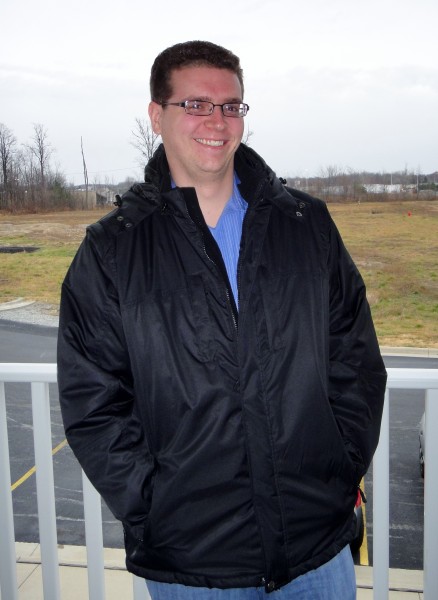 You may have been too busy preparing for Black Friday to realize that the weather is getting colder (at least in Ohio) and it is time to break out the winter jackets and prepare for a long and brutal winter. We're a bit odd because ever since we saw the new ScotteVest Revolution Plus Jacket we've been actually looking forward to the temperature dropping so we could see how it handles the cold.
Scott Jordan was kind enough to send over a Revolution Plus Jacket for us to review and we wanted to share our first impressions of this new ScotteVest coat.
We'll have another look at the Jacket and how it can help you handle the extremes of Black Friday late Thanksgiving, and a full review after we use it a bit more, but we couldn't wait to share our first impressions or mini review of the ScotteVest Revolution Plus Jacket.
If you aren't familiar with ScotteVest products, they all have a collection of pockets and a personal networking system that allows you to run wires and more throughout your jacket without the need to keep headphones balled up in a pocket or constantly snagging them when you take the coat off. The ScotteVest jackets and vests all have ear bud holders that also stop the earbuds from flopping about and most have a really cool water bottle strap that you won't know you missed until you've used it!
The Revolution Plus Jacket is $200 and has 26 pockets (including two cleartouch pockets) that, like the Fleece 5.0 we used for CES last year, make it a great fit for travelers, but also for anyone who has to head outside in cold weather and likes to have enough pockets to take whatever it is they might need. There's even a pen/stylus holder or two built in and a screen/glasses cleaning cloth tucked into the inner pocket.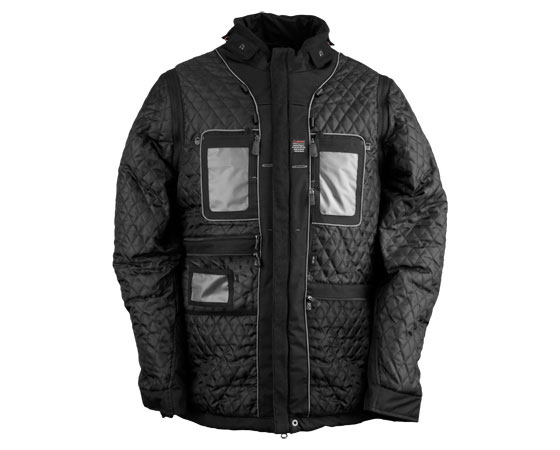 The Revolution Plus Jacket has a quilted interior and is made of waterproof, breathable material for a warm and dry experience. The sleeves and the hood are detachable to fit your needs and the weather.
So far we are really digging the Revolution Plus Jacket. I wore it to a local Geek Lunch last Saturday, allowing my to take my MacBook Air 13.3″ notebook along in the "PadPocket" so that I didn't need to carry a bag. Needless to say, this is an impressive feat, and one we'll repeat, but the PadPocket works best when used to carry the iPad.
While you have either of these gadgets in the coat, people looking at you will have a hard time telling that you are packing a portable computer in your pocket. You can tell you have something in your pocket, but thanks to the weight management system it's not a burden. The biggest issue we had with carrying a 13.3″ MacBook air had more to do with our girth rather than a fault of the jacket; we didn't have the same issue with the iPad.
It's finally getting chilly here in Ohio after a long warm fall. Today the "realfeel" temp was 26 degrees and the Revolution Plus Jacket was more than warm enough. We'll be testing it out against a Columbia winter jacket as soon as it gets colder and reporting in our full review of the Revolution Plus jacket.
Our favorite thing about the pockets on the Revolution Plus isn't that we can carry a laptop or the iPad, it's that even if you only use 20% of the pockets on a day to day basis you're still getting a better experience that you'll find with most jackets. We'll be showing you what we carry in our ScotteVest Revolution Plus soon and giving you a full review in early December.
Our closing thought in this first impression is that the Revolution Plus does so many little things well that you won't notice until you have one. Want your coat to stay shut for a short hop between buildings, but it's not with zipping up or buttoning? No worries the magnets on the front will hold them closed. It's small touches like this that really make the ScotteVest a joy to wear.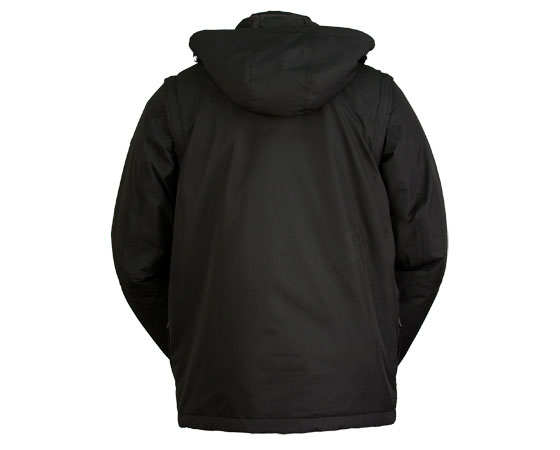 Advertisement