Android phones have finally hit Verizon Wireless. November 6th saw the launch of both the Motorola Droid ($199 after MIR) and the HTC Droid Eris ($99 after MIR) which brought an air of excitement to Verizon; not seen for quite some time. The Motorola Droid brings a huge screen, 5MP camera, Android 2.0, Google Nav and much more to the Verizon Network.
Check out our impression and Motorola Droid Review Roundup.
After spending a day with the Motorola Droid, I shared my initial impressions at WalletPop in regards to how the Motorola Droid will affect the cell phone industry –it's already rumored that AT&T will be rolling out an 8GB iPhone 3GS to compete with the Droid!
"Yes, it has a keyboard; but it isn't the greatest. Yes, it has an amazing screen, but there's no dedicated place to buy TV shows and movies. And finally, yes, the Droid has a 5MP camera, but it won't replace your point-and-shoot.

That said, the Droid has a great network, an app store free of Apple's tight grip, turn-by-turn navigation with Google Nav, and the much-improved Android 2.0 operating system, which all combine for an enjoyable experience. … but the bottom line is, if you're a Verizon customer, this is the droid you've been looking for!"
With that said; here are a collection of Motorola Droid reviews from across the web to help you decide if the Motorola Droid fits your needs.
PC Mag: "The Motorola Droid is the first truly lust-worthy smartphone from Verizon Wireless, and it puts all other Google Android phones to shame. Motorola may have stinted on a few of the basics in its quest for mind-blowing smartphone power. But the first Android 2.0 phone is definitely the most advanced and exciting device connecting to Verizon today." – Sascha Segan
Engadget: "A physical keyboard can be a blessing or a curse, depending on just how well (or poorly) it performs. In the case of Android devices, QWERTYs have definitely been hit or miss. We think the closest case for comparison with the DROID's version would be the G1; both have shallow, clicky keys, and both force your right hand into a bit of an awkward position. On the G1, it's due to the placement of the "chin," and with the DROID, it's all down to the five-way rocker living next to the 'board itself. We're happy to report, however, that after a short adjustment period, typing on the DROID is a reasonable experience. It's not as slick or comfortable as a nice, portrait-oriented Tour or (better yet) Bold layout, though it bests the CLIQ, and holds its own against other landscape contenders like the Moment." – Joshua Topolsky
Boy Genius Report: "Design is always going to be subjective, but in a world of curves and tapered edges, it's downright thrilling to see a handset that's angular, retro-looking and extremely masculine. Sorry, ladies. You'll always have Droid Eris… We just love the styling of the DROID. It's minimalistic in a lot of ways, not cluttered with useless buttons and switches, and overall is solid as a rock. The slide mechanism is not spring-assisted, but the click is reassuring enough to warrant a comforting feeling when opening or closing the handset. One thing physically we're not thrilled with is the looseness of the volume up and down key. It slides up, down, front and back and generally feels like it's just going to fall off over time. Both the unit we received from Verizon as well as our older unit exhibit the same behaviors." – Boy Genius
Gizmodo: "Droid's 3.7-inch, 854×480 display with an eye-popping pixel density of 267ppi, is the kind of screen you ache for. An analogy: Do you remember how amazing you thought Nintendo 64 games looked, ten years ago? Have you looked at them lately? Do you remember the sinking feeling you got, realizing just how ugly they are now? That's how'll you'll feel looking at every other phone with the now-standard 480×320 screens we thought were so gorgeous a couple of years ago. They're lo-fi and lifeless by comparison." – Matt Buchanan
SlashGear: "Call quality has been a pleasant surprise coming from the iPhone 3GS, and we've had nearly a 100-percent success ratio avoiding dropped calls. Verizon's network has offered speedy EVDO Rev.A downloads and consistent coverage, and sound quality from both the earpiece and the speakerphone were top notch. You need to turn the DROID screen-down to get the very best out of the speakers which are mounted behind the narrow gold mesh strip along the back of the smartphone but once you do that there's volume to spare." – Vincent Nguyen
All Things Digital: "But this week, Verizon (VZ) is rolling out a device that finally gives it a more credible alternative. This new $200 phone is the Motorola Droid and it's the first Verizon model to run Google's (GOOG) Android smart-phone operating system. I've been testing the Droid, and while it has some significant drawbacks, I regard it as a success overall. It's the best super-smart phone Verizon offers, the best Motorola (MOT) phone I've tested and the best hardware so far to run Android. I can recommend the Droid to Verizon loyalists who have lusted for a better smart phone, but don't want to switch networks." – Walter S. Mossberg
Phandroid: "I turned the phone on 100% brightness, set the screen to Never Sleep", loading a bundle of MP3s on my SD Card and opened the media player to Play All" with Repeat All Songs". I also used Google Navigation for an hour… WHILE the music was still playing and phone was on full brightness. Here are the results:
So there you have it… 7 hours and 1 minute. That is REALLY good." – Rob Jackson – Also Full Motorola Droid Review on Phandroid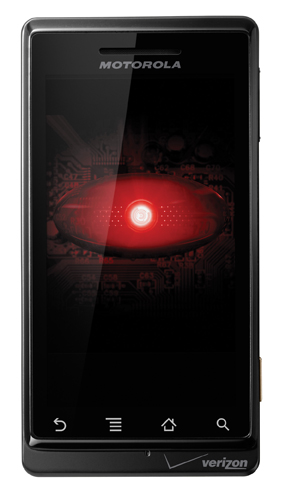 Chicago Sun Times: "Buy the Droid if you feel you must have a mechanical keyboard. Buy it if you prefer Verizon's 3G coverage. Buy it if you prefer an open file system and an open app distribution scheme as a matter of principle. Don't allow those two things to shape your thinking if you expect them to come with a great many practical advantages; they won't.
Personally, I think the App Store tips the scale solidly in the iPhone's favor. But the Droid and the iPhone are pretty damned close. If none of the above advantages sway you, you could buy either phone and be equally happy." – Andy Ihnatko
NY Times: "In addition to great speed, great audio and great cell signal, the Droid offers Android 2.0's new navigation software. It's as close to a suction-cup GPS unit as you can get on a cellphone, with spoken street names, color coding to indicate traffic, map icons (for parking, gas and so on), satellite view and even street photos of any address. Buy the $30 windshield bracket, which fires up the GPS automatically when you insert the Droid, and nobody will know you're not running some $500 GPS unit." – David Pogue
Advertisement