This week, the Apple iPad 3G editions will be arriving in some homes. One lucky buyer already has his. So for those just joining the fun, and some of you doing so wirelessly via AT&T, you may already be wondering something: can you actually get any work done on this toy?
I've been enjoying my iPad for nearly a month now. In that time, I have had plenty of time to test out the magical" new iPad as a productivity tool using Apple's iWork Suite Pages, Keynote and Numbers along with the iWork.com sharing site. You can read all four of my hands-on reviews individually. But, here is a summary for those who are just now getting started. For the full review of each individual app, click the link at the beginning of each section below.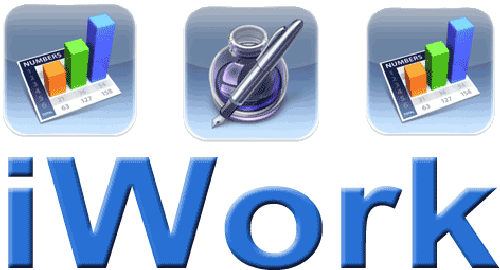 Before jumping into the individual apps, let me share with you the overall framework of the iWork suite.
Each one has a My Documents button or one like it. It is called My Spreadsheets in Numbers and My Presentations in Keynote. From there, you access the templates, open documents, manage documents already on your iPad, and either export or email them to others or upload them to the iWork web site. The method of importing documents from your computer into the iWork apps is ridiculous. You cannot wirelessly sync them as you could on a PocketPC from say 2002. You have to connect the device to the computer and import documents using a terrible interface in iTunes. I cannot speak strongly enough about how much I dislike this. This may be the single greatest weakness of the suite. As I said in one of my reviews, this is very Microsoftesque.
There is a workaround. You can use the SugarSync app and service, which syncs the Magic Briefcase folder on your computer with the iPad app. Save your document to that folder and it gets uploaded to SugarSync. The iPad app then allows you to open the documents in SugarSync and choose to view them in one of the three iWork apps. This is good for getting documents onto the device at least.
Aside from that, the document management interface of the apps is not bad. The templates seem home and student oriented. Numbers and Keynote have the most useful ones. I have not found a single Pages template that I would likely use.
Inserting things into your documents is done via a button that is on each of the apps. Below, you will see it in Numbers. You can insert pictures and other things depending on the app.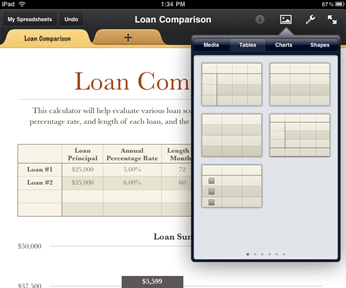 You will also find the formatting button for changing text, table or graphics. The tools button is for getting help, searching, etc. The button with two arrows is for going into and out of full screen mode. This brings me to a second complaint – the apps are a little inconsistent in full screen mode behavior. Pages in portrait mode behaves as you would expect. The toolbar is there until you hide it. But, in landscape mode. it disappears and there is no way to get it back. Keynote only works in landscape mode. And Numbers functions as it should with both modes showing the toolbar letting you control when it is hidden or revealed.
One final note, you cannot print from the iPad. This is probably the second biggest weakness of the iWork apps. If you are creating documents, why wouldn't you make it possible to print them? There are a couple of workarounds. You can send them via email and print on a computer. You can upload to iWork or export via iTunes and again print them with a computer. You could take screen shots in full screen mode and then print them using one of the iPad printing apps. Or ,you can use one of the printing apps to open them on the iWork site. For this I am using PrintCentral. Read my review of iWork.com to see how it works.
Pages
Pages is the word processor of the iWork suite. The greatest weakness of the Pages app is really a weakness of the iPad. As a touch typist, it is hard to use the on screen keyboard to type for any length of time. I have the Apple Bluetooth keyboard and it works well. But, I missed my notebook computer when I tried to go a whole day only using Pages to write.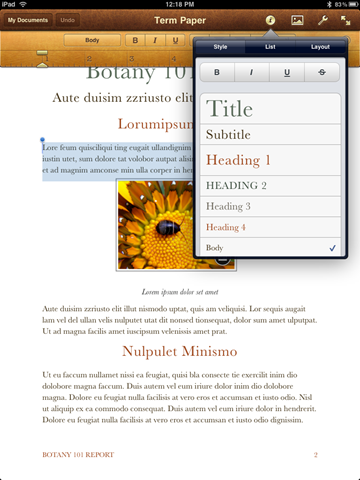 The layout of documents is easier than some word processors since you just move pictures around with your fingers. I like that, but I don't create many documents with media. The included styles are limiting, but functional. Also, the another problem with all the apps, but primarily Pages and Keynote, is the limited fonts you have to work with. I would love to be able to either add my favorite computer fonts to the iPad or use the fonts on the iPad on my PC. This would make sharing documents between the device and my computer easier.
Below is a video overview of Pages so you can see how it works and looks for yourself:
Keynote
Keynote is the presentation app of the iWork suite. I was more positive in my review than I am now that I have used longer. I would hate to have to create very complicated presentations on it. But, that is true for all of the apps. I do like the look and feel of the presentations. Some say it corrupted their Keynote 09 for Mac presentations, so be careful. I use PowerPoint to create my presentations and then import them using the SugarSync method above.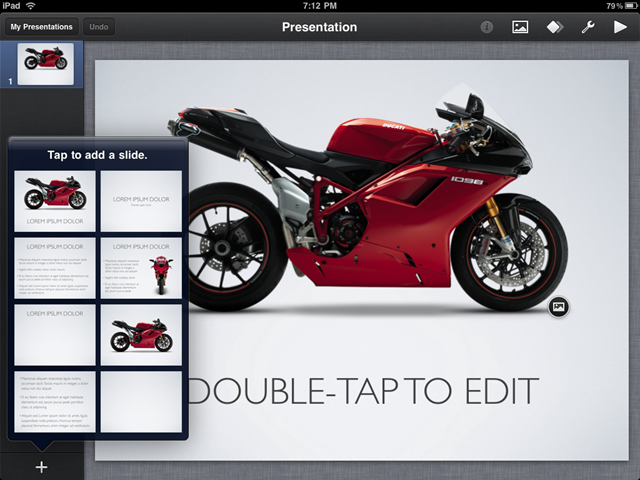 Here is my overview video to give you a look at the app:
I have done multiple presentations now with Keynote. I like the way it works. The digital pointer is a nice touch even if it is a little slow to initially respond. What I do not like is that you cannot see a large version of your slide on the iPad while connected to a projector or TV. And, the small thumbnails down the left side keep going away. Trying to tap the button to bring them back often advances the slide because it is so small that I miss it. I also miss my PowerPoint speaker notes. Keynote on the iPad was not made with people who do presentations on an external display. It feels more like they tacked on those features at the last minute.
Numbers
Numbers is the spreadsheet of the iWork suite. It is simple to use and has some functional templates. The strength of Numbers is its simplicity. It is nice to be able to drag and drop to move cells, rows and columns. You can also drag and drop to add or remove them. It is easier to use than a desktop spreadsheet because of this feature alone.
The video below will give you an overview of the app:
I like Numbers, but of the apps it is the least popular. Its probably because people just don't use Spreadsheets as much. It has the basic functions that I need and most people will never need much more than this.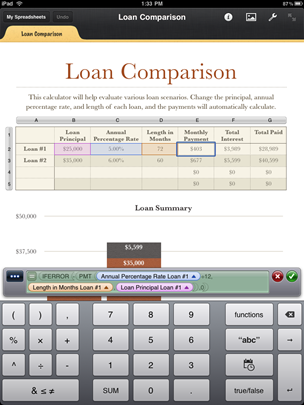 iWork.com
iWork.com is the web site used by the iWork suite for uploading files for printing and sharing. It is technically still in beta, but has enough functionality that it is good for a couple of things. First, you can get documents off of your iPad easier through uploading them to iWork than you can using iTunes. I wish you didn't have to send an email every single time though. Sometimes I just want to upload a document for my own use. I don't need to share it with anyone. So, I just send myself the email to get past this ridiculous requirement. The other thing it is good for is sharing documents. When you do want others to have access to it, then can send them the email, and they can click the link and go view it and comment on it.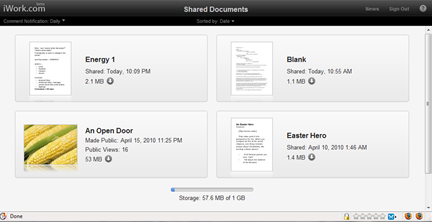 Below is the screen cast video I made of the site to give you a look at it:
Conclusion
The iWork suite of apps and the web site are functional. They get the job done if you have basic needs. I would not want to do any serious number crunching, word processing, or creating complicated presentations. But, they are great for doing simple documents and presentations. They are also good for doing quick edits of longer documents or reading and proofing longer documents. But the whole thing feels very much like a beta experience. There are some things missing that could have made the apps much better. Adding these features would not be hard, like the ability to change the built in styles in Pages or speaker notes in Keynote.
I think the apps will get better. I just hope the iWork development team is working as quickly as most iPhone/iPad app developers are. I have many iPad apps that have already been updated twice in a month. Lets hope the iWork app team will develop and improve these apps that quickly. And Apple, please give us wireless syncing of documents and printing.
Pros:
Simple and easy to learn
Good for doing quick documents and editing
Makes the iPad more than just an entertainment device
Templates are useful for home and student applications
Touch interface makes manipulating graphics actually easier than moue based computing
Cons:
No printing built in
No easy way to get documents into and out of the apps
No speaker notes in Keynote
Creating or working long or complicated documents is not easy on the iPad
Templates are not as useful to business users
As you can see, it is a bit of mixed bag. So back to our original question: can you actually get any work done on this toy? Yes with some significant reservations.
Advertisement