Yesterday, Verizon Wireless announced two of the newest Motorola handsets that are set to be released sometime soon. The Motorola DROID Pro and the Motorola Citrus will both run a version of Google's Android OS.
The Motorola DROID Pro has been rumored for quite some time now. However, the two main rumors were that it was going to be just a glorified DROID 2 with global roaming capabilities, or a 1.3GHz 4-inch world phone. It appears as though both of those rumors are false. Instead, as the Pro name insinuates, Motorola seems to be targeting working professionals who want something other than a BlackBerry. It sports a full QWERTY keyboard as well as a touchscreen, all in a candy-bar form factor. The 1GHz 3.1-inch smartphone will be running Android 2.2 Froyo and have global roaming support for more than 220 countries, thanks to the dual-mode CDMA/GSM chip. It sports a 5-megapixel auto-focus camera with dual LED flash as well as DVD-quality video. The Motorola DROID Pro will be available the first week of November.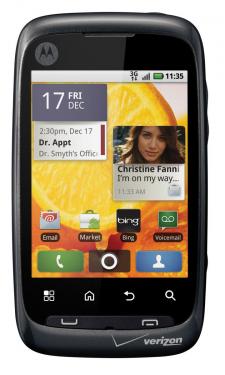 The Motorola Citrus is more of a low-budget sibling in Motorola's latest Verizon Wireless Android offerings. The device has a full touchscreen display. Sadly, it will be released with Android 2.1, yet another classic example of Android fragmentation. Other attributes of the Motorola Citrus include:
Curved design
BACKTRACK – a touch panel on the back of the device for navigation and scrolling
A housing made of 25% recycled plastic
That's all the news currently released about the two new phones. But stay tuned for updates, especially regarding the DROID Pro.
Via Engadget
Advertisement