According to a report by Engadget, the rumored Droid Pro is nothing but the global version of the Motorola Droid 2.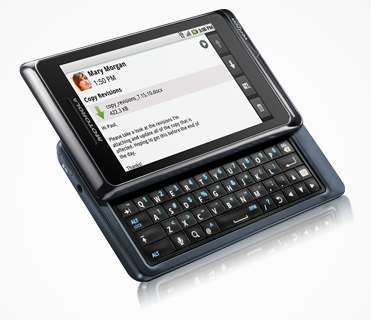 When the Verizon 2010/2011 roadmap was leaked, two devices in particular stood out: the Droid Pro and the Droid 2 Global Edition. The Droid Pro was rumored to feature a 1.3GHz CPU, 4-inch screen, slide-out QWERTY keyboard, global roaming capabilities, and even a front-facing camera. This recent development from Engadget claims that this is incorrect. According to a "source close to the situation", the Droid Pro and Droid 2 Global Edition are one in the same. It will sport virtually the same features as the Droid 2, but will come with GSM and CDMA radios. The only thing that may physically distinguish the Current Droid 2 from the Droid Pro is the possibility of a white version.
If this rumor is true, it's rather disappointing as the originally rumored Droid Pro sounded like a solid combination of the Droid 2 and Droid X, featuring a decently large screen and a slide-out QWERTY keyboard. Only time will tell which rumor reigns supreme, as we should be seeing it pop up in the next few weeks.
Via Engadget
Advertisement