I received notice that my iPad is shipping and will arrive sometime Saturday. Sadly, as we reported earlier, it is already too late to get one ordered and shipped by this weekend.
I am looking forward to playing with it and sharing my experience. Warner Crocker at our sister site Gottabemobile.com, who is the other iPad guinea pig, will be doing the same.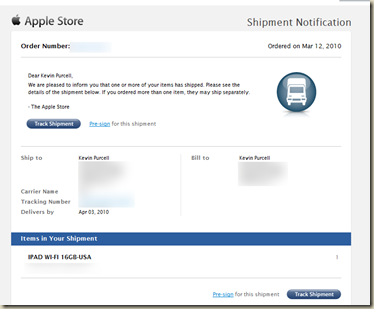 There will no doubt be a lot of unboxing videos on the Internet. I don't plan to just do another one. Instead, I thought it would be fun to see what the non-Geek thinks. I will sacrifice being the first to play with it allowing my family to give their impressions. So if you are interested in what the ordinary person thinks of the iPad, come by Saturday afternoon or evening for a video of their experiences. Maybe we can help you decide if you want to gift one to a friend or family members who might not otherwise enjoy a tech present.
Advertisement