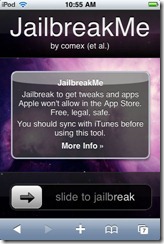 Apple released a fix for a serious security hole in its iOS devices. The iPhone running iOS 4 has version 4.0.2 available for download to patch the hole that allows a web site to gain control of your device by running code after you allow it to download a PDF file. Version 3.2.2 will fix the same hole for the iPad.
It was this hole that a jailbreaking web site was using to let users jailbreak their iOS devices. You could simply visit the site and swipe a red bar, much like you would to unlock your phone when pressing the power or home button, to jailbreak your device. It would download the jailbreak software without ever plugging your iPhone or iPad into a computer, as was previously required. This jailbreak will no longer work on a patched device.
To get the fix, simply plug your iPhone or iPad into your computer and run iTunes. It should recognize that you need the fix and offer to download and install it for you. If it doesn't, the highlight your device in the Devices list on the left and then click on the Check for Update button in the center of the screen.
You should do this as soon as you can to prevent this exploit from harming your device.
Advertisement