If you're trying to pre-order yourself a shiny new iPhone 4 today, you may be met with utter disappointment. The Apple Store crashed soon after the iPhone 4 was put up for pre-order this morning and many people are still complaining of difficulties. Reports claim that some people have been fortunate enough to pre-order one using AT&T's site, but others are saying that it is down, too. What exactly is going on?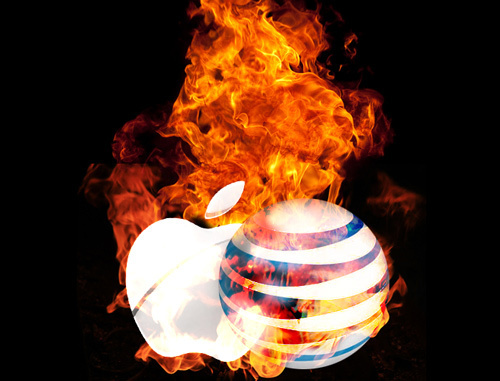 When I tried to place an order online, I was met with this page after selecting the plan I wanted:
Not only are the online modes of pre-ordering your new iPhone 4 failing. Upon trying to call Apple's 1-800 number, in which you can normally place an order, we were met with a message saying Apple is receiving a high volume of calls followed by a hang-up. Other reports are coming in about entire AT&T brick-and-mortar stores are temporary closed. Gizmodo reported that someone successfully ordered their iPhone 4, but then received an email from AT&T that it was currently backordered for 2-3 weeks. This could throw a wrench into the works for Apple's projected delivery date of June 24th.
So what actually went wrong? Neither Apple nor AT&T are commenting at this time. However, the problem seems to be on AT&T's shoulders. Apple's iPhone order process is reliant upon AT&T's account server, which is speculated to be the cause of the problem. If this is so, I would imagine the two companies' already crumbling relationship will be thrown into further disarray.
It looks as though the immense popularity of the iPhone 4 may have brought these two corporate giants to their knees…at least for today.
You can attempt to pre-order your iPhone through the Apple Store, AT&T, or the Apple Store app on your iPhone or iPod Touch.
Via GottaBeMobile, Gizmodo info and photo
Advertisement