Remember the iBook? Apple's original iBook was one of the first notebooks for the mass market to feature a handle for toting the device from room to room. Well, if you miss the handle on your MacBook Pro or MacBook Air you should pay attention to mBrace.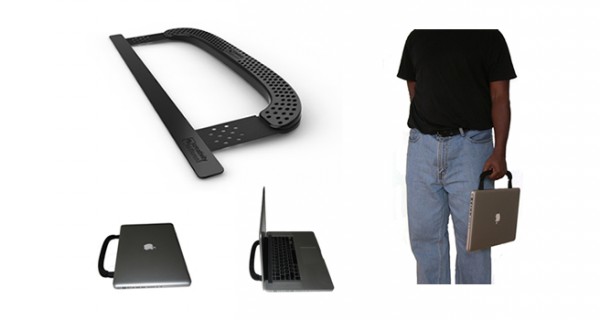 mBrace is a Kickstarter project that aims to put a handle on your Mac. Below you'll find the mBrace product description from KickStarter.
The mBrace, made from a high quality Acetal plastic and incredibly strong Uretek fabric, easily and securely attaches to a Macbook without affecting any of its typical uses. And with the mBrace attached, the Macbook Pro still fits nicely in most bags and sleeves with no problem. It even fits with most covers and cases attached. But just in case, the mBrace detaches as effortlessly as it attaches to your notebook. And as a bonus, when attached the handle can rest underneath the Macbook Pro to provide an angled keyboard and ventilation prop.
You can get your own mBrace for a $30 donation, and can donate up to and beyond $250 if you want to get a collection of extras. Right now the mBrace MacBook handle has $1,760 in pledges, with a total of $75,000 listed as the project goal.
Other Kickstarter projects that have turned into a reality include the much loved Gilf iPhone case and the TikTok+LunaTik Multi-Touch Watch Kits that turns you iPod Nano into a watch.
Via Macgasm
Advertisement