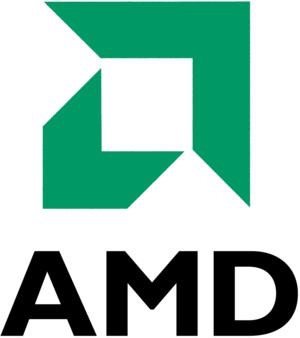 The Apple MacBook Pro just upgraded their line of notebooks to the new Intel Core i5 and i7 processors.  Apple users their own A4 processor for the iPad.   It doesnt seem like they would be looking into yet another processor to power some of their devices, but then again, maybe they are.
There is a semi-credible rumor floating around that Apple may be in discussions with AMD.  You remember AMD right?  They "lost" the processor war with Intel a while back, but are trying to come back strong with their AMD VISION and being included in new netbooks like the Acer Aspire One 521.
So, according to articles on both Ars Technica and Apple Insider, it looks like Apple may be chatting with AMD about using their processors in some of Apple's devices, possibly the iMac.
From Apple Insider:
Representatives for the Sunnyvale, Calif.-based AMD have recently been seen on Apple's Commuter Coach buses, and executives for the chipmaker have been spotted on their way out of meetings with members of Apple's top brass, according to people familiar with the matter.

The meetings have reportedly included briefings by AMD that have since enabled Apple to begin working with AMD processors in its labs as part of an initiative to position the chips inside some of the company's forthcoming products. While AMD offers a variety of embedded processors, Apple is believed to be investigating the chipmaker's workstation and notebook class CPUs.
From Ars Technica:
Given that Intel has the performance crown for servers and the performance/watt crown in mobile, the most likely place for Apple to use AMD is in the iMac.

Right now, the iMac is still on the 45nm Core 2 Duo. The obvious Intel replacement for the iMac's C2D is Intel's dual-core, 32nm Clarkdale family, either the Core i5 or the Core i3, both of which have been out since the start of the year. But the new Core i5 Clarkdales don't really improve on the older, quad-core, 45nm "Lynnfield" part that's are currently in the 27″ iMac, because the Clarkdale i5 is kind of a dog.

Again, this is all speculation and rumor, but if Apple does wind up using AMD in some of its product line, how will it bode with their relationships with Intel as well as the makers of the A4 (Samsung I believe)?  Will it drive a wedge?  Or, is this all a plan to get Intel to cave in on some other demand of Apple's?   Or, is it all just a fun rumor to drive the Apple fanboys crazy?  You decide.
Advertisement