Gazelle is offering those selling their old cell phones an extra 10% if they trade in their phone by Sunday, Feb. 6. This offer is good for the first 5000 people to sign up. If you are planning to make the switch to Verizon or just from one cell phone to the iPhone 4 now that Big Red is selling the Apple iPhone 4, this can help pay for the new phone and/or the cost of breaking your wireless contract.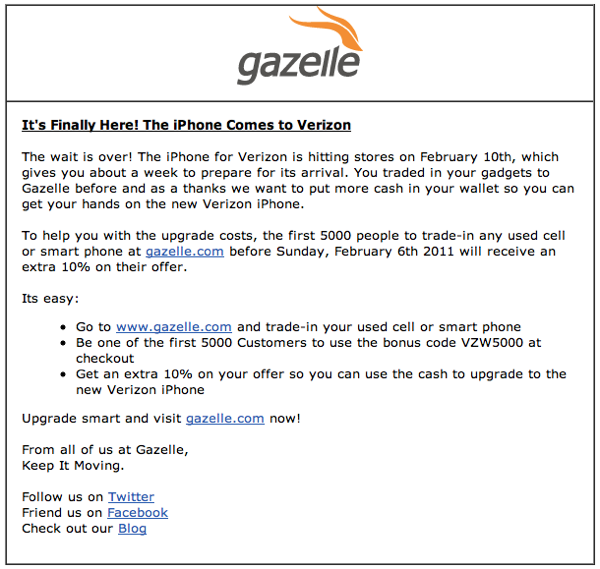 Gazelle is a company that buys old tech gear and resells it. Many tech enthusiasts use Gazelle to trade in gently used gear to buy new gadgets. . We showed you how to sell your old equipment and Gazelle was one of those suggested ways of getting cash for your phone, or other tech toys.
To take advantage of this offer, go to Gazelle.com and follow their simple steps for trading in your old phone. You will get a price quote. If it sounds good, they will give you a prepaid shipping label to send it in. Be sure to use the coupon code VZW5000 when you sign up.
Our example in our story about selling an old iPhone showed we could get $420 a good condition iPhone 4. With this coupon code it goes up to $462.
Also remember that you won't get the money right away, so you will need to have the case for your new phone up front or put it on a credit card. And the Verizon iPhone 4 is sold out for current Verizon customers. But you can get one on Feb. 10 with everyone else.
Advertisement