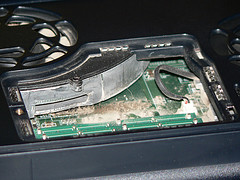 It's easy to lust after a shiny new notebook when the one sitting on your lap has some smudges, discoloration and shoots out a puff of dust anytime you turn it on; but that's no reason to get rid of it.
Web Worker Daily has a list of 6 simple steps to get your laptop really clean and, lucky for you, they don't take a lot of effort.
Check your user manual
Shine screens
Wipe down keyboards
Get rid of dust
Clean out vents
Deal with Discolorations
Web Worker daily has the details for performing each of these tasks correctly so that you don't end up damaging your notebook in the process.
Overall this is great advice to keep your notebook not just looking good but running like a champ as well. If you aren't blowing the dust out of your notebook and wiping the screen down correctly every now and then you are shortening the life of your notebook out of sheer laziness.
Photo via rkimpeljr
Advertisement