If you have recently installed Windows 7 on your computer, or any other fresh install of Windows, then you surely realize how long it takes to install all the other applications that you use.  In fact, manual installation of each application on an average notebook could easily take entire afternoon.  Thanks to a new service called Ninite the process of installing common applications has been greatly simplified!
Ninite has over 50 free applications to choose from in categories including; web browser, messaging, media, imaging, documents, security, run-times, file sharing, utilities, developer tools and more. Using Ninite is very easy, after selecting the programs which you want to install it downloads and automatically installs them to your machine.

Ninite installs apps with their default settings and thankfully says "No" to browser toolbars and other junk that you don't want. Ninite also checks your PC's language and for 64 bit support to install the latest and best version of each app.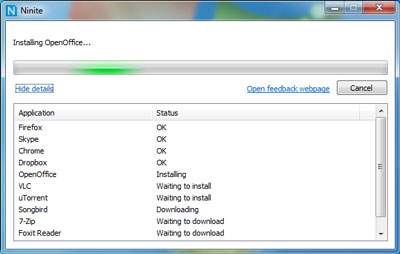 Ninite runs on Windows XP/Vista/7 and works in the background so you can install your favorite software unattended.
Advertisement