Today we are going to take a look at upgrading to Microsoft Office 2010. Upgrading to new versions of Microsoft  Office is a fairly mundane task, but there are some things you should know before installing the new version. If you are running versions of Office as far back as 2000, you should be able to do an in place upgrade over your existing installation. Please note though that Microsoft Office 2010 requires Windows XP Service Pack 3 or later operating system. Windows XP Professional x64 edition is not supported. For additional information regarding system requirements, please visit the Microsoft Office Products page.
Why Upgrade to Office 2010?
In 2010 Microsoft released the latest version of their popular productivity suite Microsoft Office 2010. The suite provides a streamlined Ribbon interface across the entire family of Office products. Also, tighter integration with the web through Office Web Apps and enhanced collaboration tools make it easier to work on documents with multiple parties.
There are some lovely improvements throughout the suite, for instance, I love the new find and replace task pane which replaces the old modal dialogue. PowerPoint's video features are just amazing, you can even broadcast on the web and publish your presentation to YouTube. I also like the ability to merge presentations, it is so much easier, especially when working on group presentations. Outlook in particular is another major upgrade with support for the Ribbon and Conversation View and ability to integrate with Social Networking services such as Facebook and Messenger.
Microsoft for the first time released a fully native 64 bit version of Office too so apps such as Excel are able to handle large spreadsheets with large data sets. Microsoft also streamlined the Office suite, removing upgrade packages and making the suite more affordable with a simplified set of SKU's. Office also saw the introduction of product key cards which made it easier to upgrade an edition to another edition with more programs.
How to Upgrade to Office 2010:
There are multiple ways to obtain Microsoft Office 2010, in addition to traditional shrink wrapped product box, you can do a digital download of Microsoft Office, we too a look at this recently here. In this article, I will be upgrading Microsoft Office Professional Edition 2003 to Microsoft Office Professional 2010 from a DVD. Please note, if you would like to install the 64 bit version of Office 2010, you will need to do a clean install, this means you will first need to uninstall the previous version of Microsoft Office, then you can proceed to install the 2010 version.
Here you can see we have Office 2003 installed. Insert your Office 2010 disk to get started.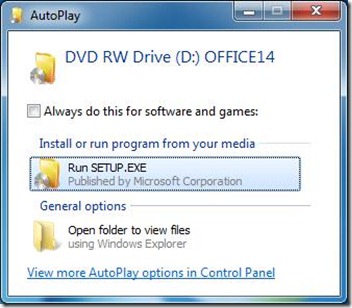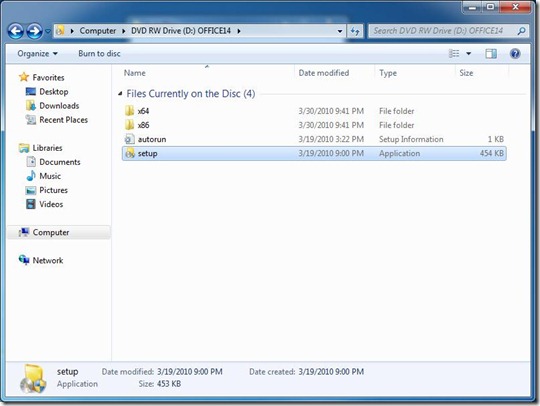 When the AutoPlay dialog appears, click Run SETUP.EXE, click Yes if the User Account Control dialog appears. If setup does not automatically appear, click Start > Computer > open the Microsoft Office 2010 disk and double click the setup file.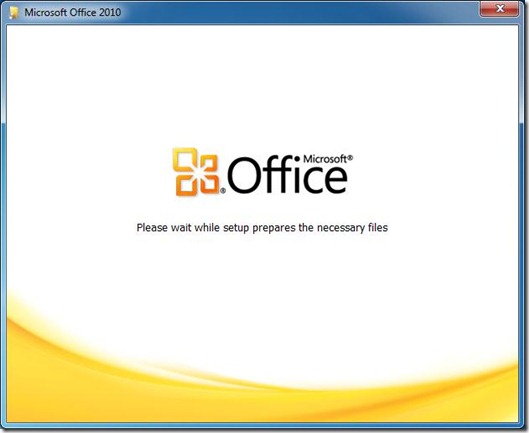 Microsoft Office 2010 preparing to install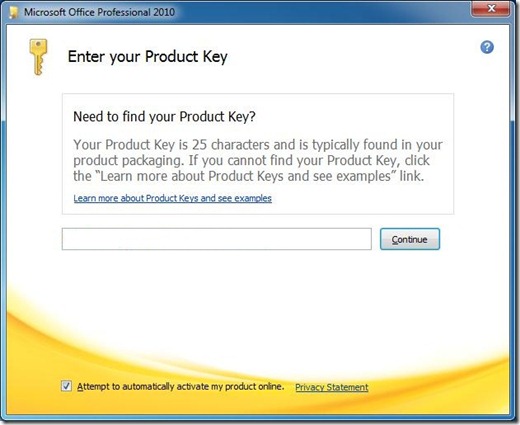 Next enter your product key, the product key can be found in your product packaging. If you purchased the software online, your 25-character Product Key can be found on your account page or in your confirmation email. Learn more here Once the product key is validated, you can click Next to continue.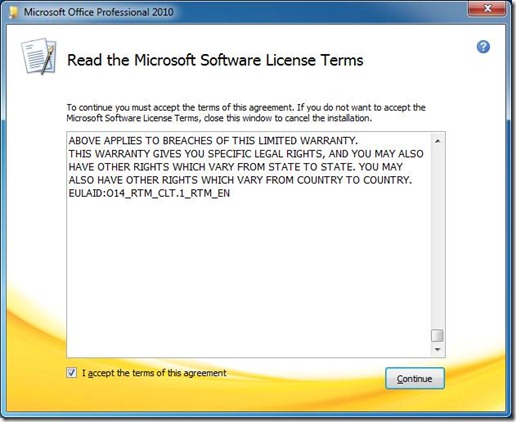 Read the Microsoft Software License Terms, once you understand the terms of the software, check the 'I accept the terms of the this agreement' box and click continue. Please note, if you bought a boxed Microsoft Office 2010 license, you are permitted up to two installations. If it's a Product Key Card, only one installation is permitted. Office Home and Student 2010 permits up to 3 installations, if it's distributed with a new computer, then it is only for that computer and is tied to the machine (meaning, you cannot install or transfer the license to another machine).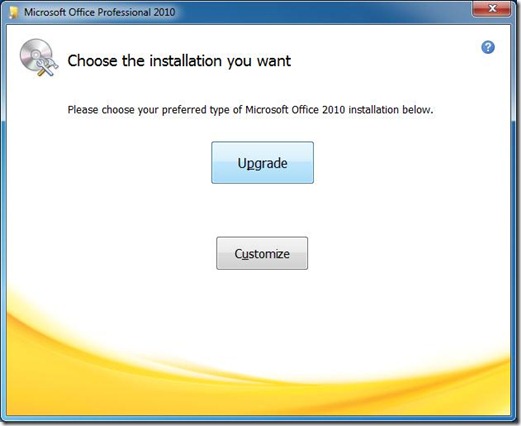 Choose the installation you want
If you are installing Office for the first time on the computer (a clean installation for example), you will not be offered the option to upgrade, instead, you will be offered the option to customize the installation. Customize allows you to pick and choose components in the Office suite, you can choose which specific applications you want to use and which features of each program you would like to have installed. In my case, I am upgrading an existing installation, so I will click the Upgrade button.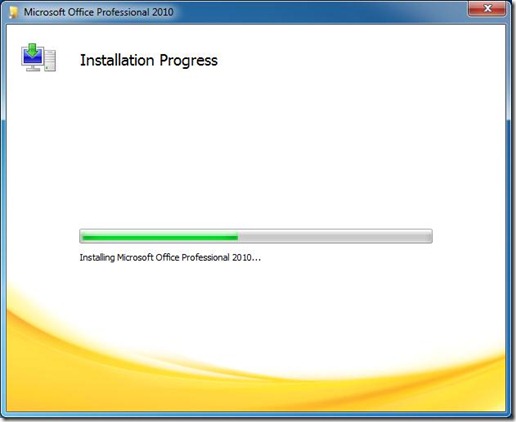 This will start the upgrade process immediately, sit back and relax as your existing installation is upgraded. Installation can vary depending on factors such as memory, processor speed and even your Internet connection speed if you are doing a Click to Run installation.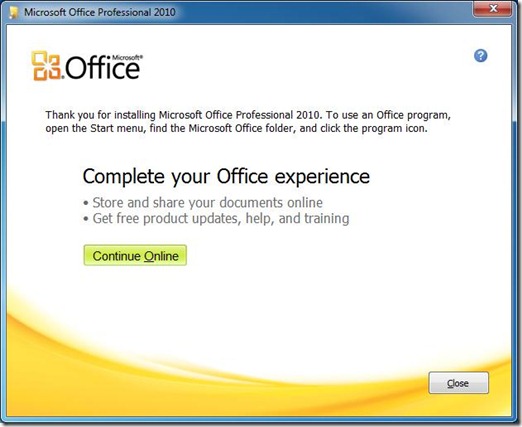 Our Office 2010 installed successfully, click Close. If you are prompted to reboot, please do so.
Our next step is to launch an Office 2010 program and activate the software.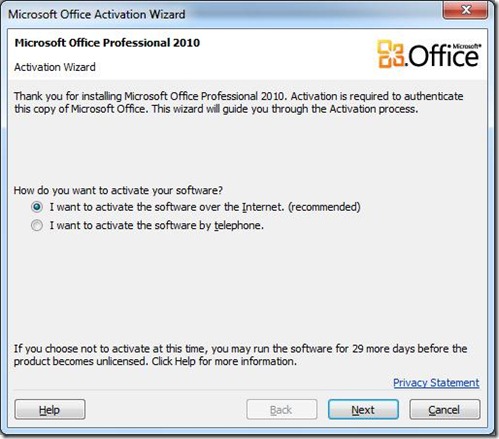 When you launch a Microsoft Office 2010 program for the first time, this will start the Microsoft Office Activation Wizard. You have a choice of activating by Internet or telephone, select your desired method, click Next and follow the on-screen instructions. If you wish to delay activation, click Cancel, this will allow you to run Microsoft Office for 29 days without before it goes into a reduced function mode.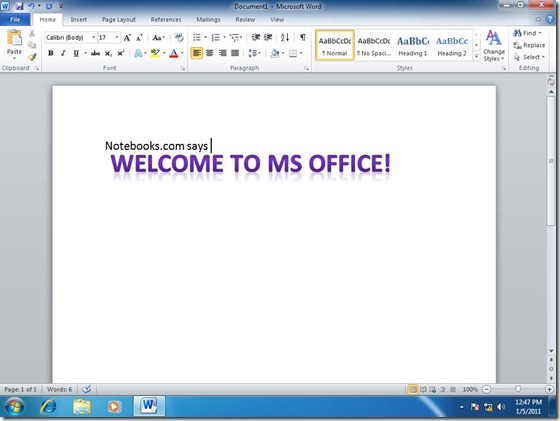 You can now start using Microsoft Office.
Troubleshooting
If you happen to have a trial or pre-release version of Microsoft Office 2010 installed or a previous version and it is preventing the installation from starting or completing properly, run the Fix it tool mentioned in the article below to uninstall Office:
https://support.microsoft.com/kb/290301
Also, you can try disabling your Antivirus utility temporarily during installation.
If you have any programs open, please close them before starting the installation, (you probably should also restart the computer).
If your computer came with a trial version of Office, you will need to obtain a trial key or purchase a full license:
Trial license:
https://office.microsoft.com/en-us/default.aspx
Full license:
https://support.microsoft.com/kb/823570
Get Key;
https://office.microsoft.com/en-us/buy/redir/XT101874326.aspx?CTT=5&origin=HA101847520
If you have purchased office 2007 and getting the invalid product key message, then refer the link below for more assistance:
https://support.microsoft.com/kb/836178
If you have purchased Office 2010 and getting invalid product key error refer the KB article mentioned below:
https://support.microsoft.com/kb/2002262
Advertisement