I received an email yesterday that the Office 2010 beta will expire on October 31st 2010. The Office 2010 beta is a pre-re25lease version of the software used for evaluation and testing prior to its final release. If you were one of the millions of persons who tried it and you are still running it, you have a couple of options. Upgrade to the final product or reinstall your previous version of Microsoft Office. You probably love all the new features in Office 2010 that's why you are still running it up to this point. There is a way you can extend that experience, by simply downloading the trial version of the final product. Lets take a look at doing that.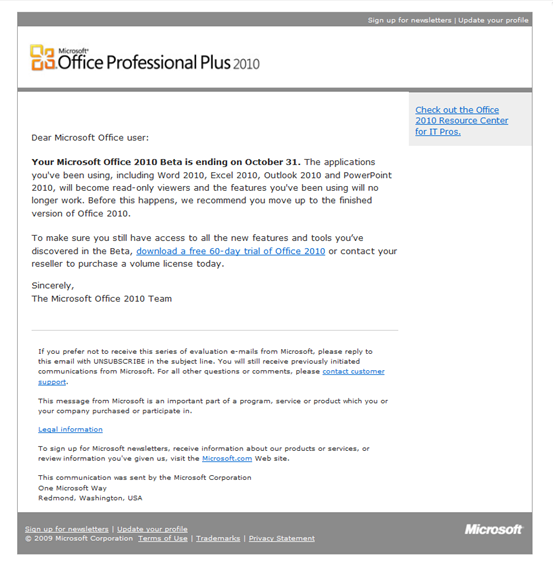 Microsoft Office 2010 expiration email
Now, the link in the email, links you to download Microsoft Office Professional Plus 2010. This is the final version of the beta product you are now running. Please note that production full versions of Microsoft Office Professional Plus 2010 are not available in stores or to consumers and cannot be converted to a full version. It's part of Microsoft's volume license offerings for businesses that are installing Microsoft Office in bulk.
Instead, I recommend you download one of the retail trial versions that are easy to convert into a full non-expiring product after 60 days.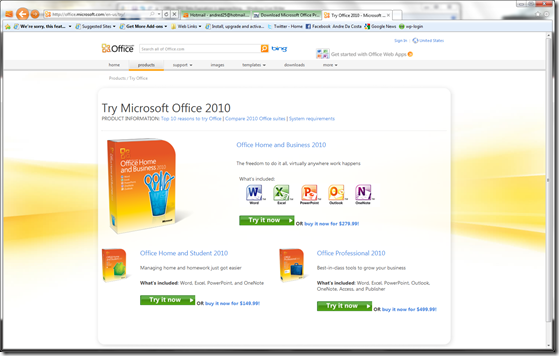 Microsoft Office 2010 try and buy page.
Simply go to the Microsoft Office 2010 Trial page there you will see three editions of Microsoft Office 2010 available: Home and Student, Home and Business and the Professional edition.
Each suite includes the following applications:
| | | |
| --- | --- | --- |
| Home and Student | Home and Business | Professional |
| Word 2010 | Word 2010 | Word 2010 |
| Excel 2010 | Excel 2010 | Excel 2010 |
| PowerPoint 2010 | PowerPoint 2010 | PowerPoint 2010 |
| OneNote 2010 | Outlook 2010 | Outlook 2010 |
| | OneNote 2010 | OneNote 2010 |
| | | Access 2010 |
| | | Publisher 2010 |
Most consumers will find these Office applications are what they need and use, if you believe you need programs such as Office Communicator, InfoPath, SharePoint Workspace for collaboration, then Office Professional Plus 2010 is probably what you do need. Once you have decided which suite suits you best, click the Try it now button.
In my case, I am going to go with Office 2010 Home and Business just for this article, if I find out I need more features and programs, you simply download the trial for that edition.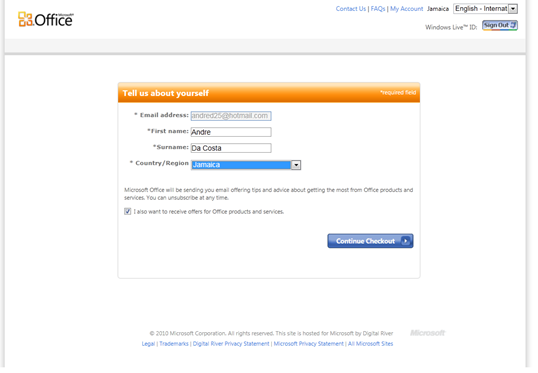 Next you will be asked to fill out some information such as your email, first name, last name and your Country of residence. Next, you will be taken to the Download Page: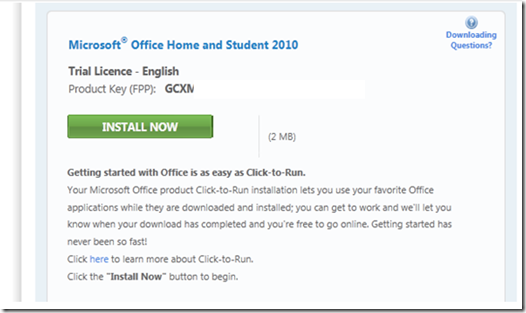 Before installing Office 2010, make sure the beta is first uninstalled. Click Start, type: Programs and Features, hit Enter on your keyboard. Scroll down to Office Professional Plus 2010 beta, select it and click Uninstall on the command bar.
Click the Install Now button which will begin the Click and Run installation. Click and Run is an innovative way to install Office without downloading large installation files, basically what it does is stream Office to your desktop while the suite installs in the background over the Internet. You can start the installation at a later time if you want since you will receive a confirmation email with all the details to set up Office 2010 when you are ready. You will be prompted to download a 2 MB setup file first:
Next, Save the file or Run it from its current location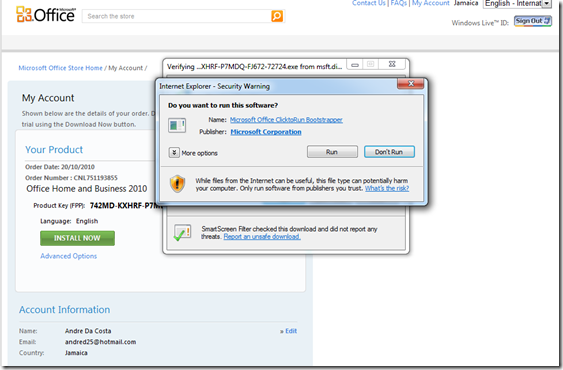 Microsoft Office 2010 will now download in the background using Click and Run Technology. The installation is fairly quick on a broadband connection.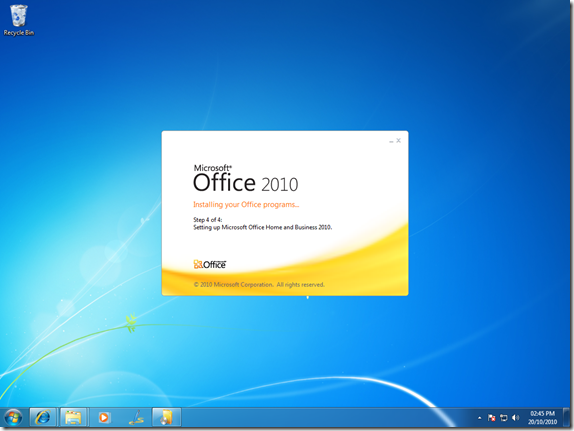 Now setting up Microsoft Office 2010 Home and Business on my computer.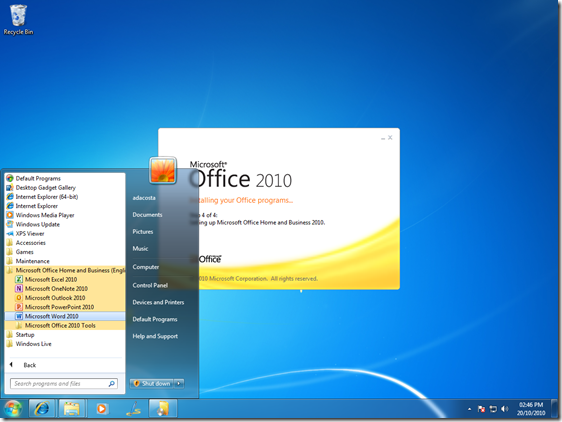 Here you can see, Click and Run is configuring Microsoft Office 2010 on my PC, I can even start using the applications.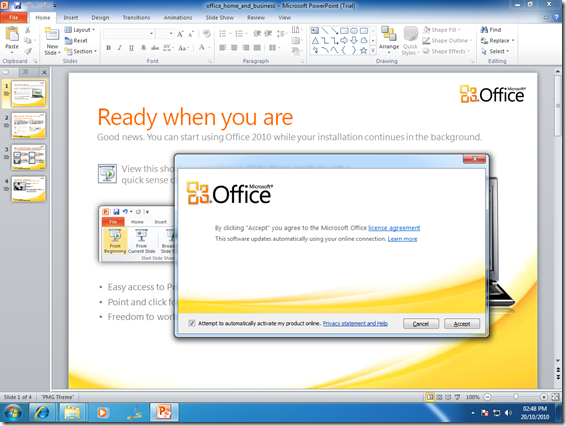 Voila, that's it, Microsoft Office is installed without  the need to download installation files or use installation media, it's that easy!
Now suppose I want to convert this into a full version Microsoft Office? Simple, just click File > Help > Licensing Options > Purchase Product or Activate Product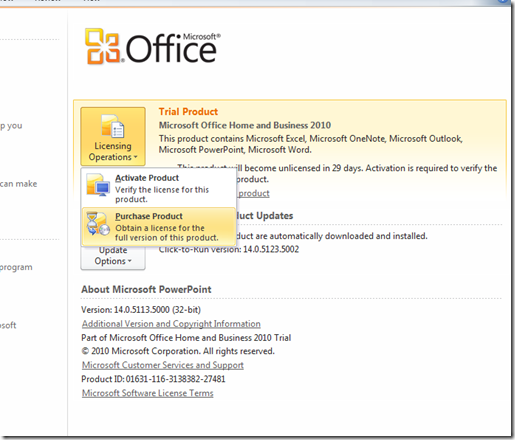 Since my Microsoft Office Home and Business Trial is activated, I only need to Purchase Office.

After clicking Purchase Product, the Convert your Microsoft Office product wizard will start. Select Enter Product key: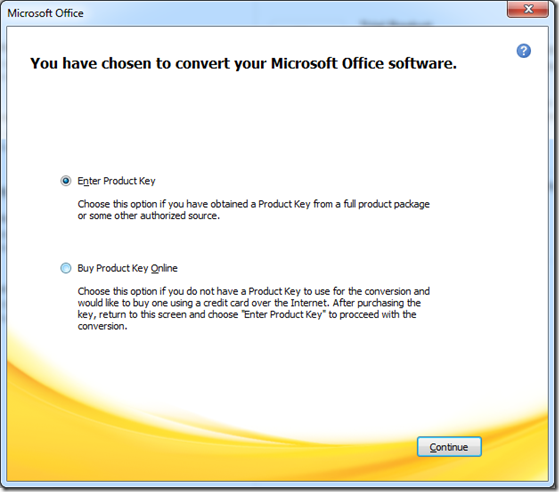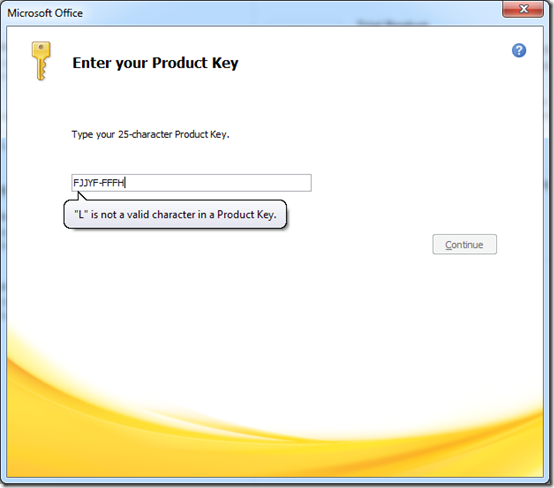 Enter your product key and click continue to activate. If you did not activate the trial, you would have been presented the option to upgrade your trial to full version: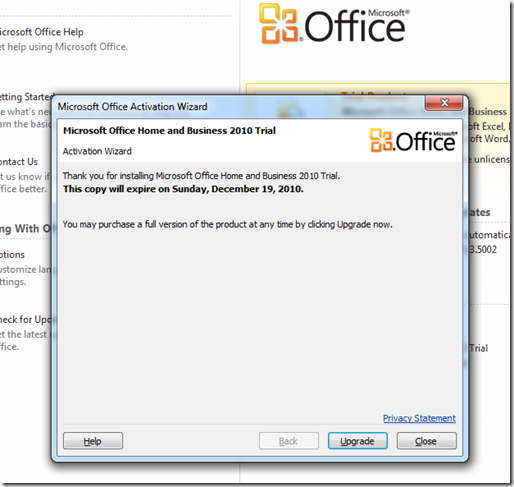 That's it, you are no running a full version of Microsoft Office 2010. If you want more capabilities, you can always upgrade Microsoft Office to a higher edition with more programs.
Windows Live Tags:
Microsoft Office
,
Office 2010
,
Beta
,
Trial
,
Expire
,
Upgrade
,
Software plus Services
,
Productivity Suite
,
Office Professional Plus 2010
,
Office Home and Business 2010
,
Office Home and Student 2010
,
Office 2007
Advertisement