Microsoft announced an update to Docs.com, their online document editor, which will bring greater speed and support for more languages. Docs.com is Microsoft's alternative to the more popular Google Docs. It allows users to store, read, and do very minor edits to Microsoft Office Documents. The service has been integrated with Microsoft Office 2010 for Windows and 2011 for Mac as well as Facebook. Other partners are also getting on board.
As the announcement said in a Docs.com Word document, "backend updates are rarely flashy." In other words, don't get too excited as this update won't make the site look much different. But sometimes the best improvement is speed. That is what this update brings.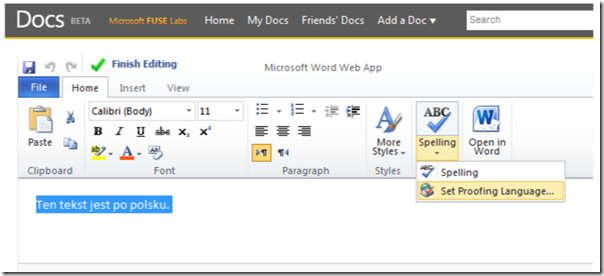 Secondly, there are more languages available to users. Not only will the added language support allow users to create and edit documents in their own language, if it is supported, but they can enter multiple languages into a single document and have spell checking of that language. Over 30 different languages are now supported.
The following 30 languages are now supported by Docs.com:
English (US) (default)
Arabic (Saudi Arabia)
Chinese (PRC)
Chinese (Taiwan)
Czech
Danish
Dutch (Netherlands)
German (Germany)
Greek
Finnish
French (France)
Hebrew
Hindi
Hungarian
Italian (Italy)
Japanese
Korean
Norwegian (Bokmål)
Polish
Portuguese (Brazil)
Portuguese (Portugal)
Romanian (Romania)
Russian (Russia)
Slovak
Slovenian
Spanish (Spain)
Swedish (Sweden)
Thai
Turkish
Ukrainian
Advertisement