Microsoft and Facebook are teaming up to take on Google Docs and other online office suite services with a new service of their own, Docs.com. This joint service is still in beta, but you can get a look at what the interface will look like. Sign in with your Facebook account and take a look at the samples that have been uploaded. Since the service is in beta, you will not be able to upload documents yet, but you can "Sign Up" and they will notify you when you are allowed. So until you get your invitation code, all you can do is take a look around at the sample documents created already.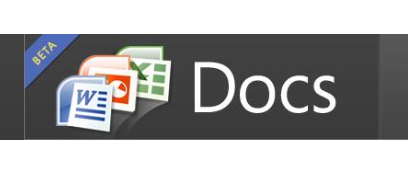 The home page says:
While Docs is in Beta, we're gradually allowing people to create and upload their own documents. Join our wait list and we'll notify you when these features become

available to you.
Eventually you will be able to edit and create documents, share them with friends on Facebook, save them, and print them from the service.
The Docs.com service is a product of Microsoft FUSE Labs. Their purpose in the MS Ecosystem is to focus on social networking and collaboration in "real-time and media-rich experiences for home and work." The Microsoft Office 2010 release that is coming this summer is part of FUSE labs. They are launching their Microsoft Office Web Apps, which is the underlying infrastructure of Docs.com.
Microsoft Office 2010 has reached the RTM phase. RTM means "released to manufacturers" which is to say it is in the final version what will be nearly identical to the release version shipping this summer. There are a number of sites online that have given the RTM a once-over and share their views:
I've been using the beta and have downloaded the RTM from Microsoft Technet and to be honest, it is not that much different than the 2007 version. I don't use most of the suite, but Word, PowerPoint, and Excel have some nice new features including the Backstage which is a terribly named revamping of the File menu. It shows a lot more information than in older versions. But, the new version also confuses more.
The most significant feature of the new file menu is the "Save & Send" feature which lets you "Save to Web". Doing that puts the document in your Windows Live Skydrive. You have to be signed up for it, but once you do, it will log you in and save it there. This feature  is not yet available to the general public. You can save documents to your Skydrive but you cannot yet edit them online. Also ,the Ribbon is coming to more applications.
The real headline is the addition of the online Web Apps and now the release of Docs.com.
Here is video of Mark Zuckerberg of Facebook discussing the new partnership with Microsoft:
Advertisement