How would you like to add 25GB of storage to your computer without installing a new hard drive? If you do then you need to check out Microsoft's SkyDrive and SD Explorer, which together can add 25GB of storage to your computer, and make it act just like a normal hard drive.
Not too many people know about the free 25GB of storage available from Microsoft SkyDrive which is a shame since it is a great place to store documents, images, files and more completely free. All you need to use SkyDrive is a Windows Live ID (which can be a Hotmail, MSN Messenger or XBOX Live Login as well) and to sign up for the SkyDrive service.
When you use SkyDrive through your browser you have a limited functionality, but with SkyDrive Explorer you can add SkyDrive to your computer so that it functions just like a hard drive.
Some notable features of SkyDrive Explorer are:
Easy and convenient

: You don't need to go through hassle of web browser and upload one file at one time. Another plus is that you don't need to know how SkyDrive works since it acts just like your hard drive.

Secure

: SDexplorer is secure, it doesn't store your personal information and it's not even passed to the SD explorer engine. It uses HTTPS for all file transfers.

Compatibility

: SDexplorer works in both 32 as well as 64 bit operating system.

Fast

: SDexplorer is definitely faster than using the SkyDrive web access. You can do bulk operations with files and folders like renaming objects, deleting objects and much more quickly than using your browser.
How to get and install SD explorer:
Step 1: Download SD Explorer.
Step 2: Double click the installation file to start installing.
Step 3: Accept the license agreement and click on next.
Step 4: Select the location to install this application. The default location is fine.
Step 5: Click the install button and let the installation complete.
Step 6: You can tell SD Explorer to auto-update. This will make sure you get the best performance and the most secure version.
Step 7: Click the finish button and you are done the with installation process.
Step 8: Go to My Computer and you should see the SD Explorer drive there.
How to access SkyDrive cloud storage through SD Explorer:
Step 1: Double click on the SD explorer folder to open the folder.
Step 2: Enter your Windows live account information and sign in. You can also check 'Remember me on this computer' if you want SD explorer to remember your password. Most likely you do.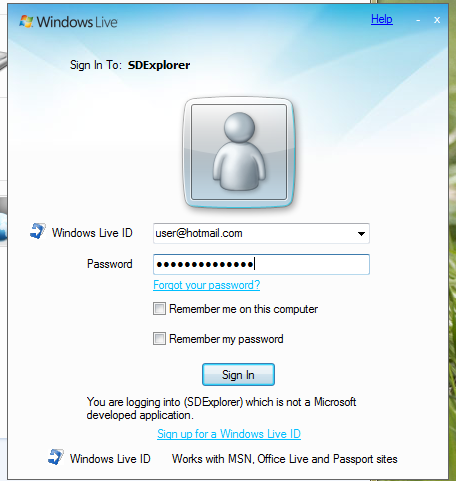 Step 3: You should be able to see your SkyDrive folders now.
Step 4: You can now use your SkyDrive storage just like you would any other folder on your computer including creating folders, copying files, deleting files etc.
Step 5: While creating folder you can specify security features of folder in order to give access to a certain group.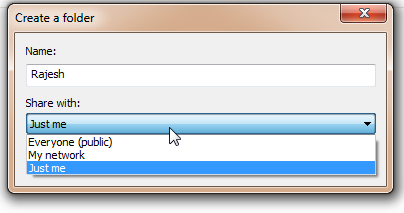 The follow screen shots show some additional options and features of SD Explorer.
Context menu:
Change folder share mode:
Select language dialog:
Delete confirmation dialog:
Mapping SkyDrive folder dialog: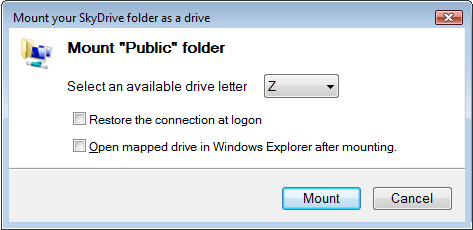 Advertisement