We live in a connected world and we always want access to our most important information, anytime, anywhere. The buzz word lately is the cloud, which is a way of utilizing the Internet to store, manage and share information.
Utilizing the cloud is still a new idea for many although we have dabbled with in some form or another for a long time now, web mail services such as Windows Live Hotmail, Yahoo Mail and Gmail are common examples of utilizing the cloud for storage and communication. Instant messaging is another form of using the cloud for communication too. In this article, we take a look at how we can use the Cloud to store our data such as large files, pictures, videos and music to name a few.
There are many services out there and I don't believe there is a one size fits all solution, so I will be looking at two popular files storage and sharing services. In this article, we'll look at Live SkyDrive.
Windows Live Skydrive
When you talk about cloud storage, Microsoft makes it literal with this easy to use online service, its also attractive with its massive 25 GBs of available space. To use Windows Live Skydrive, you need a Windows Live ID there is also a storage limit of 50 MBs per file. So, for people with heavy needs Skydrive might not be the best option, lets take a look at how to use it.
First you need to log into your Skydrive account at https://skydrive.live.com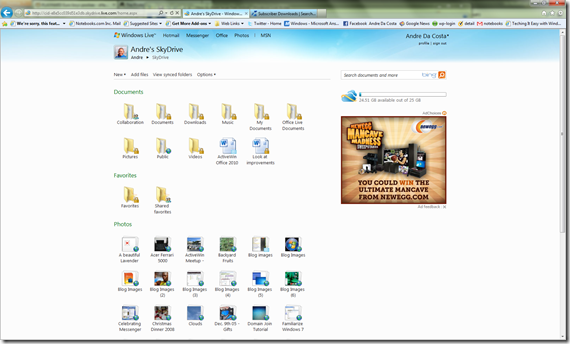 You will then be presented with your main page with displays familiar folders you find in Windows such as Documents, Pictures, Music, Videos, Public folders. The philosophy shared between the two makes it easy to get a hang of.
Add a File
After logging in, the next step is to add a file or files, its up to you to decide where you would like to store your files. You can also create your own folders and store files there too. Lets open the Documents folder and add some there. You can choose to add them anywhere you desire. Please beware though that files added to the Public folder are available on the Internet to anyone.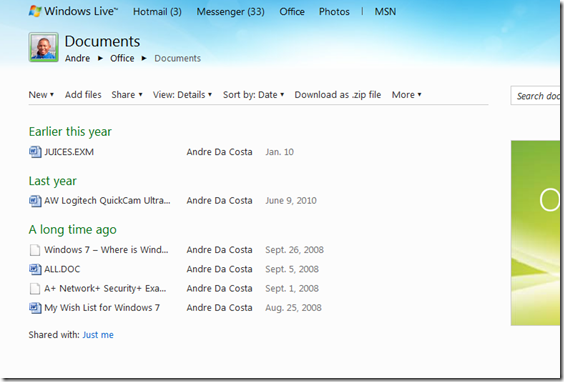 Here you can see I already have some files in my documents folder.

Click the Add files link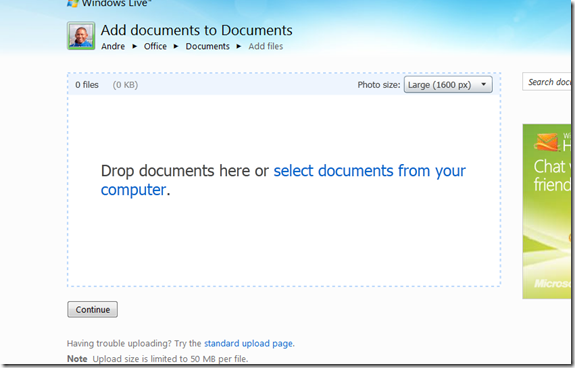 In the box displayed, you drag your files or you click the select documents from your computer link and browse to where your files are located. I am going to use the drag and drop option since its quick and easy.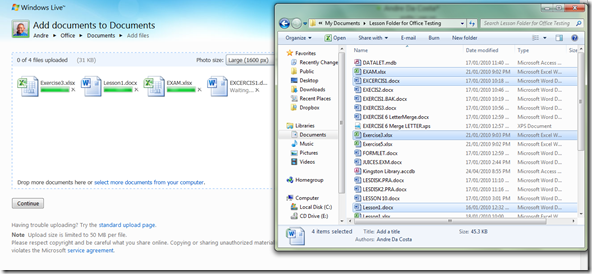 As you see in the above screenshot, I selected a few Microsoft Office files I would like upload to my Skydrive Documents folder. After the files have been uploaded, click Continue.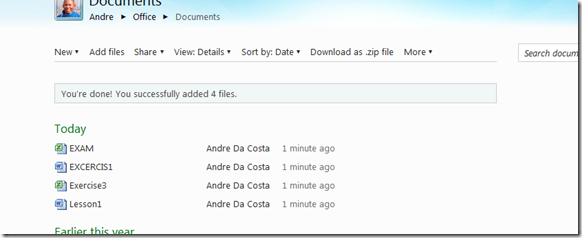 That's it!
Please note, you are not just limited to office files and pictures, Skydrive can handle larger files too such as videos. Just to prove it here I am uploading a video file which is 49.8 MBs in size which is just below the file limit of 50 MBs permitted by Skydrive.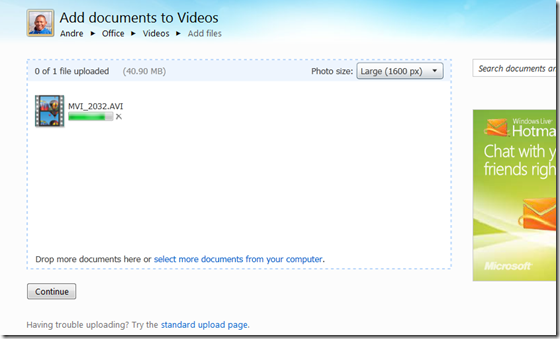 Sharing is just as easy.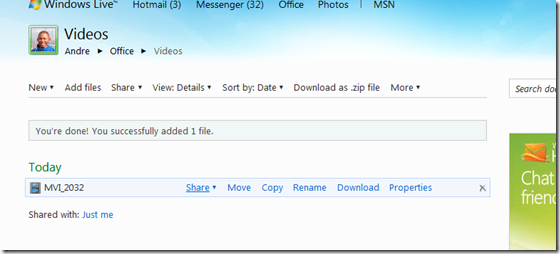 Once the file has been uploaded, hover over it with your mouse pointer and click the Share link that appears.
Click Edit permissions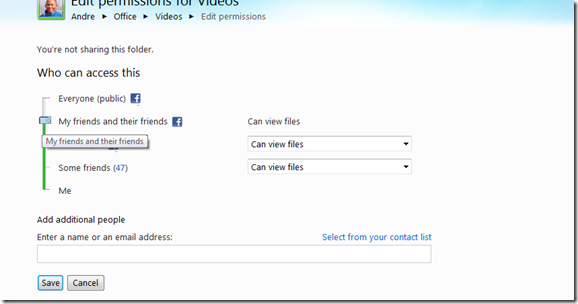 Set permissions for who can access your file, you can leave it at just you and select the option to email to additional people.
In our next article, we take a look at another solution, Dropbox.
Advertisement