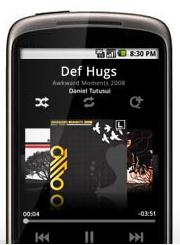 mSpot, a new music streaming and syncing service that launched this week, gives users 2GB of free storage for keeping music in the cloud for playback on other computers and Android smartphones. In addition to moving your music to the cloud you can connect mSpot to iTunes or Windows Media Player to sync playlists as well.
The wireless syncing of music and playlists to the Android, coupled with the lovely looking mSpot player, is what really draws me to mSpot. I have been using the service for the past few weeks on my Motorola Droid for coverage at WalletPop and as I stated, mSpot has really changed how I use my Android phone. While it used to be a pain to create playlists and manage music, now it's as simple as updating the playlists that I have set up for my iPad.
It's also nice that music can be cached to the local storage on your phone for playback on an airplane or in spotty coverage. When you play songs a local copy will be saved, but it isn't immediately clear how to make all of your songs, or all of a select playlist, download without playing all of the songs.
mSpot is also handy to have if you use a full size notebook and a netbook. If you install mSpot on your primary device you can use the mSpot webplayer to listen to your music and playlists on your netbook without wasting space on Dropbox or going without playlists.
mSpot offers 2GB for free and if you need more storage you can purchase 10 GB (8,000 songs) for $2.99, 20GB (16,000 songs) for $4.99, 50 gigabytes for 9.99, and 100GB for $13.99 per month. mSpot works with most music files that do not have DRM on them.
mSpot is an amazing app for enjoying music on your Android smartphone. With a free 2GB option, and cheap upgrades you have to give mSpot a try — especially if you have an Android device.
Advertisement