Microsoft announced a shipping date and price for it's Mac version of Office 2011.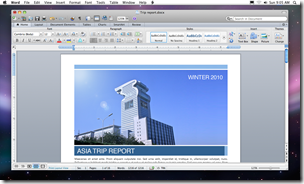 Microsoft has been previewing the Mac based office suite, but now we have learned what it will cost when it drops in October of this year. The exact date was not given.
Like the Windows versions of the suite, there are several bundles aimed at different segments. The bundles and their costs are as follows:
Home and Student $119 for three licenses Word, Powerpoint, Excel, and Messenger
Home and Business $199 Adds Outlook, $279 for two licenses
Academic $99 same as Home as Business but must be a full-time student or a teacher to buy
Preview video of Office for Mac from Microsoft
Some of the biggest changes in this new version are the addition of the Office Ribbon, a larger toolbar that replaces the Menu. Most of the commonly used features are on the main ribbon and there are multiple ribbons based on what you want to do.
A second addition is the online template library offering many more templates and content for users to build their documents and presentations with.
Finally, Outlook's file format is improved to take advantage of OSX search functions making your Outlook content searchable from the Mac OS's Spotlight utility.
When it comes down to the daily use of Office 2011 for Mac, the user experience will be similar to Office 2010 for PC so users who find themselves switching between Mac and PC on a regular basis may find the newest version of Office for Mac easier to use.
For a look at the new features in Office for Mac 2011 that improves on the older Office for Mac 2008, check out the video below which shows the Office for Mac 2011 Beta.
If you need Office for Mac today, but want to get the latest and greatest when it comes out in October you can buy Office for Mac 2008 today and upgrade to Office 2011 when it is released as part of the Office for Mac Technology Guarantee program.
To learn more about Office for Mac, visit the Mactopia page.
Advertisement