Is your MacBook hard drive getting full? We'll show you how to clean up your MacBook hard drive or SSD using some built-in Mac tools or a couple of nice paid and free utilities.
Before jumping in, back up your drive. Use Apple's Time Machine for the simplest and safest backup. Our How To Set Up Time Machine for Your Mac will explain the simple process for setting up and using Time Machine if you haven't already started it.
To see if you need to clean up your MacBook hard drive, open Finder and click on your MacBook from the DEVICES section in the left hand Sidebar (see first arrow in screen shot below). Click on your computer's main storage device, usually named Macintosh HD. Or right-click it and choose Get Info from the pop up menu.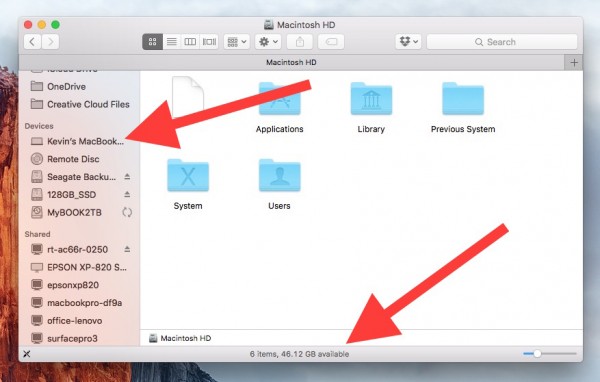 At the bottom of the screen, if Finder shows the Status Bar, you'll see some text. If it's not showing, show it by clicking on View in the menu and then choose Show Status Bar or use the keyboard shortcut COMMAND+/. The Status Bar should say something like "42.93 GB available" (see screen shot above). That lets you know how much space is free for storing files and apps.
Take Out the Trash
First, empty your OS X Trash. Start by opening the Trash folder. Click on the Trash can icon on the Dock at the right end. This opens the folder in Finder. Take a look at what's there to make sure there's nothing important accidentally sent to the Trash.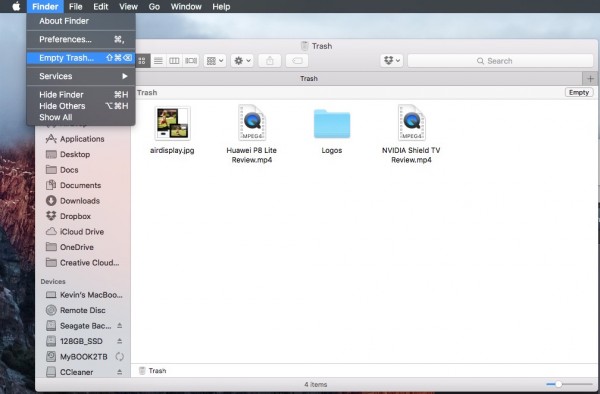 From inside Finder click on the Finder menu from the upper left corner and choose Empty Trash. Keyboard shortcut fans can use the keyboard shortcut COMMAND + SHIFT + DELETE. OS X asks if you're sure. Click on Empty Trash and the OS permanently removes the files.
Now let's see how much space we cleared up. Follow the steps in the section above to show how much free space the hard drive has available. If that's enough space, then you're finished. However, there's other junk on the hard drive to remove.
How to Clean Up Your MacBook Hard Drive Further
We've got a few useful utilities that will help you clean up your MacBook hard drive.
DaisyDisk
Now that we've cleared out the Trash folder, it's time to find out what's eating up the hard drive or SSD space using a nice utility called DaisyDisk. You can get it in the Mac App Store for $9.99 or get a more robust version at the app developer's web site where you can also download a trial version.
Launch DaisyDisk and click on the Scan button next to your Hard Drive. Give it time to scan the drive and then the app visually displays the drive's storage allotment using an interactive pie chart. Hover over the pie chart's sections to see how much space that folder is taking up in the list on the right. Click on a colored section to see what's inside it in another pie chart. Click on the center of the circle to go up one level in the folder tree or click on the folder names in the toolbar above.
If you find a folder that is taking up too much space and has stuff you don't mind losing, right-click on it and choose Show in Finder. This opens the folder in Finder and lets the user manually delete or move content to another drive to free up space.
Clean My Mac
Clean My Mac inspects the user's drive just like DaisyDisk. However, it finds files that the user can delete. After a scan the app shows the following screen.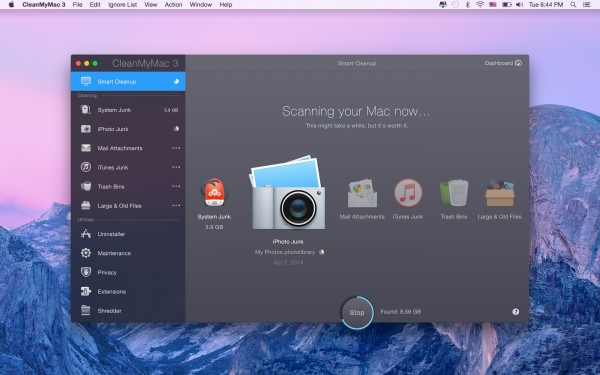 Click on the icons to see a pop up of what's included in this section. To get more granular control of what Clean My Mac removes, click on the corresponding folder along the left hand column.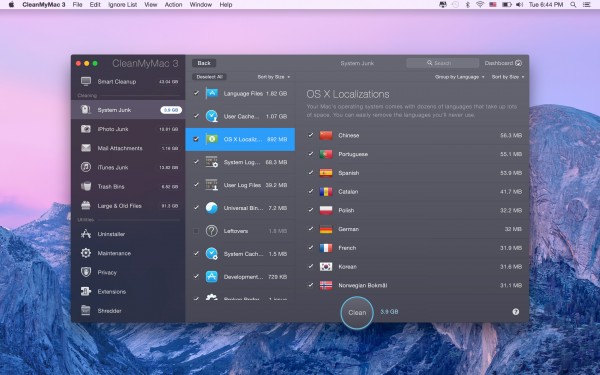 For example, under the System Junk section, we see a list of things like…
User Cache Files
Language Files
User and System Log Files
System Cache Files
Click on each item in the list to see even more detail. The app lists the files under each kind of System Junk file. Under User Cache Files we see …
CloudKit
Chrome
iTunes Cache
Safari Cache
Other Mac App Caches
Uncheck items if you don't want Clean My Mac 3 to remove those files.
Under certain sections there's a Review Files button to show further detail about that section. Be sure to click it to see the detail report of files that Clean My Mac will delete. Check files to remove them since these sections leave them unchecked by default. For example, the Large & Old Files section shows files that are bigger than certain sizes, like …
More than 5 GB
1 GB to 5 GB
500 MB to 1 GB
50 MB to 500 MB
Carefully look through this since you might end up deleting precious videos or important apps. Next to each file in the list there's a magnifying glass icon that show up when the user places the mouse cursor over the file name. Click it to show the file in Finder. Next to the magnifying glass icon there's an eye icon. Click it to get a preview of the file. Video files start playing and pictures will open up in an image previewer.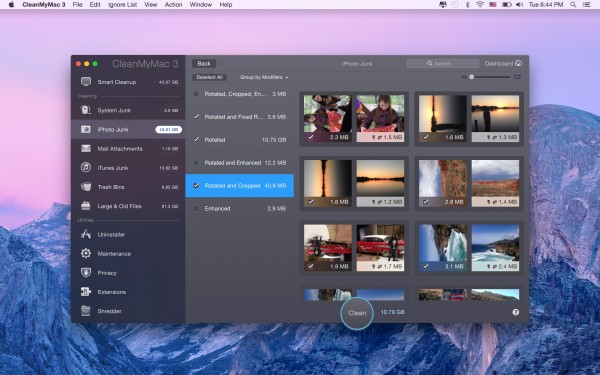 In each section there's a Clean button to clean just that section's selected files.
In addition to the cleaning tools above, Clean My Mac will uninstall apps. The Perform Maintenance includes scripts to flush the DNS cache, repair disk permissions and speed up Apple Mail among others.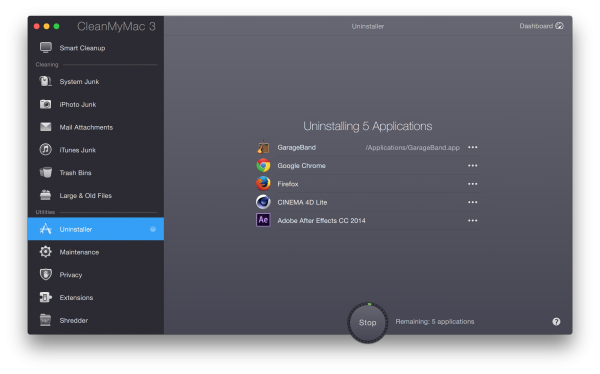 There's a trial version Mac owners can download to test before buying the program. Some of the maintenance tools require the full version. Also, the free version will only clean 500MB. Buy the full version to fully clean the content and run all the maintenance tasks. It costs $39.95 for use on one Mac and $59.95 for two.
HD Cleaner
People who don't want to pay and don't mind using tools with fewer features can grab the free HD Cleaner from the Mac App Store. Open a specific folder and it will scan the folder. Then let it Delete all the files or uncheck files you don't want deleted. Open them in Finder by clicking the folder icon next to each listed item. A button in the upper right opens a more detailed list of all the folders the app offers to delete.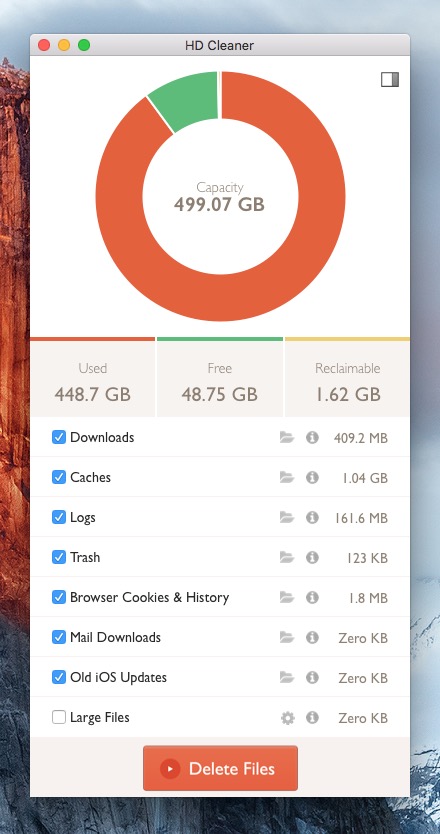 It's not perfect, which one can assume since it's free. I know I've got Apple Mail set up, but it told me I didn't and didn't offer to delete any content from Mail. Give it a try since it will clean the drive. It's not as user-friendly as the other two tools.
CCleaner
The last utility we've got comes in both a paid and a fully usable free version. Get it from Piriform for free or pay $24.95 for the full version. It adds browser cleansing, real-time monitoring, automatic updates and priority support.
We tried to test it, but it's not compatible with OS X 10.11 El Capitan yet. So, only install it if you're not yet running the new version of OS X. Based on its performance on the PC side, it gets a recommendation for Mac. They hope to support El Capitan soon.
Advertisement