Microsoft announced an update to Skydrive, the company's cloud storage service that lets you store 25GB of documents, photos and even music for free. Although similar to other cloud storage services such as Dropbox and Apple's new iCloud, Skydrive delivers much more storage for free.
I've been using Skydrive for quite a while now and it has gradually improved over the years. It is still not where I want it to be, though, with one of my complaints being file size limitation (although that has been improved a bit in this new update).
I have always liked Skydrive' collaboration capabilities: you can share your files easily with friends and colleagues, also. When you upload an attachment, whether it is Microsoft Office files or photos, you can choose to have them stored on Skydrive for easy access and quick editing if necessary.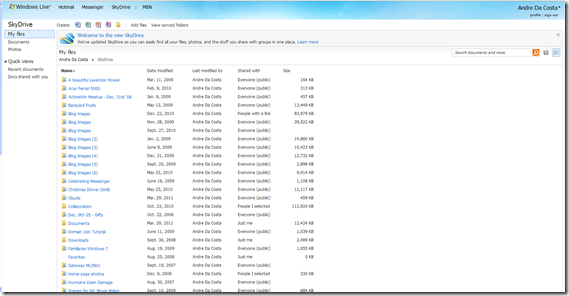 The new Skydrive takes on a familiar Windows Explorer look which should be more attractive and welcoming for first time users of the service. Files are displayed in a default details layout along with the default 'My Files' location, which displays all file types.

There are some limited customization capabilities built in: you can change the default view from details to Thumbnail preview.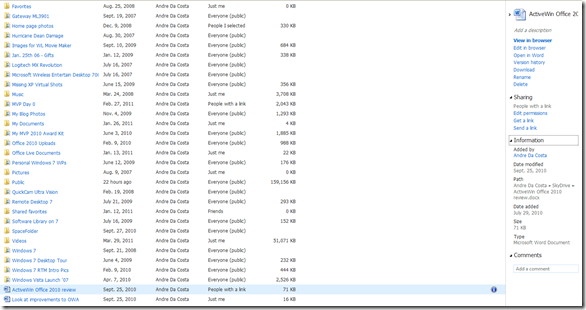 If you want to see more information about your files or folders, just hover over the file and click the blue i that appears. A TaskPane will appear on the right side of the screen with attributes about the file. This will have options that will let you add information, edit in Word Web App, Open in Microsoft Word or download to your hard disk. You can also see version history and edit the document's permissions.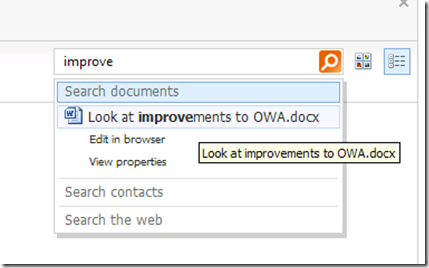 The new Skydrive features greatly improved search with a new suggested results feature. Just start typing a few words and the most relevant results will appear as you type. You can also see that you have quick access to other options beneath the document, such editing in the browser or view properties information.

The new Skydrive strongly focuses on quicker access to tools. The toolbar, for instance, displays quick links to creating a new Office file such as a Word document, spreadsheet, presentation or notebook. You can also create a new folder, add files or view synced files. Because you are using the browser instead of Windows Explorer to manage and create files, such improvements are welcome.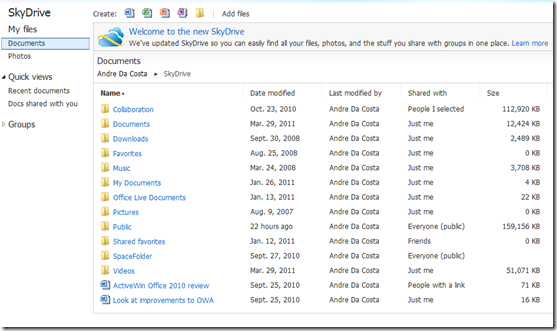 You can quickly organize and view common file types using the new Skydrive. For example: the Navigation Pane has a Documents and Photos link so you can quickly view all related files. In the above screenshot, I am in the Documents view where I view a combination of folders and Word documents. I have similar organization tools I can find in Explorer, such as columns, for viewing files. A nice feature is viewing the size of a folder.
You can also use the Quick Views capability first introduced in Hotmail to quickly access recently added documents or documents shared with you. The Groups feature allows you to easily collaborate with groups you might have set up on Windows Live Messenger. A very well integrated experience across core Windows Live services.
Photos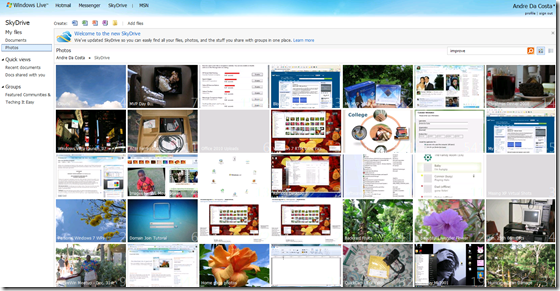 The new Photos view is nicely done in Windows Live Skydrive. By default, photos are displayed in Thumbnail Preview. One of the nice features I noticed include a faint watermark on the bottom right of the total number of photos in a folder. See below: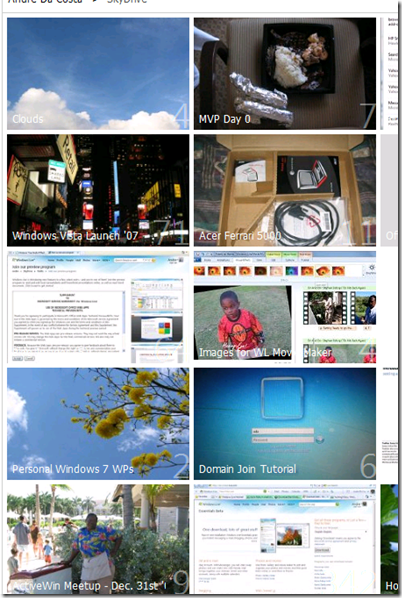 Another nice thing I discovered is that each thumbnail preview is an actual mini slideshow, see below: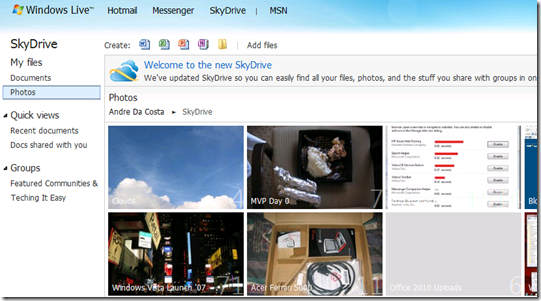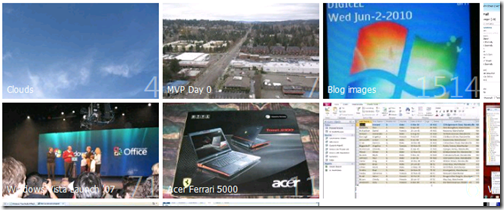 Mini slideshows dynamically changing
Overall, these improvements are welcome and will make Windows Live Skydrive a more attractive option to use. However, the file size limitation still remains a big deal. Individual file sizes have moved from 50 to 100 MBs, but that is still not enough for what most people would like to use the service for. Especially for video and photos that can balloon in size. It's something Dropbox still beats Skydrive on.
The other thing would be synchronization. Although Windows Live Sync is easy to use, there is a set it and forget it approach to Dropbox: just install the free client, type in your account information and files are automatically synced up. That seamless experience is still something Skydrive lacks.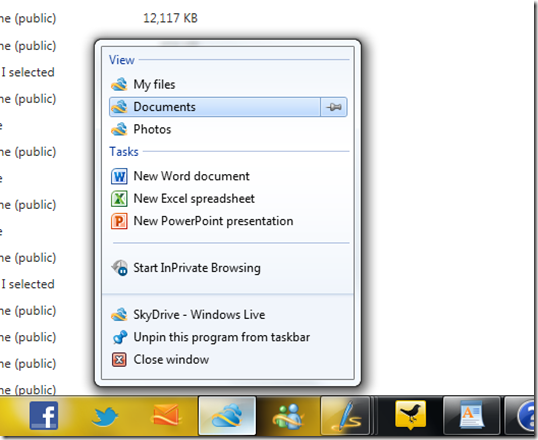 That said, if you like Windows 7 and Internet Explorer 9 integration, just like Hotmail, you can drag and pin the Windows Live Skydrive web icon to your Windows 7 taskbar for quick access with built in Jump List. It's a good effort focused on making the service easier and more accessible. And in the end, it's a free service, so its definitely worth a try. There's nothing to lose.
Advertisement