For those who work in multiple operating systems (Microsoft Windows and Mac OS X) one challenge is getting files transferred between the two. We will show you four strategies on how to keep your files in sync and shared between your MacBook and a Windows Notebook.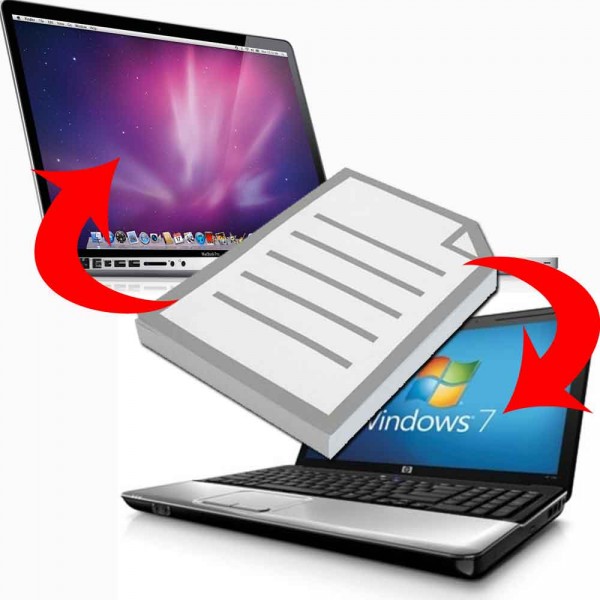 USB Drives – For Occasional Transfers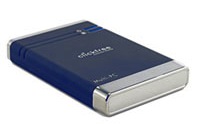 If you only need to occasionally transfer a few files, the fastest way is to just get a USB hard drive or flash drive and plug it into the source computer, copy it over and then unplug it. Take the drive to the other computer and plug it in and copy it wherever you want it. On Windows you would use Windows Explorer and on a Mac you would use Finder.
If you want it to be more automatic, one solution might be Clickfree's USB backup drives. They make it pretty easy to do. Just plug in the drive and it finds the files in your user or home folder and copies them over. The first time will take a long time, but after that it just grabs new or changed files. Now you can take the drive to the other computer and have access to the files you want.
When moving between Windows and a Mac, file formats can be in issue. For example it is not easy to read files created in Pages on a Mac when they are on a Windows computer. We have a guide to show you how to do that if that is your issue. Otherwise, be sure to save files on the Mac in a format that your Windows computers can read or vice versa. For example, in Pages, Numbers or Keynote on a Mac, save your files in formats that are compatible with Microsoft Office. In Pages go to File, choose Save As, and then look for the drop down box at the bottom. Select it and then choose Word Document from the drop down list.
It is much easier when going from a Windows computer to a Mac. Most file formats that can be created on a Windows computer can be read by software on a Mac. If you have problems, do a Save As in the program and choose one of the following formats:
Word, Excel, PowerPoint (can be read by Office and iWork)
PDF (can be read by Macs with Preview app)
RTF (can be read by Macs with Text Edit app)
Almost any picture file format including JPG, PNG, GIF, TIFF, BMP
Video files work best on Mac with M4V, MOV, MPG
DropBox or SugarSync – For Syncing Lots of Files Between OS X and Windows
If you have a lot of files to keep synchronized on both Mac and Windows, then services like DropBox or SugarSync are great tools. If you are coming from Windows and already use Windows Live Mesh, it too works on a Mac, but we think these other solutions are better.
What is synchronization? It is automatic copying of files between two devices. If you create a Word document on your Mac and save it to a synchronized folder, it will automatically upload to the service's online storage site and then download it to the second computer. Then, let's say you go to the other computer and open the file and edit it. Save it and close it and the file will become available on the other computer and the online storage site. Be sure to close files or they will not sync.
Security: If you are worried about security, remember a few things. First, both services encrypt the files which scrambles them and keeps them from being viewed by anyone other than you, unless you give away your password or put the file in a special public folder that it is viewable by others. Don't put anything in that public folder and you have nothing to fear.
Second, if you are afraid of having your files on the Internet, remember they are encrypted. Only you can read them. Also, this is no different than having your email on the Internet. In fact email is less secure than these services, so as long as you create a secure password and keep others from getting access to that password, you should be safe.
Here is a video that explains what Sugar Sync can do:
The basic operation of each service is the same. Install the client software on both machines, With DropBox there is a new folder in the user folder. Anything put in that folder is synced. On SugarSync, just tell the program which folders you wish to sync. From then on, any files in the folders will be synced immediately after they are saved or changed. Also, you can access them at the online site from multiple devices, including any computer, tablets, or smart phones including Android, iPhone, Blackberry and Windows Mobile. The only Windows Mobile app comes from SugarSync, so if you use that device, that's the service to use.
These services are popular so many other programs and apps will work along with them. So let's say you snap a photo on your iPhone or Android phone. Many apps will take those files and upload them to DropBox for you.
To see the differences between the two, check out Sugar Sync's comparison chart. One benefit tipping in favor of SugarSync is the amount of  free online storage. They recently upped it to 5GB. DropBox only offers 2GB for free.
To learn how to use DropBox check out this great Howcast video below. Just wait a second and click Skip this Ad.
Here's one for SugarSync:
Network Attached Storage – for Making Files Available, but not Stored Locally
A third option is for those who want to keep files available to a Macbook Pro or MacBook and a Windows notebook, but do not want to actually store them all on both computers. For example, let's say you are creating a bunch of videos on your MacBook. After creating the video you want to be able to access it from the Windows computer, or any other computer. But you don't think you will want to access that file all the time. There is no reason to copy it to the other computer's hard drive until you plan to view it.
The best solution for this is a network attached storage device, or NAS. If you have a network at home to share your Internet connection between multiple computers, then you will likely have a router. The router might have a USB port on it intended for hooking an external USB hard drive (see above – Netgear WNDR3400 Wireless Dual Band Router). Consult your router's support page or documentation to see if it does. If so, you can get a cheap USB hard drive and plug it in. Configure it to be available to all the computers on your home network. It might even have the ability to make the files available to you over the Internet.
If your router doesn't have a USB port on it, then you might want to try out a device like the PogoPlug. We reviewed the older version and found that for accessing files over a network or from the Internet, it is great.
PogoPlug is a box that plugs into your network via an Ethernet cable. It can also be done wirelessly, but if you can we recommend using the Ethernet cable. Then, you plug in up to four hard drives which can then be accessed from any computer on the network or through a special web interface anywhere in the world from the Internet. There are a lot of other features to including:
Accessing from tablets and smart phones
Sharing certain models of printers over the Internet or to some tablets and smart phones
Sending file to hard drive via email
Streaming video, music and pictures via the Internet to many devices
Setup is a little tricky, but it is worth it. They have three options, but we recommend the PogoPlug Pro. It has built-in Wi-Fi and replaced the ugly pink with black. It is $99 direct although we found one on Amazon for just $72.23.
Google Docs or Windows Live SkyDrive – for Transferring Office Documents Between Mac and Windows
Some people only want to share their office documents, like word processor files, spreadsheets, presentations, etc. For those people, the best option might just be to use either Google Docs or Windows Live SkyDrive in conjunction with Microsoft Word 2010 and 2011. Microsoft's tutorial page shows how their service works.
For SkyDrive, from within Microsoft Office 2011 apps on a Mac, like Word, just choose File, Share and then "Save to SkyDrive…". It will ask you for your user name and password and export the file to the online storage. Then, just access it by going to your SkyDrive page on the other computer.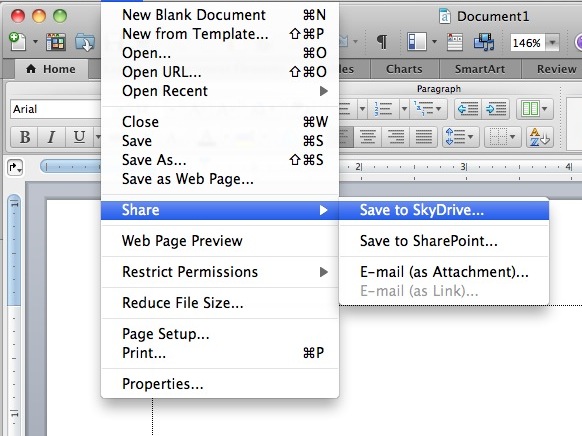 To dot his on a Windows computer, just follow our guide. For this to work you will have to have a Windows Live ID, which you can get at the Windows Live site.
If you prefer to use Google Docs, you will need an account. For Gmail users, you already have one. Just go to the Google Docs site and sign in using your Gmail credentials. From there you can create the document and save it. Then go to the other computer and sign in and open the document.
One benefit of Google Docs is you have both Google's online office suite, but you can also upload a lot of different files formats and have them accessible online.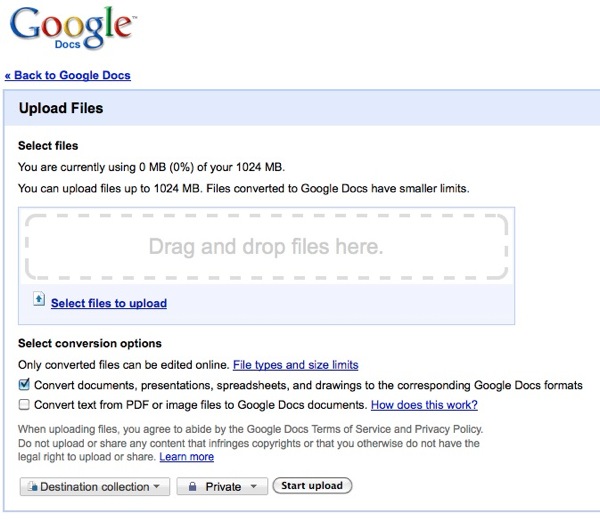 What is really cool is you can just open up the folder that contains the file(s) you wish to upload and drag them from Finder on a Mac or Explorer on a Windows computer to the box on the docs site (see screen shot above). To see what kinds of files you can upload, click the "File types and size limits" link below the "Drag and drop files here" box. It includes:
Word .doc
OpenDocument text .odt
StarOffice text .sxw
PowerPoint .ppt and .pps
Excel .xls and .xlsx
OpenDocument spreadsheet .ods
Comma-separated .csv
Windows Metafile .wmf
Photos with .jpg, .gif and .png formats
PDF
One thing is for certain, sharing files between Mac OS X and Windows is much easier than it used to be thanks to a collection of free or cheap tools. If you switch between systems on a regular basis we highly recommend one of these solutions to simplify your file sharing and access.
Advertisement