When you log into Facebook today you might notice that some of your friends are talking about new profile pages which put a bigger emphasis on pictures and allows them to create lists of friends as well as expand on their career and education info. The new Facebook Profile  page style is available to all by visiting the Facebook Profiles announcement.
You can learn all about the new Facebook profile features or catch the quick recap below which will tell you everything you need to know.
As we mentioned, the biggest changes you will notice revolve around pictures and the info you really want to know about someone, especially if you are reconnecting with an old friend for the first time. With the new profile you'll immediately see their latest photos across the top of the page.
Next up, you can see where they went to school and where they are working by glancing right above the pictures; no need to go hunting for more info. If you do want to know more details, glance down again and you'll find education and work information which is also expanded, a move that could hurt LinkedIn.
One of the enhancements we see users flocking to almost instantly is the ability to group friends into lists that aren't just used to keep mom from seeing your party pictures. With the new lists you have a more Twitter-like group that allows you to segment your friends into meaningful categories such as High School friends, College Friends and Coworkers.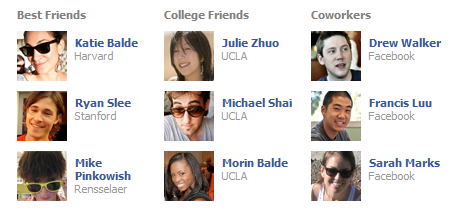 If you want to turn on the new Facebook profile, you just need to visit the new profile announcement page on Facebook and click upgrade. If you want to see a bit more, view the Facebook New Profile video below.
Advertisement