Evernote has just updated their desktop client for Windows with a collection of much-needed and welcomed features. The new Evernote for Windows features include notebook sharing, which has been available on the web and on Mac, as well as  the ability to share a note via Social media and a collection of improvements to the writing experience. Overall, a great collection of improvements that are bringing me back to the Windows Evernote client for the first time in a while.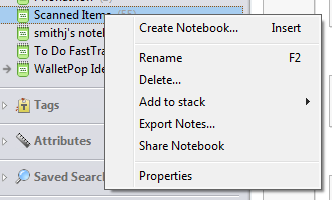 Notebook Sharing: The ability to share notebooks has been around for some time, but now you are able to actually share and manage notebooks from within the Evernote for Windows software tool.
You can right click on a notebook to share it, or if you already have shared notebooks, click on the shared tab to see what is being shared and with whom. Sharing notebooks is a nice way to collaborate or share a curated list of links and information. We also like to use it to share the apps that we want in case you want to buy us one. Learn how to create an App Wishlist on your iPad with Evernote.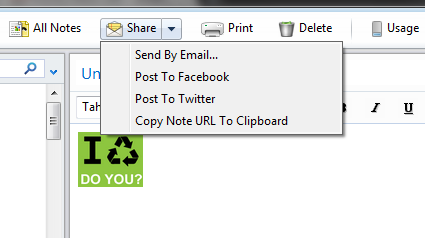 Share a Note on Social Media: Another new addition is the ability to share a note on Twitter or Facebook from within the app. This is a nice way to share a favorite resource, scanned document or really anything you have in Evernote. When you share a note, you get a publicly accessible page like this one, which anyone can see.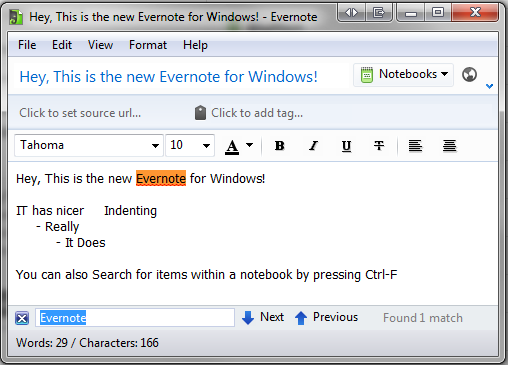 Improved Writing Experience: The new Evernote for Windows allows you to write nicer as well, and adds a few tools that will make using Evernote to share a document a bit easier. There are nicer indents, the ability to search with Ctrl+F and a word and character count built in. You can find the word count under View – Word Count.
How to Update to the newest Evernote for Windows: To update, open Evernote and click on Help-> Check for Updates. From there, follow the simple directions and you'll have the new features in no time.
Advertisement