Inking on a desktop system or a notebook is not that easy unless you have a TabletPC or an external drawing pad/tablet, but if you have an iPad, you can use the iPad along with two other pieces of software to ink on the computer.
You'll need two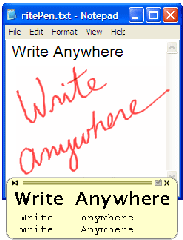 programs. The first is the inking software called ritePen 4.0. Install it and it allows users to write anywhere on their screen using the mouse or a pen. Text will be entered into any place in Windows where text can be entered. It also has commands that can control certain aspects of programs and Windows via gestures. It costs $39.95 but has a thirty-day trial version.
The next thing needed is Jump Desktop's PC client software and the iPad App. Once the iPad app is purchased, the client software can be downloaded. It costs $19.95 which is a little cheaper than LogMeIn Ignition that we previously highlighted. Jump Desktop can be used on any iOS device once it is purchased, so this could be done using an iPhone or iPod Touch too.
The last thing needed is a computer with Windows 7, Vista or XP. Mac is not supported and also note these cannot be the Home versions of Windows; it must be one of Business, Professional, Enterprise or Ultimate versions of Windows since Home doesn't support inking with ritePen.
The short version of this process is, install the software, configure everything, and then connect the iPad to the computer via Jump Desktop. A more complete explanation of this process can be found at riteScript, which is  the maker of ritePen.
At that point the iPad can be used to ink on the computer screen through Jump Desktop. As the user writes on his or her iPad, ritePen recognizes the markings and converts them into text. This could be useful if a user is not a good typist but can write quickly enough. This is even more useful for marking up documents using the tools in ritePen that allow drawing rather than converting to text. So, a user could take this approach to keep notes in Microsoft OneNote or Journal using the iPad.
One key to making this work well is putting ritePen into Pen Mode. To do this, from the iPad, tap on the settings button which looks like a wrench. Make sure Pen has a check mark next to it and Mouse Pointer is set to ON and Mouse Circle is set to OFF.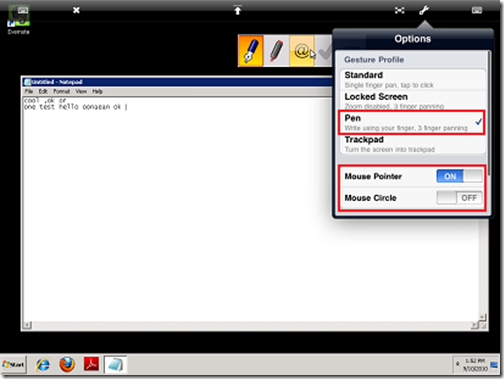 Below is a video that demonstrates how well this works.
Advertisement