Speck is getting into the iPad game with a line of cases for Apple's new device. Josh Smith previously shared his opinion on the Speck CandyShell iPad case. Now, its my turn with to share my thoughts on Speck's PixelSleeve Plus iPad case.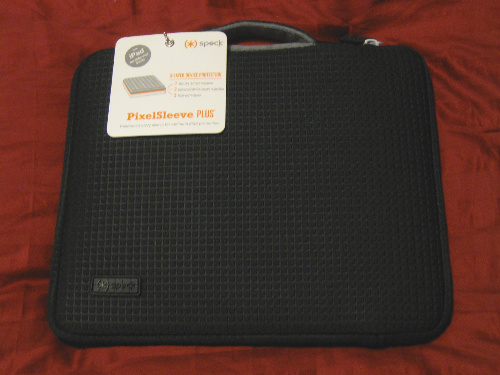 PixelSleeve Plus iPad Case from Speck
The PixelSleeve Plus is a neoprene snug fitting case with a carrying handle and a zipper along one of the short ends. Inside, there is a soft micro-fleece lining to protect the iPad from scratches. The outside is black with a small checkered pattern giving it a somewhat non-slip surface. It feels durable and thick enough to protect the iPad but not bulky as you carry it. There are three layers to protect the device the outer layer, a flexible reinforced middle layer, and the micro-fleece inner layer. Unfortunately, the pattern on the outside did collect small particles of debris which get lodged between the checkered squares of the cases pattern, but it is not a big problem.
The iPad fits snugly into the case so that it won't slide around. I was still able to get my Pogo Sketch Stylus in the sleeve along with a pair of ear buds, my Verizon Wireless MiFi, and a lint free cloth for cleaning the screen a must with the iPad. It is form fitting enough that I was able to put it into the back pocket of my notebook computer bag. This case is not intended to be used as a carry-all. You won't get much more than what I placed in mine into the sleeve. Fortunately, the iPad's battery life is long enough that I do not feel the need to carry around the charger. Its a good thing too because it won't fit. I wish it had an outer pocket or two so that I could just put the iPad inside and keep my accessories separate. I would bet Speck would say that designed it that way for a purpose – to be light.
I like the feel of the case as I carry my iPad in it, although my large hands are a tight fight in the handle. It is masculine enough that I don't feel like I'm carrying around a man-purse, but  ladies shouldn't mind the look either.
The case is not intended for those who want to keep their iPad in a protective case while they use it, like the CandyShell. It slides in and out easily enough that it isn't an issue. I have also used it to prop up my iPad while typing on flat surfaces.
The case is 10.3 inches long, 8.2 inches wide, and .8 inches thick. It adds only 6.4 ounces to the weight of the iPad. You can order it now at Speck Products for $39.95. They are currently back-ordered, but should be available soon.
Pros:
Lightweight
Snug feel
Enough room to carry very small accessories
Fits in a notebook computer bag
Attractive
Good protection
Interior wont scratch the device
Cons:
Wish it had an outer pocket
Handle tight for people with large hands
Easily collects debris particles
I think this is a good value for those looking for a sleeve to protect their iPad and don't need to carry around many accessories. And, it is miles ahead of the disappointing Apple iPad case.
Check back later for a review of the Speck ShieldView Screen Film used to protect the display. Speck sent along a 2-pack with the case. Thanks Speck!
Advertisement