If you like to take your iPad everywhere, then we have a case for you. The Dry Case waterproof vacuum sealed iPad case is a new item that comes from a company that has made waterproof products for quite some time and now they're making case designed to fit the iPad, Kindle or other tablets of similar size. The Dry Case iPad case is rated for depths of up to 100 feet.
The Dry Case tablet waterproof case is a fully enclosed waterproof cover for your iPad. The Dry Case has four clasps on the top which keep water out. You also vacuum out all the remaining air creating a tight seal so that you can use your iPad while in the case. One really nice feature is that there is a headphone jack that can be used while the iPad tablet is inside this case, even if it's underwater.
Dry Case Waterproof iPad Case Video Review:
In our tests we found that the Dry Case is very capable at keeping water out, even with the iPad completely submerged. That said, while you can use the iPad when it is inside the case, you can't use it while underwater because the water interferes with the touchscreen as you can see in the video. You can try to avoid this be leaving some air in the case, but if you don't plan to use it underwater, you may as well pump all the air out — just in case it goes in the water.
For the most part the second case is designed for on the go people who want to keep their iPad safe when they're near water, or playing around you the edge of water or near a swimming pool—but not really for taking your iPad underwater. We like that there are several connection options including an armband and lanyard hooks. While you could get a waterproof bag of some type from your local sporting goods store, but it won't likely have the built-in headphone jack.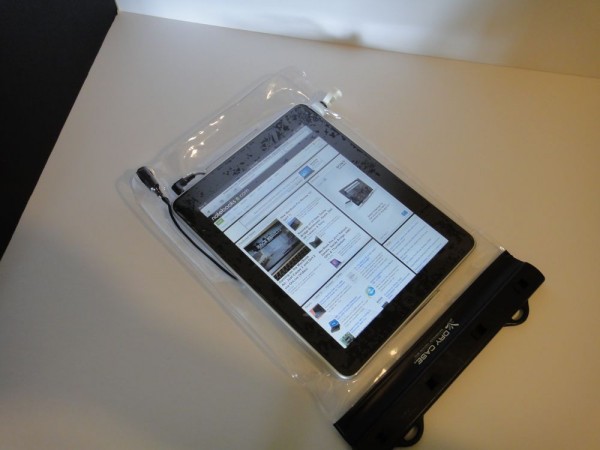 Conclusion: the Dry Case is a really nice case for the price if you want a case that you can take your iPad out without worrying about it getting wet in this offers a really good value. One of the only things we don't like is that while the case has a warranty, if your gadgets would get wet while they're in the Dry Case, they would be covered under any warned. This is understandable, because how can Dry Case know how your iPad got wet, but unfortunate.
Pros:
Doesn't add bulk
Keeps your iPad waterproof
Vacuum seals
In your headphones while your iPad as in the case
Affordable for all you get
Cons:
Can be tricky to get the plastic flat on the screen
Hard to use iPad screen while underwater
The case has a warranty, but your gadgets don't
Dry Case Waterproof iPad Case Gallery:
Advertisement