The ThinkPad Edge E220s is a new ultraportable business notebook from Lenovo which manages to come in thinner than the ThinkPad X1 and X220, while still delivering a powerful ThinkPad experience at just over $800
The ThinkPad Edge E220s is available from Lenovo as reviewed for $805 on sale or $949 with a Core i7 processor. These prices reflect instant savings and discounts, but are representative of the average price for a ThinkPad Edge E220s.
ThinkPad Edge E220s Quick Specs
The ThinkPad Edge E220s we have in for review comes with a 1.4 GHz Intel Core i5 processor, 4GB DDR3 RAM and a 320GB hard drive. The E220s uses the integrated Intel 3000 graphics which deliver enough graphical power for most business uses and includes the ability to use Wireless Display 2.0 to stream HD to your HDTV with a $99 WiDi 2.0 adapter.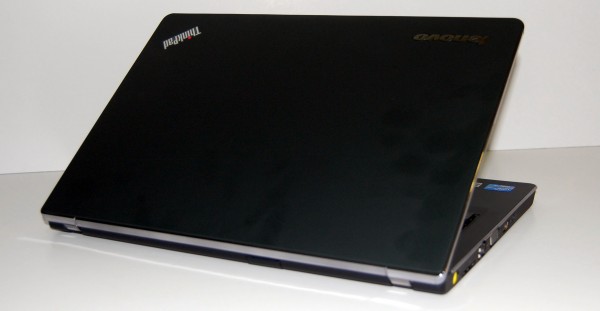 Who is the ThinkPad Edge E220s For?
The ThinkPad Edge E220s is designed with the business user in mind, especially business users who want a notebook powerful enough to handle tasks in the office and small enough to travel anywhere they go. The E220s will fit in particularly well for small businesses where costs are especially important, as well as in the corporate environment as a cheaper portable option.
Students would also do well to check out the E220s which can easily fit in a backpack to go to class or on a roadtrip.
ThinkPad Edge E220s Hands On Video
ThinkPad Edge E220s Build and Design
The edge E220s looks and feels more expensive than it really is. The lid is covered in a soft rubber that carries over to the palmrest and the base of the unit. Chrome edges accent the black finish, giving the notebook a higher end look that is complimented by edge to edge Infinity glass that covers the display. Unfortunately both the black finish on the exterior and the Infinity glass are fingerprint magnets.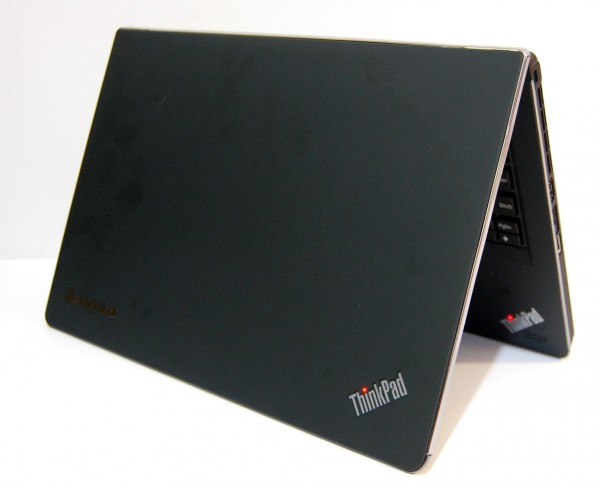 From a durability standpoint, the E220s lives up to the ThinkPad name with a very solid feel throughout and a sturdy build that carries through the center of the keyboard, an area that flexes on many consumer notebooks.
Metal hinges complement the chrome accents and keep the screen in the position you open it to. One downside is the limited angle at which you can open the display. This limits your ability to find the perfect viewing angle while working on the go, especially when you have the notebook on your lap.
ThinkPad Edge E220s Features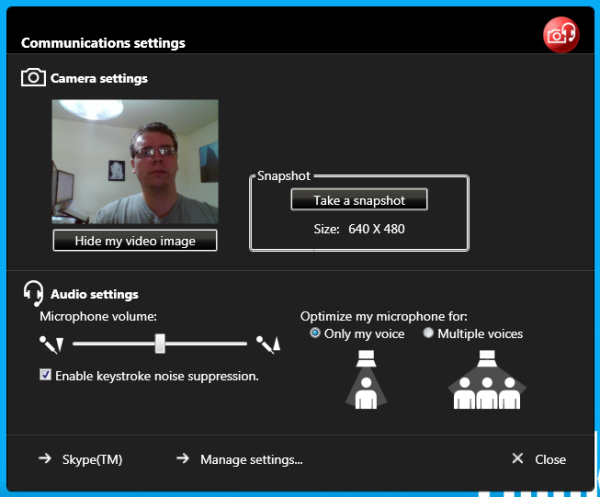 Optimized VOIP Controls – Dial in the microphones to only listen to you, or open up the conversation to the entire room with the easy to use VOIP controls on the Edge E220s.
Spill Resistant Keyboard – The keyboard can handle a small spill without frying the notebook. Especially important on a small notebook like the E220s, which begs to be used at the coffee shop or while eating dinner on a business trip.
Dolby Home Theater v4 – Get better than average sound, even over the built in speakers. Plug in a good pair of headphones to really appreciate this feature.
Fingerprint Reader – If you need to keep your notebook secure, tie your login to the built in fingerprint reader.
ThinkPad Edge E220s Display
The display on the E220s is 12.5″ like the X220 and IdeaPad U260 notebooks and it has the same 1366 x 768 resolution. The edge to edge Infinity glass may help the notebook look high-end, but it is a glossy fingerprint magnet which limits viewing angles and your choice of workplace.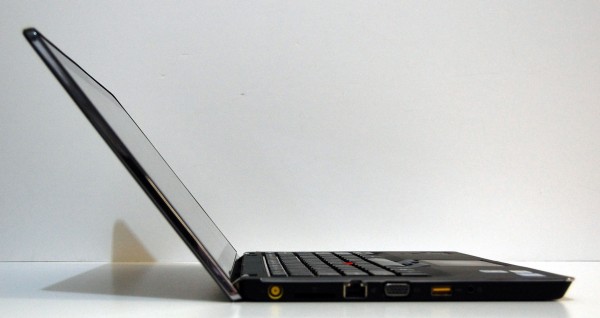 Both side to side and vertical viewing angles suffer drastically when you get outside of the head on experience. On a 12″ ultraportable this is not a deal breaker, but if you commonly need to share a screen you will be disappointed.
ThinkPad Edge E220s Keyboard and Touchpad
The Edge E220s delivers a stellar typing experience thanks to good travel, key spacing and feel. The keyboard on the Edge notebooks isn't quite the same as the ThinkPad workhorse lineup, but it is still one of the best available. Despite the small size you still get a full keyboard with a top function row that is defaulted to common actions. The keyboard is not backlit, but the Edge E220s does have the traditional ThinkPad light built in which will partially light up your keyboard. It's also worth noting that this keyboard is spill resistant, which is a nice feature for anyone who drinks near their notebook.
The only issue we have with the keyboard is the inclusion of the PgUp and PgDn keys which are crammed in near the arrow keys causing a number of errant paging up and paging down. It would be nice to see a style similar to the ThinkPad X1, where these keys are recessed, or to see them removed.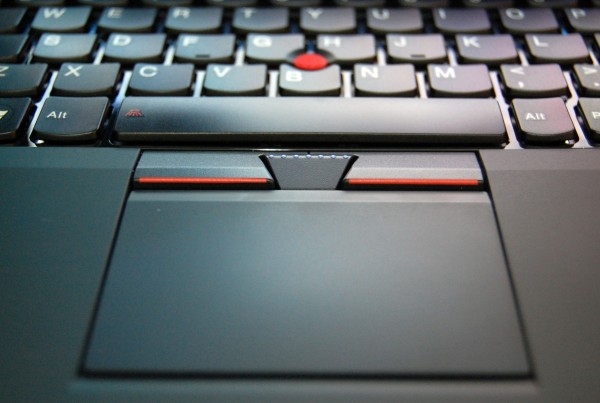 The E220s has a touchpad and a TrackPoint pointing stick, allowing users to choose their preferred pointing method. The TrackPoint system delivers precise mousing and works just as you would expect a ThinkPad pointing stick to.
The touchpad on the E220s is a clickable touchpad that is able to overcome many of the complaints we have with this style of touchpad on Windows notebooks. Unlike other clickable touchpads we have used, there were no errant clicks from due to picky left and right click zones. We also like that you can set up two and three finger click gestures. This is the first clickable touchpad on a Windows notebook that just works the way you would expect it to.
ThinkPad Edge E220s Processor and Performance
When it comes to power and performance the 2nd gen core i5 Intel processor is able to handle all of the business tasks we threw at it from large excel sheets and multiple numerous tabbed Chrome windows to editing videos and touching up photos with the included Windows Live Movie Maker and Windows Live Photo Gallery.
This is definitely an ultraportable system which has enough pep to let you get work done without waiting for a program to load or your actions to register on-screen. We pushed the ThinkPad Edge E220s as hard as we would a full size notebook and it held its own when it came to business tasks.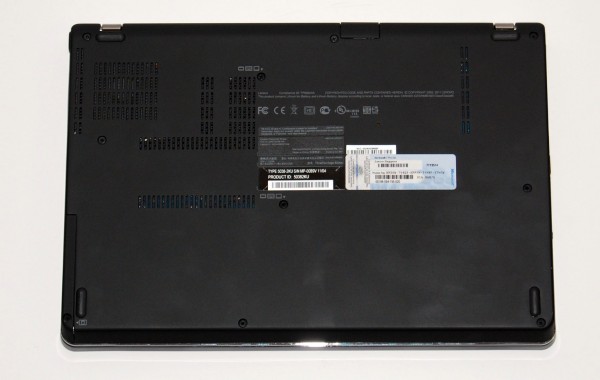 ThinkPad Edge E220s Multimedia and Gaming
When it comes to multimedia playback, the E220s was able to handle a 1080P HD clip from Wall-E without any stuttering or playback issues. While you can't play a DVD, due to the lack of an optical drive, the E220s can serve as your multimedia hub while on the go. The included HDMI port will allow you to connect to a hotel HDTV while traveling.
When it comes to gaming, you're better off looking for a more capable notebook, but the new Intel integrated graphics can handle some casual gameplay from less demanding games, but don't expect to play the latest and greatest.
ThinkPad Edge E220s Audio and Speakers
The E220s includes the same Dolby Home Theater v4 sound technology found on the ThinkPad X1, which provides a better than average sound experience. The sound quality wasn't as good as we experienced on the X1, but it is still much better than we have heard on many business notebooks.
Plugging in a decent pair of headphones allows you to get an additional bump in sound quality and further enjoy the numerous Dolby Home Theater v4 settings like surround sound and dialogue enhancement, which makes it easier to hear actors talking in movies with lots of background noise.
You're not going to replace your home stereo, but the Edge E220s is able to deliver a good audio experience in a small package.
ThinkPad Edge E220s Heat and Noise
Heat can be a big issue on small notebooks, but the E220s handles it well. After watching a half hour of video on Hulu the palmrest was still cool and the bottom of the notebook was only slightly warmer than during normal use; not enough to cause concern with the notebook on your lap.
The fan was quiet and went unnoticed for our time with the E220s.
ThinkPad Edge E220s Battery Life
The ThinkPad Edge E220s has a sealed battery which is able to deliver an adequate 5 hours and 10 minutes of battery life using the Laptop Mag Battery Test which simulates web browsing with the display set at 40% brightness.
The battery won't get you through a full day, so you will need to make sure you can find a power outlet in the afternoon.
ThinkPad Edge E220s Connectivity
From a connectivity standpoint the E220s has a good collection of ports. Notably, Lenovo had to leave an optical drive out of the Edge E220s in order to deliver a smaller form factor, but was able to keep the rest of the ports you would expect on a portable business notebook.

Left: Power, SD Card, Ethernet, VGA, USB Sleep and Charge, Headphone Mic Combo jack

Right: USB 2.0, USB 2.0/eSATA, HDMI, Vent, Kensington
ThinkPad Edge E220s Webcam

The Edge E220s has a low light webcam that performed well in most situations. You can see a sample image taken with the webcam below. It's no replacement for a higher quality webcam, but for a notebook of this size it performs as well enough you can see my stubble.
The real magic comes from the built in VOIP software which allows you to focus the microphone on yourself, ignoring background noise, or to listen to the entire room and act as a speakerphone. We've seen this in action on the X220 and the X1, but it is still impressive to have a conversation over the built in Mic without the person on the other end of the call hearing coworkers and background noise.
ThinkPad Edge E220s Software
We like the fact that the Lenovo ThinkPad Edge E220s sticks to business with a lack of extra software installed from the factory. Our review model came with the ThinkVantage toolbox, which you'll find on most ThinkPad notebooks, but not much else. This toolbox includes the VOIP optimization software we mentioned above as well as other system tools for controlling security, battery life and backup and restore options.
ThinkPad Edge E220s Warranty
Like most notebooks the ThinkPad Edge E220s comes with a standard one year warranty, but businesses will appreciate the ability to add an extended warranty up to three years, and opt for extras like accidental damage protection and on site repair service. Warranty pricing varies with coverage, but runs up to $279 for a three-year depot warranty.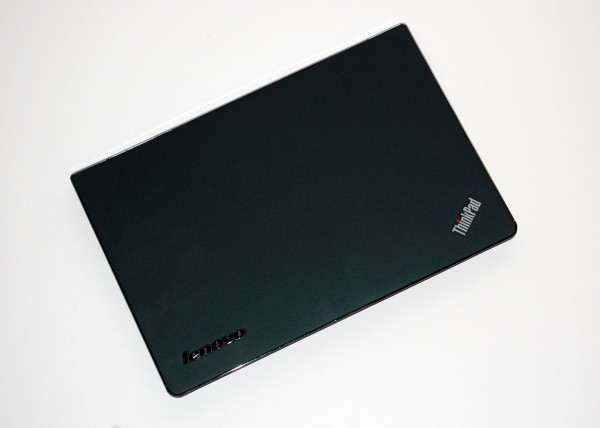 ThinkPad Edge E220s Value
There's no question that the $800 Lenovo ThinkPad Edge E220s offers a great value to business users and students. The compact size, hearty performance and wonderful keyboard come together in a package that makes us wonder how Lenovo can offer it all for this price.
ThinkPad Edge E220s Conclusion
The ThinkPad Edge E220s isn't the thinnest or lightest business notebook, but the whole package comes together very nicely. We definitely wish that the display wasn't glossy and that the battery lasted longer than 5 hours, but the great keyboard and sexy looks compensate well. If you want an ultraportable that won't break your budget, the Lenovo ThinkPad Edge E220s is one of our top picks.
Pros:
Nice looks and build quality
Great keyboard
Sound and VOIP software
Price
Cons:
Glossy display with poor viewing angles
Only 5 hour battery life
ThinkPad Edge E220s Gallery:
ThinkPad Edge E220s Detailed Specs:
| ThinkPad Edge E220s | Specs |
| --- | --- |
| Processor: | Intel Core i5-2537M Processor (1.4GHz up to SC 2.3GHz, 3MB L3) |
| Display type: | 12.5″ W HD (1366 x 768) LED Backlight, Infinity Glass, Low-light sensitive HD Webcam |
| System graphics: | Intel HD Graphics 3000 (Intel Core i5-2537M processor) |
| Total memory: | 4 GB PC3-10600 DDR3 SDRAM 1333MHz SODIMM Memory |
| Keyboard: | Keyboard US English |
| Pointing device: | UltraNav with TrackPoint and ClickPad plus Fingerprint Reader |
| Hard drive: | 320 GB Hard Disk Drive, 7200rpm |
| Battery: | Battery (LiPolymer 43Wh) |
| Power cord: | Country Pack North America with Line cord & 65W AC adapter |
| Bluetooth: | No Bluetooth |
Advertisement