The Lenovo ThinkPad X1 is the latest high-end ThinkPad from Lenovo — bringing tapered sides, a backlit spill resistant keyboard, rollcage and Gorilla Glass screen to highly mobile package that feels and looks thinner and lighter than it is designed for mobile professionals who will appreciate the military spec ruggedness and the ability to charge the built in battery to 80% in about 30 minutes.
The retail pricing on our ThinkPad X1 review model is a respectable $1,399, or $1,549 with the external slice battery. While you won't be outfitting every employee in your organization with the X1, it offers a high-end experience for users that demand a premium ThinkPad.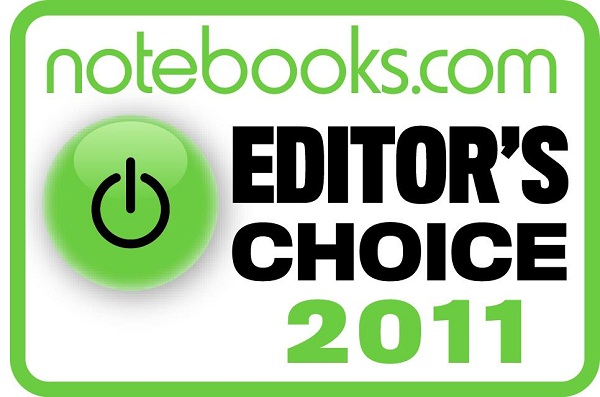 The ThinkPad X1 is a surprising business notebook that brings many consumer features, like incredible sound and a backlit keyboard, to the enterprise. While other business notebooks come with similar features, the execution and typical high end keyboard from Lenovo continues to set the standard in how a notebook keyboard should look and feel. Dolby Home Theater v4 is impressively packed into this rugged enterprise notebook and quite literally will blow you away the first time you hear it.
The X1 comes in nearly a pound lighter than the ThinkPad T420, yet doesn't need to sacrifice on power or ports with USB 3.0, HDMI and DisplayPort standard. Topping off the X1 is the notebook's amazing RapidCharge battery technology that takes you from zero to 80 percent in 30 minutes. We were surprised just how fast the X1 charged, even while we used it.
The feature set on the ThinkPad X1 comes together to deliver a business notebook you'll actually want to use at home, even if you have a MacBook Pro nearby. For all these reasons, we have given the ThinkPad X1 our Notebooks.com Editor's Choice award.
Lenovo ThinkPad X1 Quick Specs:
The ThinkPad X1 model we are reviewing has a 2.5GHz 2nd Generation Intel Core i5-520M processor, 4GB RAM, a 320GB hard drive and Intel 3000 HD integrated graphics. The screen is glossy and measures 13.3″ with a gorilla glass finish that protects against scratches.
The X1 weighs in at 3.73 pounds and measures between .65″ and .84″ in thickness. This includes the built in 6 cell 38.92 Whr battery. The external slice battery which our unit is bundled with is a 6 cell 35.5WHr battery.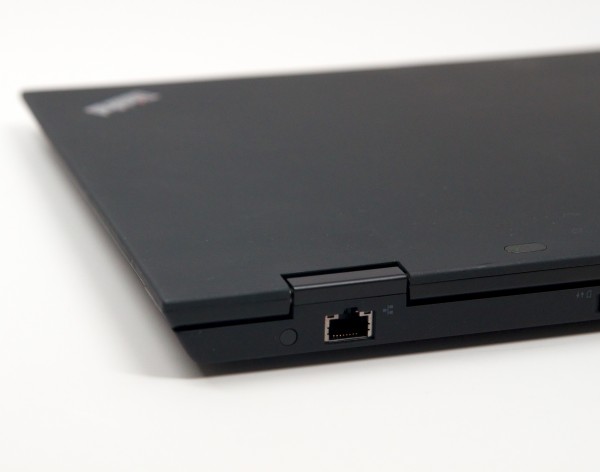 Who is the Lenovo ThinkPad X1 For?
The ThinkPad X1 is similar in size to a traditional ThinkPad business notebook, but the tapered design and feel give it a standout place in the ThinkPad lineup. The ThinkPad X1 will typically be seen in the hands of mobile professionals and road warriors.
The small package which can be combined with an optional slice battery provides multiple configurations which road warriors will appreciate. Finally, the ability to charge your battery up to 80% capacity while on a short layover at an airport is feature that will make the rest of the road crew jealous — especially because it really works.
Lenovo ThinkPad X1 Hands On Video:
Lenovo ThinkPad X1 Build and Design:
The ThinkPad X1 has a rollcage design that adds to the overall durability and ruggedness of the unit. The edges of this machine are absolutely rigid, unwilling to bend despite the application of quite a bit of force. This carries through the center of the device, which has a small amount of flex, but nothing you will notice during normal usage.
As far as looks go, the tapered edges help make the notebook look slimmer than it is, much like the tapered edges we find on most smartphones. The materials also have a nice feel to them, with a slightly rubberized deck that feels nice while you are working for long periods at a time.
Lenovo ThinkPad Promo Video Showing Rugged Features
The notebook has solid and sturdy hinges which allow you to open the display completely flat if needed. These hinges actually play into the durability of the notebook. Lenovo tells us that the metal hinges add strength to the top and bottom of the notebooks which helps the system survive a drop from 1.6M onto corners.
The idea isn't that the system won't suffer any damage, but that you will still be able to use the system. We didn't drop test our system, but the included MILSPEC ratings for humidity, temperature, sand, altitude, vibration and mechanical shock should provide enough durability to handle many of the abuses that a notebook will suffer in the hands of a road warrior.
ThinkPad X1 vs. ThinkPad T400:
We are sure many of you want to know how the X1 compares in looks to the traditional ThinkPad line of enterprise notebooks. You can see a side by side comparison of the ThinkPad X1 and the ThinkPad T series business notebook in the shot below and in the gallery at the bottom of the ThinkPad X1 review. Note how the tapered edges deliver a much sleeker profile on the X1.
When compared to the ThinkPad T400 series notebooks, and even the slimmer ThinkPad T420s, the ThinkPad X1 comes with a higher price tag ($400 more than a T420 and $200 more than a T420s with similar specs), but it will provide additional value when deployed to a salespeople who primarily use their notebooks and smartphones as their tools.
Rather than leave their business notebook in the office, the X1 will likely go with employees and earn a spot as their go to tool thanks to premium audio, a backlit keyboard and RapidCharging. Instead of an additional cost, businesses would be well served to look at the X1's premium price as an investment in their highly mobile employees, rather than perks saved solely for executives who want a higher priced notebook.
Lenovo ThinkPad X1 vs. MacBook Air
The ThinkPad X1 is, going to draw comparisons to the ultrasleek MacBook Air just like any new ultraportable will. While the ThinkPad X1 doesn't come in as thin or light as the MacBook Air, it does bring many things the Air doesn't like a backlit keyboard, 2nd Gen Intel Core i5 processor and USB 3.0. Take a look at how the ThinkPad X1 compared to the MacBook Air below.
Lenovo ThinkPad X1 Features:
The Lenovo ThinkPad X1 comes with a collection of features that combine to deliver what you would expect from a ThinkPad, and perhaps a bit more.
Rapid Charge – Perhaps one of the biggest new features is the RapidCharge technology which allows you to quickly top off the battery when you are near an outlet. We were impressed by the speed with which the battery charged, even while we used the notebook without restraint.
Dolby Home Theater v4 – Skip down to the sound section for more, but in short the Dolby Home Theater v4 delivers sound that you wouldn't expect in a business notebook. Whether you listen on your headphones, watch movies in hotel rooms or use the notebook to pitch to a room of buyers the sound will impress.
Keyboard – We'll cover this in more depth, but the ThinkPad X1 uses the newer ThinkPad style keys and for the first time offers backlit keys. Additionally, the keyboard has two large drain-holes to protect your notebook from accidental spills.
VOIP Applications – Check out the webcam section for more details, but Lenovo has taken steps to improve your video conferencing experience. From the low light-sensitive webcam to the additional controls that let you focus in one just yourself or open up the conversation to the room, it's no ordinary VOIP experience.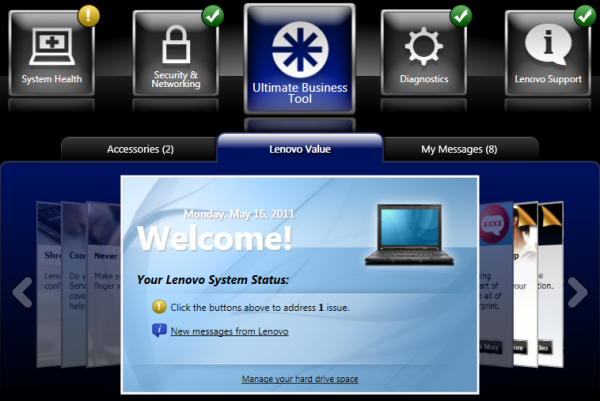 ThinkVantage Software – The built in ThinkVantage software delivers a collection of system utilities, but the one that impressed us most was the power manager software which provides a slider that allows you to adjust for battery life. Sliding to the right will decrease screen brightness and CPU power to increase battery life.
Lenovo ThinkPad X1 Display:
The display on the ThinkPad X1 is quite bright, rated at 350 NITS, and that's a good thing because the display is glossy rather than the traditional anti-glare you'll find on business notebooks. The display is covered edge to edge by Corning Gorilla Glass which provides protection from scratches. As far as viewing angles go, the notebook has good side to side viewing angles which would allow you to share the screen with another person while watching a movie or working on a presentation. Vertical viewing angles are also nice, as is the ability to tilt the display all the way back so that you can find a good angle on a tray table, car seat, counter or while on the couch.
While the protective Gorilla Glass is a nice addition to this notebook, we wish the display was anti-glare so that the notebook would be better suited for use outdoors or in harsh lighting conditions.
The resolution is a pretty typical 1366×768 resolution, which fits the 13.3″ display well. It would be nice to see a higher 1440×900 resolution on a high end notebook like this, but we're guessing many of the end users will be OK with the standard resolution.
Lenovo ThinkPad X1 Keyboard and Touchpad: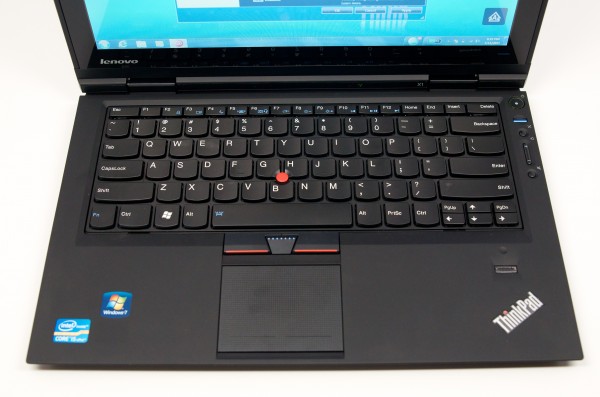 The keyboard on the ThinkPad X1 is very nice with the great key spacing and key travel that we have come to expect from Lenovo. This is closer to the new style of ThinkPad keyboards which we have seen, a slight variation from the traditional ThinkPad experience, but in our opinion a good change.
The key placement is nice, with legacy keys taking a backseat so that you have easy access to the keys most users interact with most. The super size right Shift key is a nice touch. The only complaint we really have regarding placement are the PgUp and PgDn keys which take up space near the arrow keys and can make the up and left keys hard to find by touch.
The key travel is nice and the keys themselves also have a very nice feel. While some keyboards feel like you are typing on stone, this one is pleasant to type on for extended periods. We were able to type this review on the X1 at a pace that was a slight bit faster than we are accustomed to on our MacBook Air, even with a jammed finger. The keyboard is very solid with no flex in the center even with heavy typing.
This the first time Lenovo has included a backlit keyboard on a ThinkPad instead of the traditional keyboard light. We are impressed with their first backlit keyboard and prefer it to the light which normally lit up about half the keys. The X1 allows you to toggle between two levels of backlighting and off. We like that the backlight doesn't bleed through the key spacing in a blinding fashion like some notebooks are apt to.
The keyboard has handy VOIP and volume controls to the right of the keys. You can mute your microphone, mute the volume or raise and lower volume with these handy buttons which don't require you to hunt for a Fn key while conferencing.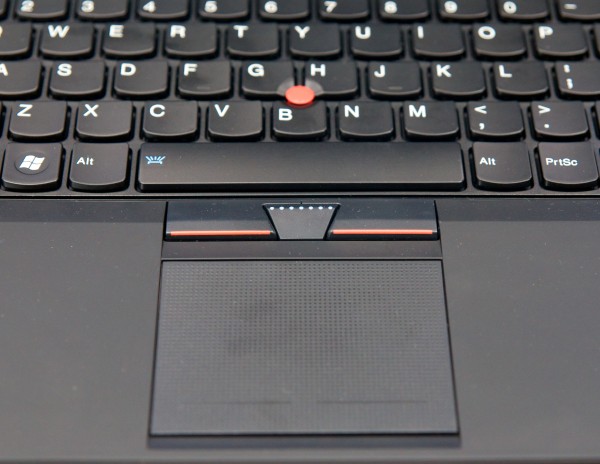 The ThinkPad X1 comes with a trackpad and the traditional ThinkPad UltraNav TrackPoint. The TrackPoint worked just as you would expect, delivering a precise mouse experience and the three buttons for the TrackPoint had the typical ThinkPad feel.
In addition, the ThinkPad X1 has a small mousepad with a textured surface that allows your fingers to move across it quickly. The entire mousepad is a clickable surface, which is something that definitely takes some getting used to. We found that the right click zone was a bit picky on occasion, but configured the mousepad to recognize a two finger click as a right click and quickly moved past this issue.
The mouse supports multitouch gestures and clicks. In our experience the two finger scroll was pretty responsive. We found that you do need to have a decent amount of separation between your fingers to get the notebook to recognize two finger scroll, but it was something we adjusted to within a day of extended use.
Lenovo ThinkPad X1 Processor and Performance:
In terms of processing power, the 2.5GHz Intel Core i5 Sandy Bridge processor delivers a good deal of power and the ability to enter TurboBoost mode when you need more. We ran the ThinkPad X1 through a gauntlet of tests from opening large excel sheets and running numerous applications such as Skype, Excel, several Chrome Windows (playing video and audio), and even running Sony Vegas Movie Studio 9 in the background. If you need even more power, you can turn on Lenovo Turbo Boost+ which lets TurboBoost run longer.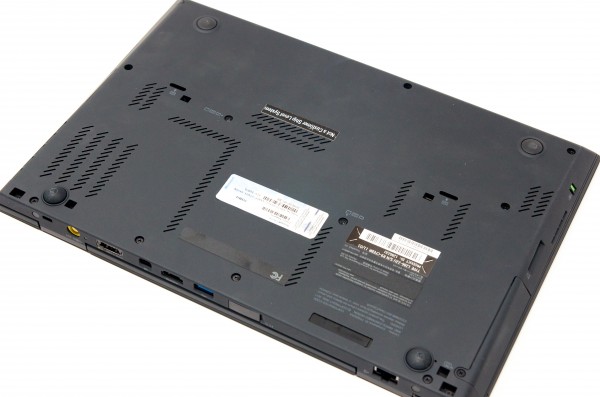 In short, the system delivers the performance we expect on a 2nd generation Core i5 powered system and can handle numerous tasks at the same time. Lenovo didn't sacrifice and put a low voltage or last gen processor in here. The integrated graphics should suffice for most road warriors. Creative professionals will need to look for something with discrete graphics, but executives and sales staff will have more than enough power.
Lenovo ThinkPad X1 Multimedia and Gaming:
Based on the visuals and sound, you could easily confuse the ThinkPad X1 for a multimedia notebook. The Dolby Home Theater v4 audio which we cover below and the Intel integrated graphics are able to deliver 1080P content without pause. While watching numerous 1080p clips we didn't have any stuttering or noticeable frame drops.
The ThinkPad X1 includes a low power multimedia mode which allows the notebook to turn off un-needed components while watching multimedia, allowing your battery to last longer. Lenovo claims a 30% boost, and while we weren't able to scientifically test this, the X1 didn't take the typical battery life hit while watching an hour long episode of SNL on Hulu.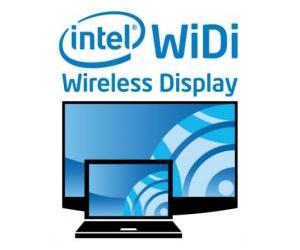 As an added bonus, the ThinkPad X1 includes Intel Wireless Display, which will allow you to stream to connected HDTVs or projectors, provided you have a $99 WiDi adapter. This is a nice touch, and while WiDi adapters aren't commonplace in conference rooms, we wouldn't be surprised to see Intel Wireless Display making inroads into more homes and office this year.
If you need to relax, you can play some games on the integrated graphics. While Just Cause 2 was a bit too demanding, Portal 2 played perfectly on the ThinkPad X1, and was complemented by the Dolby Home Theater v4 game setting. While walking around a level with fire in it, the audio clearly let us know if the fire was to our left or right, though there wasn't as much differentiation from front to back.
Lenovo ThinkPad X1 Audio and Speakers
The ThinkPad X1 comes with Dolby Home Theater v4, which delivers an audio experience that is nothing short of amazing. In addition to simply being louder than the audio found on many business notebooks the Dolby Home Theater v4 software delivers audio that really pops.
When you are watching a movie or listening to music over the built in speakers, you'll notice a pretty incredible surround sound effect. For music, you'll hear much more depth and feel as if you are listening on a nice pair of external speakers rather than built in business notebook speakers.
As far as volume goes, the ThinkPad X1 was able to provide loud and clear sound in our small apartment, and should be able to keep you entertained in a hotel room or deliver loud, quality audio for a sales pitch.
The low end isn't going to deliver thumping bass, but the notebook does well enough that you can hear more of the low end than you would on a standard notebook. Listening to Money by Pink Floyd, we could hear the bass playing in the background and the highs were crisp and clear, leaving us feeling like we were in the cash register. As expected, the sound was clearly differentiated from right and left while listening.
Let's face it; you won't be blasting movies and music out the speakers while you are working on the plane or in a cafe, so headphones matter. The good news is that Dolby Home Theater v4 delivers on this front too. We tested the headphone experience with the Nox Scout headphones, which retail for $80 and deliver pretty good audio on their own. We tested out Money and had the same depth as before, with a bit more bass. Even the headphones can deliver a better audio experience for watching movies which delivers a 5.1 surround sound.
One other feature which is pretty impressive is the dialogue enhancement. If you remember the bar scene at the opening of Star Trek, you miss out on quite a bit of the background noise that really brings you into the bar while listening on a standard laptop. With Dolby Home Theater v4 you can hear all of that and still clearly hear Kirk get shot down at the bar.
Dolby Home Theater V4 doesn't just make music and movies you watch locally sound better. Everything from YouTube clips to Pandora sounds better. Even YouTube clips shot by regular users, not studios, sound better.
Lenovo ThinkPad X1 Heat and Noise
As far as heat and noise go, the X1 can get warm during extended use, but the heat is mainly present on the bottom of the unit, which means you shouldn't have sweaty palms after a four hour work session. The temps mainly climbed during video or processor intensive tasks.
The fan did run during these times, but wasn't loud enough to distract us from watching media or to distract someone next to us from watching a TV show. Lenovo uses an "owl" fan which is designed to make less noise while spinning and offers five speeds so that it can adjust between a larger number of speeds.
Lenovo ThinkPad X1 Battery Life
The ThinkPad X1 is rated for 10 hours with the optional "slice battery" which is a reasonable rating given our browsing tests. We tested the ThinkPad X1 battery life with the Laptop Mag Battery Testing Tool which browses to common webpages with the screen set at 40% brightness until the battery dies.
With the optional slice battery, which is more of a wedge that gives you a nice typing angle, we were able to achieve 8 hours and 20 minutes. With the standard built in 6 cell battery, we achieved 4 hours and 20 minutes of battery life.
If you are using this notebook on the road, we suggest going for the slice battery option so that you can easily make it through a full day of work without recharging. While it would be nice to have an 8 hour battery built in, we do like the flexibility of a slice battery which can stay at the office on shorter day trips and travel with you when you need it.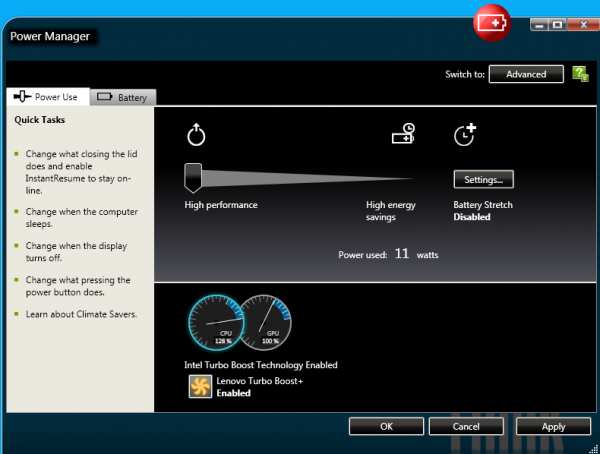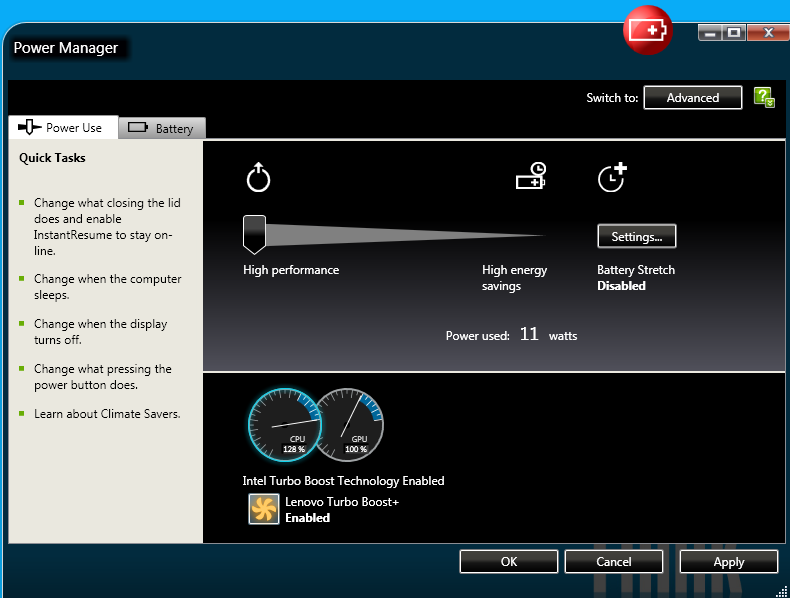 If you don't opt for the slice battery, you will still be able to get through a full day if you can find 30 minutes to charge while you eat lunch or are on a short layover. The built in battery will charge up to 80% in 30 minutes using Lenovo RapidCharge technology. We tested this out numerous times and RapidCharge works! Best of all, you can use the notebook while it is charging without sacrificing the speedy charging. We were able to top off the battery in about 50 minutes.
Lenovo ThinkPad X1 Connectivity:
The ThinkPad X1 has a collection of common business ports and connectivity options including Bluetooth and Wireless connectivity. There is an option for an integrated 3G mobile broadband connection, but our review unit was not equipped with this.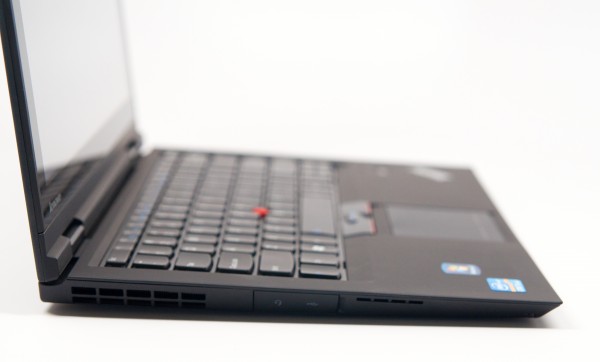 Left Side: USB 2.0, Headphone/Mic Combo, Vent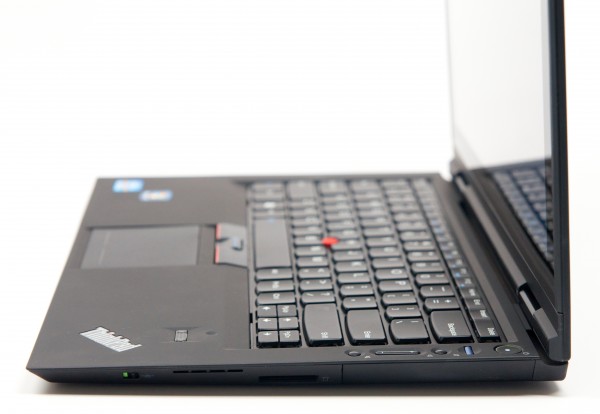 Right Side: Wireless Switch, 4-in-1 SD card Reader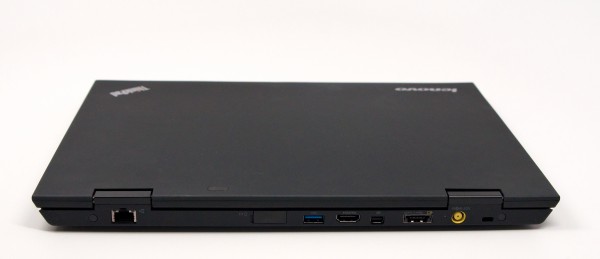 Rear: Ethernet, SIM Card Slot, USB 3.0, HDMI 1.4a, DisplayPort, eSATA USB 2.0 Combo port with Charge Function, Power, Kensington
Lenovo ThinkPad X1 Webcam:
The ThinkPad X1 comes with a low-light sensitive webcam which delivers a good quality image, though colors are difficult to distinguish in low light settings. Add sufficient light and it was clear enough for the caller on the other end to clearly see our bright orange shirt and to tell that we had a haircut recently. In addition to the HD webcam, the X1 includes dual array microphones which, combined with the built in software tools allow you to gain greater control over the conversation.
The ThinkPad X1 includes several VOIP enhancements in addition to the easy to access VOIP controls. First is the option to focus in on one user so that you can be on a conference call that doesn't pick up the noise of others around you without the need to find a headset. You can toggle this control to multiple voice mode to include others in your call, such as at a conference table, allowing your computer to be the speakerphone.
The built in VOIP software also includes noise cancellation which is designed to prevent the other side of the conversation from hearing your keystrokes during a video call. This setting will quiet the keystrokes, but won't always silence them. Based on our test calls about half the callers could hear our keystrokes, but reported that the keys were quieter with the noise suppression enabled.
Lenovo ThinkPad X1 Warranty:
The ThinkPad X1 comes with a one year warranty, but can be purchased with up to a 3 year warranty. Lenovo hasn't announced pricing for the X1 warranty plans, but we expect them to be in line with the ThinkPad X series which starts at $119 for a three year warranty extension and goes up to $269 for a 3 year priority onsite warranty and 3 year ThinkPad protection. The ThinkPad X1 sealed battery is covered for up to 3 years with the purchase of a 3 year extended warranty, though the battery warranty only covers a portion of the cost of a new battery.
Lenovo ThinkPad X1 Software:
The ThinkPad X1 comes free of the crapware you would commonly find on a consumer system and actually has a helping of useful software and tools built in. In addition to the VOIP software and Power manager tools we have already talked about the ThinkPad X1 comes with the full suite of ThinkVantage tools that will help you manage the system from backing up to using the fingerprint reader for security.
One more nice touch is Instant Resume, which will keep your WiFi connection active when the lid is shut, allowing you to close your notebook and go to another office or conference room without reconnecting. Lenovo added this function after observing that users often walked from room to room with their notebooks open, an activity which can be awkward to accomplish and dangerous if the notebook is dropped.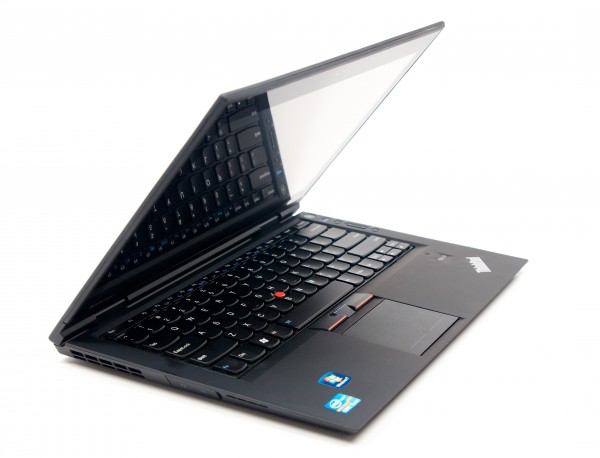 Lenovo ThinkPad X1 Value:
The ThinkPad X1 is definitely a premium system, and more expensive than a similarly spec'd ThinkPad, but the numerous additional features like RapidCharge battery, backlit keys and the overall ruggedness and design go a long way in making the higher price worth it for road warriors, especially with prices for a well equipped model starting at $1,399.
Lenovo ThinkPad X1 Conclusion:
The ThinkPad X1 shows a now look for Lenovo and includes a collection of features and design changes which exciting and new. Lenovo has been able to add to the ThinkPad features we love, like durability and an amazing keyboard, without compromising on why businesses choose to equip their employees with ThinkPads. The ThinkPad X1 shows that the company can adapt and bring consumer features like high end audio and backlit keys to the traditional ThinkPad line. Lenovo may still need a bit more time to perfect the mousepad, but the ThinkPad X1 is without a doubt the best ThinkPad we have had a chance to use.
Hopefully we will see similar features and design cues make their way to the rest of the ThinkPad line of notebooks in the coming months. We already have Dolby Digital Home Theater v4 on the ThinkPad Edge lines, so we wouldn't be surprised to see it arrive on more systems, hopefully with Backlit keys in tow.
Pros:
Design makes the X1 look and feel lighter than it is.
RapidCharge Battery charges to 80% over a quick lunch.
Backlit keyboard with great key travel and spacing.
Amazing Sound
VOIP optimizations
MILSpec Ruggedness
Cons:
Glossy display
Need slice battery to last all day
Small clickable touchpad can be finicky
Lenovo ThinkPad X1 Gallery:
Lenovo ThinkPad X1 Detailed Specs:
Brand
Lenovo
Model
ThinkPad X1
Processor

Intel® Core™ i5-2520M (2.50GHz, 3MB L3, 1333MHz FSB)

Display
13.3″ Display (1366×768) LED Backlit, 350 NITS, Corning Gorilla Glass
Operating System
Genuine Windows® 7 Professional 64-bit
Storage
320GB (7200rpm)
Memory / RAM
4GB
RAM speed
1333MHz
Memory Type
DDR3
Optical Drive
None
Graphics Card
Intel® Integrated 3000 HD Graphics
WLAN Card
Intel® Centrino® Advanced-N 6205 with Bluetooth
Navigation
Trackpoint® & Buttonless Touchpad
WebCam
720p High Definition camera
Microphone
Dual digital microphones Combo Microphone Headphone Jack
Dimensions
13.26″ x 9.1″ x 0.65″ – 0.84″
Weights
3.73 pounds
Ports

Display Port
HDMI 1.4a Port
1 USB 2.0 port
1 USB 3.0 port
1 USB 2.0 / eSATA charging port
SD Card Reader
Ethernet
Mic/Headphone jack

Battery Life
6 cell battery (38.92WHr), with optional 6 cell ThinkPad X1 Slice battery (35.5WHr) with combined rating of 10 hours.
Advertisement