With Mother's Day coming May 8th we wanted to show you some good gadget gifts that would help mom and help you show her your love. Ranging in price from $3.99 to over $800 we have something sure to fit your budget.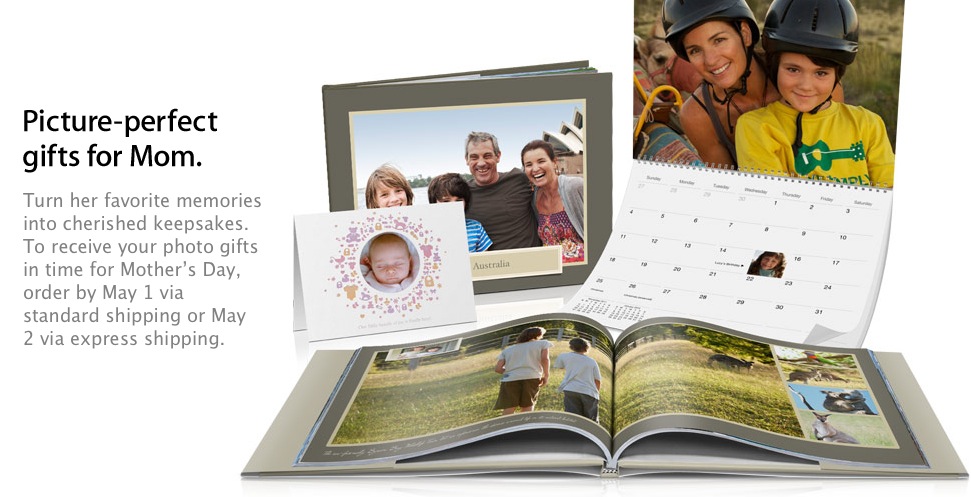 Mom's love pictures of their family and children or grandkids. Apple makes very nice Photo printed products right from iPhoto if you have a Mac. You can get a small 3.5×2.6 soft cover photo book with 20 pages for as little as $3.99 with extra pages costing $.29 each up to 100 total pages. There are other sizes available at a higher price as follows:
Soft cover medium 8×6 w/20 pages – $9.99 and $.49 for extra pages up to 100
Soft cover large 11×8.5 w/20 pages – $19.99 and $.69 for extra pages up to 100
Large hard cover 11×8.5 w/20 pages – $29.99 and $.99 for extra pages up to 100
Extra-large hard cover 13×10 w/20 pages – $49.99 and $1.49 for extra pages up to 100
They also offer cards for the following prices:
5×7 special letterpress cards for $2.99 each
folded cards for between $1.59-$1.99 depending on the number ordered
flat cards for between $.99 and $1.49
Finally, they offer a 13×10.4 inch calendar with 12 months for $19.99. Additional months are $1.49 each.
These are all made from within iPhoto and the orders go through Apple and can be shipped directly to you or your mom.
We reviewed this little ergonomic mouse and it's bigger brother. The concept is the mouse is lifted off the surface by a stand that allows the user to tilt the thing at an angle that is more comfortable. Maybe your wife or mom has some carpel tunnel issues or complains about the discomfort of mousing all day. She can use this mouse and according to the company it does relieve stress on the wrists. It also takes some getting used to, so if you get her one of these warn her of the adjustment period. It is a nice size for those with small hands and for tossing in a computer bag.
They have six attractive colors to pick from. The are available at the company's site or for a slightly discounted price at Amazon. Below is our review video:
SmartShopper Electronic Grocery List Organizer – $79.99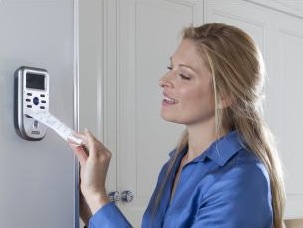 This little magnetic gadget hangs on your fridge and helps the whole family quickly create shopping lists. Just press the the blue Record button in the middle of the device and it turns on waiting for your to say what you want to add to the list. When you are ready to go shopping you print the list. It dispenses grocery receipt style lists organized by category. Below is a list of features the gadget boasts:
Easy-to-use, hands-free voice operation
Prints and automatically categorizes your lists
Category Mgt. allows the user to match their store layout, change and add categories
Powerful magnet mounts unit to your refigerator or metal cabinet
Two lists can be individually named and kept simultaneously
Flags items that you have coupons for
Allows you to designate quantities
Centrally located for the whole family to use
Small enough to fit into your kitchen decor
Built-in kitchen timer
Comes pre-programmed with over 2500 items
Allows you to add your own unique items and brands
And here is their mildly amusing commercial for the SmartShopper.
You can get them direct from the company. The device is $79.99 and with a bundle of three rolls of paper it is $89.99. Replacement rolls can be purchased for 10.99 for a pack of three or $59.99 for 18 rolls. The reviews at Amazon are actually quite good. If you like to get previous generation devices for cheaper Amazon has the old version for $30.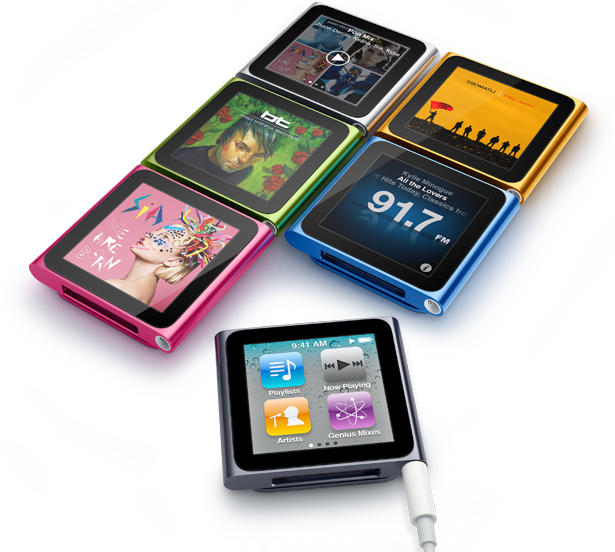 If your wife or mom does not carry a smart phone that plays music, then an iPod is the perfect gift. Unless she has an enormous music collection we think the best option is the latest iPod Nano. The 8GB model is enough to carry a bunch of albums, audio books, or audio podcasts. The sound quality is great and the form factor is perfect for a purse or just carrying in her jeans. She can connect it with arm band for when she works out. And if she is a total geek, she can even turn it into a watch. We don't recommend you suggest that or even get her one of the many bands, unless you want a gag gift to go along with it. Get the Nano and an iTunes gift card or better yet just load up a few of her favorite songs or books so she can listen ouf of the box.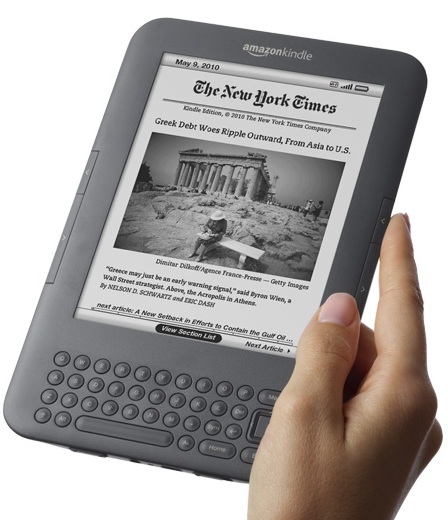 The Amazon Kindle is the eReader that really started the whole eReader craze. Recently they began to offer a deal where you can get a 6″ Kindle for just $114 if you don't mind seeing some ads. The ads will not be part of the books, but will be in the pages that are shown when the Kindle is in sleep mode. While this is okay if you just can't afford the others, we recommend the Wi-Fi model without the ads for $139 or the model with built-in free 3G cellular service for $189. Amazon's 3G service allows the user to download books over the air even when they are not in range of a Wi-Fi network. There is no monthly fee for this free service. The 3G feature is only necessary if you don't have a Wi-Fi network or really want to buy books or magazines away from home, office, or a hotspot.
We recommend the Wi-Fi only model for $139. It's not that much more than the ad-supported version. 3G is not really necessary. Get a book or two for mom to read right out of the box. You will need to register it with her Amazon account unless you are willing to buy all of her books. So don't load it with a book using your own account. You can now gift Amazon eBooks so use her email address and send her the books that way.
For those with money to burn and think mom will want it, there is a large kindle with a 9.7-inch screen for $379.
iSkin has some very nice bags for carrying around a laptop in style. They work with computers from 13-15 inches, both Mac and PC. There are multiple styles in three basic lines – the Slip, Tote and Messenger. They are designed by either Cako Martlin of Brazil or New York designer Esther Sanchez.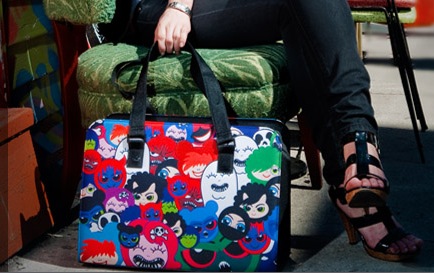 The Tote is designed to help you carry as much as you can in a small size. There are two sections with multiple pockets for smaller objects. The laptop section holds it in place witha  strap. The double handle allows mom to tote it over her shoulder while quickly getting at what's inside. The padding protects what's inside. Studs on the bottom elevate it to keep it from getting wet if there is some moisture on a table or the ground.
The Slim has a belt latch that she can pull to ease her computer out of the bag. It is designed to be the smallest of bags and thus holds the computer inside and has a zippered pocket on the outside. There is both a handle and a shoulder strap.
The Messenger is a little less girly. In fact guys will love this one too. It has plenty of interior space, so this is the workhorse of the three. There are pockets on the inside and a big one on the outside. The shoulder strap is padded so she won't feel the weight of all her mobile gear.
These are all nice bags with varying styles to match her personality.

When a couple of our people here at Notebooks.com suggested we add the Nintendo DS to this list, I thought they were crazy. Why would mom want a kids game system? But one of the popular things adults do with a Nintendo DS is play the brain stimulating games like Brain Age and Brain Age 2.
The purpose of Brain Age is to stimulate the mind to help keep it fresh. We adults often let our minds go to mush after we stop our formalized schooling. Just ask any adult who has returned to college after many years away from school. They have a harder time learning. This game is intended to help stimulate the mind with activities and problems like math, drawing and unscrambling of words.
Here is a review from a woman who enjoys her Brain Age 2 game: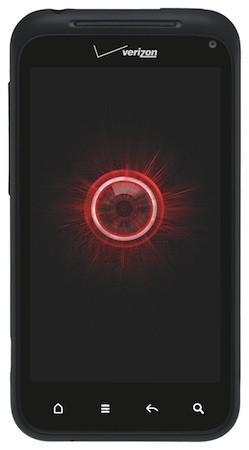 This is a brand spanking new Android phone just released by Verizon on April 28. It has a 4-inch Super LCD display and a 1GHz Snapdragon processor. Mom will love the 8MP camera on the back and also a 1.3MP camera on the front for video conferencing via Skype, great for those moms who are far away from the kids or grandkids.
If mom is a mobile geek, she will love the ability to use the device as a mobile hotspot. If she's a travelling mom she will like that it will work just about anywhere in the world, unlike many of Verizon's phones.
For moms who need an AT&T alternative, the new white iPhone is always a good choice at $199 for a 16GB model and @$299 for a 32GB version. But remember, before buying an iPhone that there is likely to be a new one coming in the next six months. Some Geek moms like the latest and greatest, so getting her an iPhone now would be a mistake.
Nook Color – $249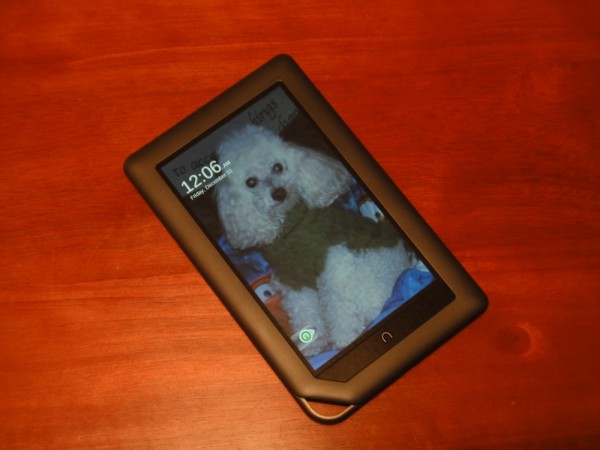 We've always liked the Nook Color, especially if you are adventurous enough to root the thing and turn it into a a bargain Android tablet that can also be used to read Amazon Kindle books. Now that Barnes and Noble has added an app store, it is a bargain Android tablet without having to hack the thing. Although you can't load the Amazon Kindle app.
Moms will love the ability to read for hours, play some simple games and surf the Internet on the 7″ eReader/tablet. The much improved email application in the new 1.2 update is also a great way to check for messages and delete the junk while out and about at a local Wi-Fi hotspot or the office. There is no 3G version available, but most people don't need it or the extra bill that usually comes with mobile broadband for tablets.
If all your mom would like is an eBook reader, then stick with the Kindle. Both models are cheaper than the color and the battery lasts longer. For those who might want more, the Nook Color is the best choice.
The Apple iPad 2 is the best consumer tablet computer available for the price. Ranging from $499 for a 16GB Wi-Fi only model up to $829 for the 64GB 3G model, few other tablets have been able to match Apple for price. There are other Android tablets on the market, but none has matched the features and apps available for Apple's tablet. Mom will love it if you splurge for one of these.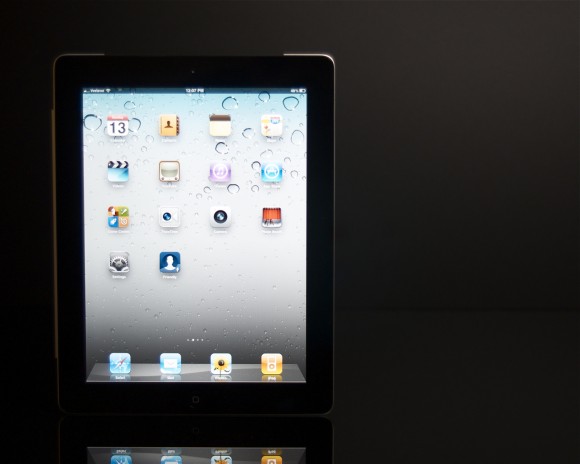 Read our exhaustive team review over at Gottabemoble.com. And if your mom already has an iPad 2, that same link has reviews of many of the accessories that Apple released along with the new tablet. There are also app reviews of GarageBand and iMovie on that page. A great gift for an iPad owner would be to gift an app or get some iTunes gift cards. Sam's Club has a great deal right now on $100 worth of cards for less than $80.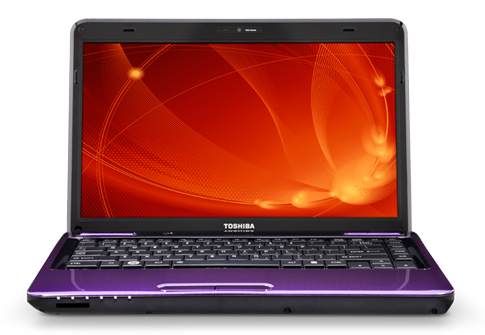 A low priced notebook that isn't too big, but also not so small that its only good for light office and Internet tasks is a great gift idea for a working mom. We are recommending the Toshiba Satellite L645 family of notebooks. They are priced right, come in 6 colors, and have decent processors (as long as you don't choose the S4102 model which starts at $608). We don't recommend that one because it has a pretty slow processor by comparison. If you are willing to get the top-of-the-line model in this family of notebooks, you would pay about $700 before tax for the S4037. For that you get the following:
AMD Phenom II Triple Core Processor
14″ widescreen display with resolution of 1366×768
ATI Mobility Radeon 4250 Graphics Card
500 GB hard drive
4 GB of DDR3 RAM
DVD combo drive for burning/reading discs
If you don't think mom needs that much horsepower, then consider the lower end S4040 which is the least expensive of this family of notebooks at $515.99. It only has a dual core processor, 3GB of RAM, a 250 GB hard drive and integrated graphics. It is designed more for the basics while the above S4037 is a more powerful middle of the road computer which can handle a little more demanding work like some creative content creation (basic video and photo editing), some gaming and will be an overall faster machine.
Advertisement