The Whirl Mini Laser Mouse with Anti-gravity Comfort Pivot comes from Smartfish. What sets this mouse apart from others is the ergonomic design. It is raised on a stand that is attached to the bottom of the laser mouse with a ball pivot. This allows the user to rotate their hand at any angle that makes them comfortable. The result is less stress on the joints so users will avoid repetitive stress disorders like carpal tunnel syndrome.
The mouse is small enough that it will fit nicely into a computer bag accessory pocket. But unless you have really large hands, it should be large enough to be comfortable. There is a larger version meant to be kept at a desktop which we previously reviewed.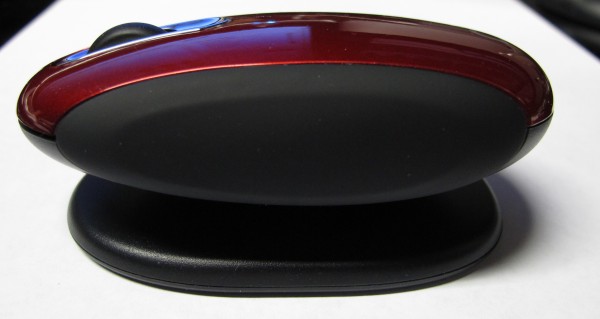 Video review of the Whirl Mini Laser Mouse:
What we really like about the Whirl Mini Mouse is the unique design. While we don't have too much trouble with a receptive stress injury, we could see how this mouse could help. Being able to angle the hand is a bonus, and because of the ambidextrous design lefties will be satisfied with the mouse as well.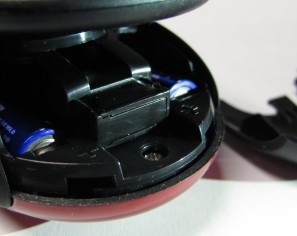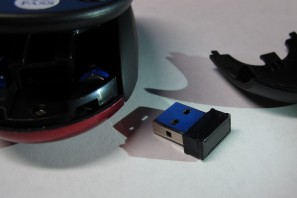 The USB receiver fits nicely into the compartment on the bottom of the mouse. It is easy to get open so as to take out the receiver and plug into a laptop. There is a power switch on the bottom to save the batteries when not in use. It takes two AAA batteries which are provided.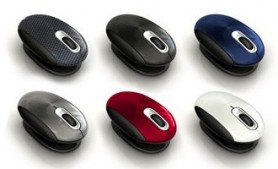 The nice red color is attractive. There are six different colors, as you can see to the right.
There isn't any software to install or configure which makes it simple to use.
The only thing we didn't like was getting used to the mouse pivoting as we clicked using the right, left or scroll wheel. And we have a personal preference for smooth scrolling wheels instead fo the scrolling wheels that click. We anticipate that the pivoting would be somethign that users will adjust to and the scrolling is more of a preference than a real shortcoming of the Whirl Laser Mouse.
Pros:
Ergonomic for avoiding stress injuries
Small enough for a computer bag
Looks nice
USB receiver hides in bottom of the mouse
Power switch saves battery
Cons:
Takes getting used to the mouse pivots
Would prefer option of a smooth scroll wheel
Advertisement