From the 'too simple for most of us to come up with' file, we learn about the home project of turning your laptop lid into a whiteboard with a DrawTop vinyl adhesive. Your DrawTop sticks to the lid of your laptop and lets you draw or write on it. You can use it as a small whiteboard at a meeting or to advertise something while out and about. I could imagine people at trade shows with their laptop using it for messages or information they want to present. You wouldn't want to try to put something permanent on it since the markings will likely smear off when you handle your computer or put it in your bag.
To get one go to DrawTop and order it – 1 for $12 or 2 for $16. Both come with a pack of Expo fine tip marker and accessories, which includes some velcro stickers to attach a marker, a microfiber eraser cloth, and a guide on how to keep the whiteboard clean.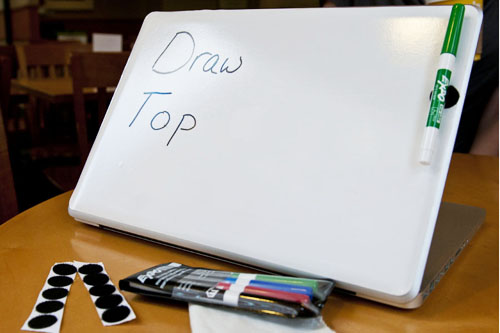 Setup looks simple enough. Just remove any stickers you might have on your lid now and clean it off with rubbing alcohol and let it fully dry. Remove the paper back on the DrawTop and carefully start to stick the DrawTop down starting with the long edge. Smooth out any bubbles with your hand. If a bubble sneaks in, just lift from the closest corner and reapply the adhesive sticker. Run your hands over the surface again to be sure you have it laid flat.
Now start drawing!
via TUAW
Advertisement