This year if you're looking for the go to MP3 player to give someone in your family the iPod Touch is at the top of the list. Apple recently released a new version of the iPod Touch that includes a camera for taking snapshots and HD video as well as a front facing camera for video chat over FaceTime.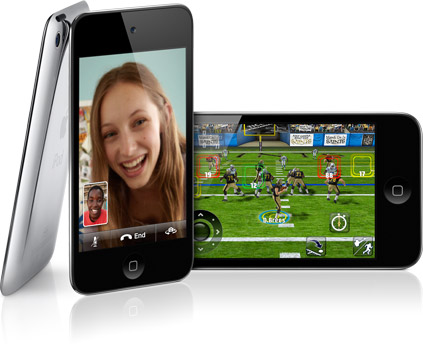 In addition to handling music the lovely display can be used to read eBooks from the Amazon Kindle store or Google Books as well as others. You can also use the device to read textbooks in college or when it comes time for entertainment to play Netflix movies or rent TV shows form teh iTunes store.
There are also an almost uncountable number of apps to pass the time in lines or in meetings that are appropriate for all ages. The iPod Touch may be one of the gifts that spans the largest age groups as we have seen them in the hands of toddlers and senior citizens — almost always accompanied by a smile.
If your recipient is a lover of subscription music services like Rhapsody, they can even use the Rhapsody iPod Touch app to take their music with them instead of buying tracks that won't be listened to anymore next week.
The iPod Touch comes in several sizes 8GB, 32GB and 64GB starting at $229 from most retailers like Best Buy where you can also get a $40 gift card with purchase which is almost as good a deal as we saw on Black Friday. You can also find the iPod touch starting at $215 at Amazon.com which may be cheaper since you aren't charged tax up front and starting at $214 at Walmart.
Here's a look at the iPod Touch:
If you have questions about this gift and who might like it leave a comment below.
Advertisement