All across the United States, one of the most significant signs of Spring is the crack of a bat at the local baseball and softball fields. From the tiny teeball tots to the big league boys of summer, baseball is a passion for Americans. But, so is technology. What do you get when you put the two together? GameChanger!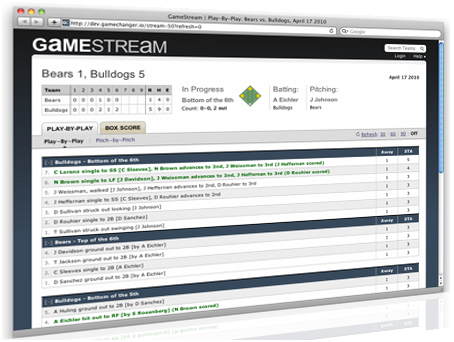 Previously, following live online stats has been reserved for the pros or big time college teams. But with GameChanger, a baseball and softball statistics management system, fans can keep track of any team online.  It offers something for everyone. Coaches can use GameChanger to keep track of stats and to score their games. Parents or fans can follow their favorite ball players' progress, and the player can show off his or her skills to friends, family or even prospective college or pro recruiters. GameChanger is the combination of a web site, a scoring app for the iPhone, and users who want to either score a game or track the game stats live or after the fact.
Here is how GameChanger works: A representative of a baseball or softball team will sign up for the service at the GameChanger web site. The service is free for the person keeping score and entering the stats. Once you have signed up and logged in, you set up your team by adding players to the roster and then games to your schedule.
On game day, setting up the roster is a simple drag and drop action. Once finished, you are ready to score the game using the iPhone app. It will be easier if you register and set things up online. However, you can do it through the iPhone app too.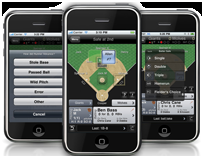 If you have ever used one of those score keeping notebooks, you will find the system simple to use. In fact, one GameChanger user named Greta, from Omaha, Nebraska, said:
Keeping score is so much easier with GameChanger, everything I need is right there, on my phone.
The interface can be a little complicated, so make sure you follow the help videos on the web site which explains how to set things up and score a game. Below is a video from the GameChanger web site that shows how to score a game:
Once you learn the system, it is much easier to score the game than using that old score keeping pad. This is not the only value to the service. The two things that make GameChanger a "game changer" is the ability to follow the game live and view stats after the game is over.
Our fans love the service.  We have many parents on our team who have more than one child in sports.  These parents can watch the game on their web enabled phone while they are at a different game with their other child.  Grandparents who don't live in town can still "watch" the game unfold on their computer.  It is the best and most used app I have on my iPhone! (Greta, Omaha, Nebraska)
Erik is a little league coach from Somerset, Massachusetts. He said the scoring system is "intuitive and straightforward."
Short of sounding too cute, GameChanger has been, well, a game changer … there's never a question of what needs to be entered, or how to enter it, and I always have the information at my fingertips. If I ever need to know what my players are hitting, or what my pitchers' pitch counts are, it's only a click away. No more worrying about finding a pencil or, better yet, someone who knows how to score/keep a book.
You can see how the service saves the person in charge of tracking stats a ton of post game number crunching. Instead of figuring a pitcher's ERA or the player's batting averages, everything is updated in real time and posted for people to see online if they sign in and follow your team.
One team using GameChanger made their local news
If you are a parent or fan of a team, you will love the ability to follow games online through the GameChanger web site. When someone signs into the site and finds your team's web page ,they can launch what is called the GameStream. From that screen, they can view how the game is going. The GameStream is updated whenever a player bats. If he or she gets a hit, you will see it almost immediately. This would be great for a fan or a parent who cannot attend the game.
After the game is over, anyone who is following the team can check on stats. The proud parent can brag to his coworkers about little Johnnie's game winning home-run or how his little Sussie pitched a no-hitter. College scouts could be directed to a prospect's team page to follow the player's stats and progress during a season. And, the coach can get the stats to see how a player is doing and make choices about future lineups based on how the player is doing.
If you are the web master for your local school, you can use GameChanger as well. The service allows you to put a live scoreboard on your own web site.  You don't have to even know any HTML. Just copy and paste the code onto your site. This way fans can go to MyHighSchoolPage.com and check up on how their team is doing. You can also promote the team by posting the game info to Twitter, Facebook ,or via a link to the scoreboard in an email. There are also live updates via text message. For offline promotion, you can quickly and easily create a printable flier to hand out to fans at another event or during the game for future games.
For fans, the service is free unless you want to have access to live stats. Post game stats are also free but more advanced stats are part of the paid subscription. Currently, the service is in beta making all of the information free. But once the beta phase is over, fans will be able to sign up for a subscription for a fee.
Right now ,the scoring app is only available as an iPhone or iPod Touch app. Of course it will work on the iPad, but a native HD app is not yet ready, thought they are planning to create one. After using the iPhone app, I can see that an iPad app would be much easier to use. But, the iPhone app is not too complicated, especially after viewing the tutorial videos.
An Android Game Changer app is "definitely in the pipeline" and most likely to be available for the fall of 2010. A Blackberry version might also be coming.
GameChanger is focused specifically on baseball and softball. However, I spoke to Ted Sullivan, CEO of GameChanger, and he said that their hope is to expand to other sports.
This is the first season that GameChanger has been available publicly. The service is used by over 3,000 teams nationwide. At first, it was primarily in Southern California, Texas and Florida. But ,they are expanding quickly. I can see why since it is essentially a free service. The team won't have to pay anything. This is good when some public and even private schools are struggling to even put teachers in the classroom, let alone pay for something like GameChanger. Little league teams could never afford this. Fans of a team can also use part of the service for free. The avid fan will have to pay for more advanced stats, but I think for nonprofit organizations running school or recreational leagues, this is a no-brainer.
Pros:
Free for the team, school or league to set up and score games
Great information available
Convenient app right on your iPhone
Very good support and help tutorial videos
Info is available to fans, players and coaches in real time
Cons:
No app yet for other platforms
Advertisement