Apple will be holding a special press announcement event on September 1 to possibly reveal a new Apple TV or the new iPod Touch depending on whether you believe speculation from Bloomberg or Engadget or both. As
Engadget postulates, September 7 is the last day of the free iPod with a purchase of a Mac promotion, making it a good time to unearth a new iPod with a camera, Facetime functionality or other new features like a retina display more like the iPhone 4.
At the same time there are a lot of rumors floating around about Apple TV with $.99 show rentals from networks like CBS, NBC, ABC-Disney, and FOX. ABC and FOX are closer to a deal.
If true, users would have the ability to rent an episode of their favorite show from one of the networks involved for 48 hours after purchase. While the deal is reported to be tied to iTunes, TV shows are best watched on a TV. There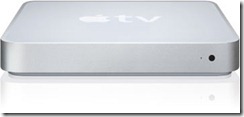 has long been speculation of various updates to Apple's set top box. Bloomberg is saying that Apple will introduce a new Apple TV, which will interface with the iOS devices including a new iPod Touch. The Apple TV will cost $99 and have a smaller hard drive being more focused on streaming than storing content.
September is the normal time for iPod refresh updates and lately, Apple has been announcing their press events very close to the actual date of the events so this rumor could be true.
Advertisement