The latest update of the Netflix app adds compatibility with the iPhone and iPod Touch. Previously, Netflix was only available for the iPad.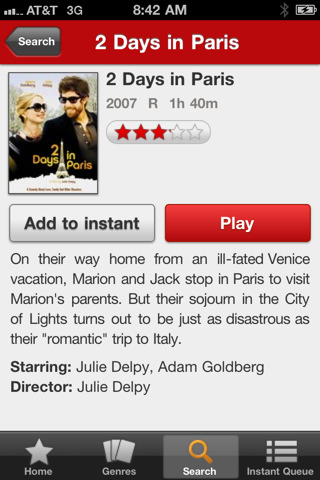 If you have an iPhone or iPod Touch running iOS, head on over to the App Store and download the free Netflix app. Netflix for the iPhone was announced when the iPhone 4 was unveiled at WWDC, but hasn't been available until now. If you have a Netflix account, you can now instantly watch TV episodes and movies, right on your mobile device. Additionally, you can search for movies and add them to your instant Queue, directly on the iOS device. This is a feature that many Netflix capable Blu-ray players still lack.
Netflix for the iPhone will work over 3G, but be careful as you may quickly burn through the cheaper, but capped, data plans.
Click here to download Netflix for your iPhone, iPod Touch, or iPad.
Via Engadget
Advertisement