Apple issued an update to iTunes bringing the release version number to 10.2.2. This update is not a major one. It has some minor bug fixes relating to syncing, iTunes store previews and stability. iTunes updates often come around the same time as an iOS release. The latest version of iOS 4.3.2 was recently released. One might guess that the iOS update was an anti-jailbreaking release since the previous version of iOS has already been jailbroken.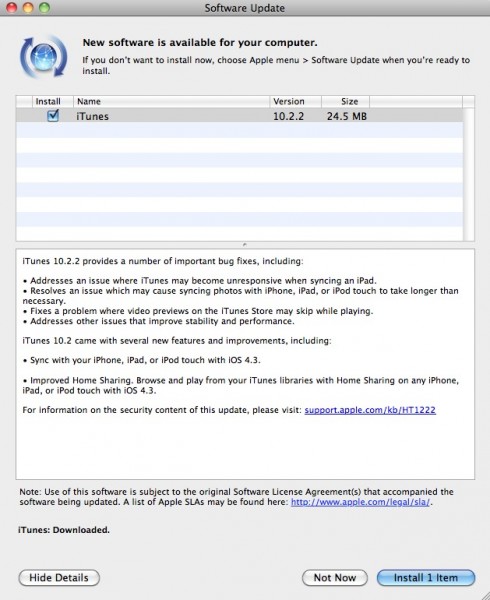 Here is the list of what Apple is saying is in this latest iTunes release.
iTunes 10.2.2 provides a number of important bug fixes, including:

• Addresses an issue where iTunes may become unresponsive when syncing an iPad.

• Resolves an issue which may cause syncing photos with iPhone, iPad, or iPod touch to take longer than necessary.

• Fixes a problem where video previews on the iTunes Store may skip while playing.

• Addresses other issues that improve stability and performance.
As always, to get the update on a Mac, go to the Apple menu and select the software update item. In Windows use the Help menu in iTunes where you will find the update menu item. The details about the security updates in this release are at the Apple website. Apple doesn't say much about security fixes in order to protect those who do not update in a timely fashion.
If you haven't already, be sure to get the latest updates for Safari (on both Windows and Mac) as well as the update for OS X which is a security update. We recommend getting all security updates on both Windows and Mac as soon as you can. Once the manufacturers release these updates nefarious people may try to exploit systems that don't apply the patches in order to gain control of your system or do harm to your system. You un-patched system could be used to do harm to others through the Internet without you knowing it.
Advertisement