As part of a new rollout of products, including a new home server and products aimed at the home theater market, Lenovo added a new notebook to the IdeaPad lineup. The IdeaPad U450p builds on the popularity of Lenovo's slim 13″ IdeaPad U350; adding an optical drive and a discrete video card to provide better handling of graphically intense applications such as HD video.
The U450p weighs less than 5 pounds, is .9″ at its thickest and thanks to an energy efficient processor it claims 6 hours of battery life from the included 6 cell battery. The 14″ Anti-glare display is LED backlit packs a 1366×768 resolution. The u450p also has an HDMI port which will let you connect to external displays and HDTVs with ease. The increased ability to display HD video and gaming applications comes from the Intel integrated GMA 4500 MHD which is standard on the IdeaPad U450p.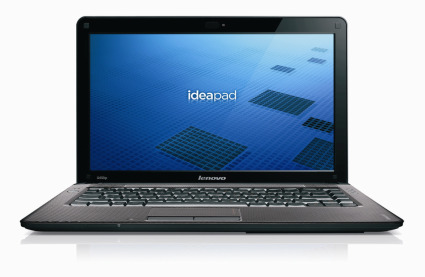 The addition of an optical drive to the slim and compact IdeaPad lineup of laptops is a welcome one for many users who cannot fathom life without a DVD drive. The U450p's drive will allow users to read and write to Dual Layer DVDs.
Other extras that ship with the IdeaPad u450p include facial recognition technology for logging into your computer by way of the 1.3 MP built in webcam and OneKeyâ"¢ Rescue System to make dealing with a computer failure easier.
The IdeaPad U450p is available today at Lenovo.com and starts at $799 for the base model which includes a 250GB HDD, 3 GB RAM, and a 1.3 GHz Intel Pentium® SU2700 processor. A $899 version is also available which sports a 320 GB HDD, 4 GB of RAM, and a 1.4GHz Intel® Coreâ"¢ 2 Solo SU3500 Processor.
Advertisement