The $899 HP Folio 13 is not the thinnest or lightest ultrabook on the market, and it stands as proof that what makes a good ultrabook isn't razor sharp edges or the ability to float away like a feather. Instead it's about the balance between power and portability, design and function.
HP did so many things right with the Folio — it looks good, performs well, has great speakers, and lasts all day on a charge — that the one misstep stands out and nearly derails the whole thing. We've been here before with the troublesome clickpads. Things have gotten better, but still not good enough.
The central question for potential buyers is whether a sub-par touchpad is enough to put them off the entire laptop?
Pros

Sturdy, attractive design
Long battery life
Good overall performance
Well-rounded audio
Backlit keyboard

Cons

Difficult clickpad
Narrow viewing angles on the display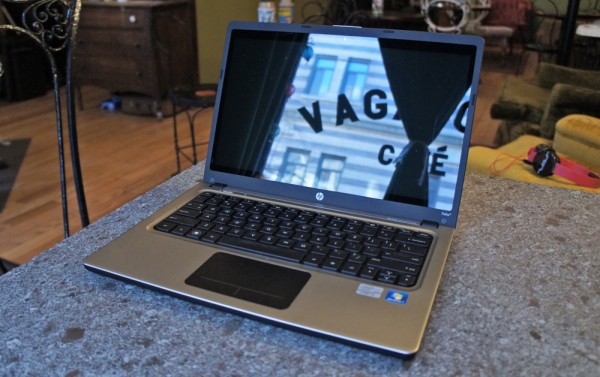 HP Folio 13 | $899 | Ultrabook

The Competition
HP Folio 13 Video Review
Watch our video review below for the highlights of the HP Folio including speedy performance and a demo of the clickpad.
Who is the HP Folio 13 for?
HP is selling this ultrabook on both the consumer and enterprise sides, positioning it as a great choice whether you're using it for work or everyday computing. Mobile workers who want thin and light and don't need a workhorse or heavy duty machine won't be disappointed with the Folio's overall performance. Mainstream consumers who value portability and need a decently powerful laptop should also take a look. Students in particular.
Design
The Folio 13 isn't a big departure style-wise from HP's other business laptops, and that's a good thing. We're fans of the ProBook look, so seeing it slimmed down is great.
Brushed aluminum graces the lid and deck, minimizing the appearance of fingerprints. The bottom and rounded edges are plastic with a soft-touch coating that makes the notebook comfortable to carry with the side benefit of looking good.
HP kept the color scheme simple as well; the silver color contrasts with the black keyboard, touchpad and bottom panel to create an elegant, minimal look.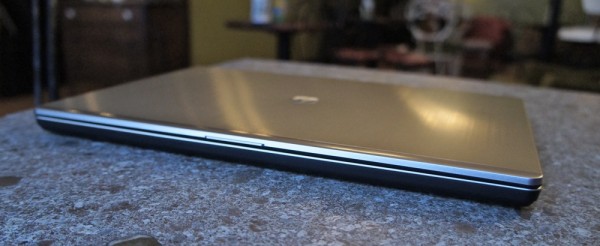 Pressing down on the lid or the wrist rest betrays a slight flex despite the aluminum. I also noticed it a bit when carrying the ultrabook by the corner. It doesn't flex as much as the Toshiba Portege z835 and doesn't feel un-sturdy.
When you pick this laptop up you know right away that it's an ultrabook thanks to the 3.3 pound weight and 0.7-inch thickness. It's not as light as the Portege z835 (2.5 pounds) or as thin as the Lenovo IdeaPad U300s (0.6-inches, 3 pounds) so it comes off more as a "mere" ultraportable, but that's no cause for complaint. It's still light enough to carry all day without straining your back.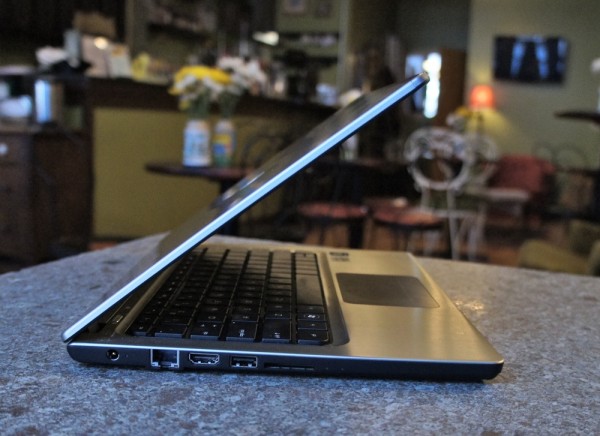 Skimping on ports won't do for a business machine. The Folio 13 has two USB ports (2.0 and 3.0), an SD card slot, and full HDMI and Ethernet ports plus a combo headphone/mic jack. I'd appreciate at least one more USB port as on the Portege z835 since this is a 13-inch system. VGA ports feel less necessary, especially with ultraportables. However, it's worth noting that the Portege has one of those as well.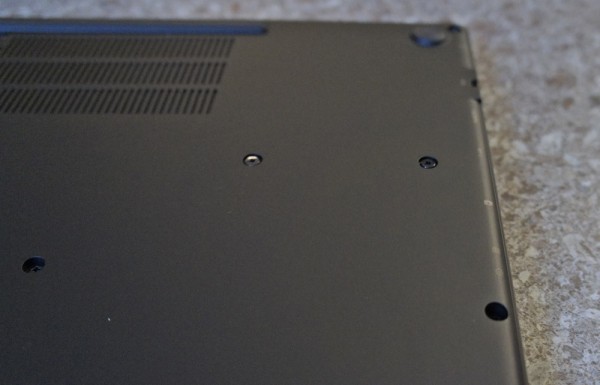 Screws on the bottom are all accessible, so users will be able to open the Folio up to replace components. There's no removable battery, just like all the other ultrabooks we've seen so far.
Keyboard and Touchpad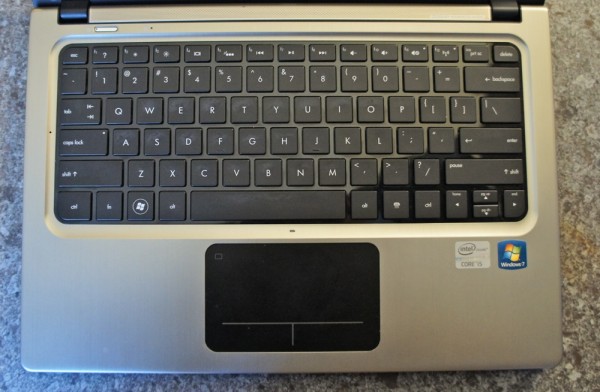 The spill-resistant island-style keyboard is standard HP. Space between the wide keys is ample. There's no dip at the center, which helps with accuracy, though the tops have a slight matte coating that compensates. Tactile feedback isn't strong, but neither are the keys mushy or weak.
The white backlight illuminates and outlines each key isn't as strong or bright as I'd like — the MacBook Air's backlight is about what I expect — but is welcome, especially on a business laptop.
It appears that HP is not giving up on the clickpad, at least not for their premium laptops. The one on the Folio isn't as troublesome as clickpads of the past, but it's still not as easy to use as the MacBook Air's.
Most basic usage is fine, though when I needed very fine accuracy the clickpad couldn't deliver. It took some tweaking to get the palm check to the right sensitivity to keep my cursor from jumping around as I typed.
The left and right clickable areas are a little stiff and did not improve with use.
The clickpad's multitouch capabilities are a mixed blessing. Resting one finger in the area where the left mouse button would be sometimes causes the pointer to get confused or to activate multitouch gestures. As I got used to the clickpad this happened less, but it made my first few days very frustrating.
Pinch to zoom is almost useless with the default settings as the slightest movement will zoom in or out at least 10 levels, which isn't what people usually want to do. After I adjusted the sensitivity in Mouse settings and rebooted it didn't escalate the zoom so quickly but never got smooth.
Two-finger scrolling is the only exception to the multitouch issues — this worked well each time I used it.
Display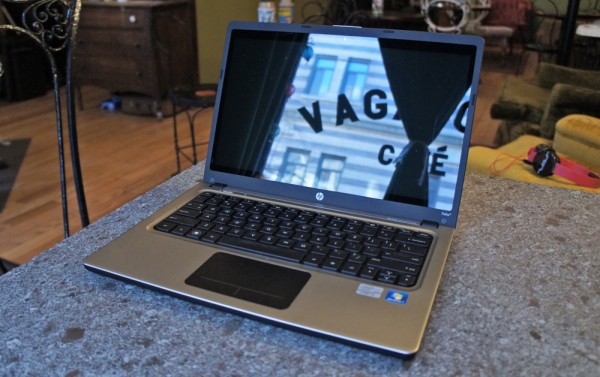 The Folio's 13.3-inch, 1366 x 768 glossy display offers nice, deep colors if you're sitting in the sweet spot. The viewing angles are narrower here than I like, especially the vertical ones.
If the display is tilted too far forward you get blown-out brights and not enough color depth. Pushing it back all the way gives the best result, but this isn't very useful for cramped quarters, such as an airplane tray table.
Horizontal angles aren't too terrible if you've got the display at the right vertical angle, but this means sharing the screen with more than one person only works out if everyone is on the same level.
Due to the glossy coating the screen is very reflective, so you won't want to take this ultrabook out in the sun or sit directly under bright fluorescents.
Features
HP is selling the Folio 13 through their consumer and business channels. The only differences on the business side are the addition of a TPM 2.1 security chip, which protects personal data on the system, and Windows 7 Professional 64-bit instead of Home Premium. This model costs $999.
Both consumer and business users will appreciate the HD webcam. In good lighting it captures crisp, detailed pictures. In low light the quality goes down fast. Even under less than perfect conditions you won't get much blur and colors are accurate enough.
The thin speaker bar at the top of the dock produces surprisingly well-rounded audio. It's one of the best speakers I've heard on a system this thin and trumps several normal-sized laptops I've listened to as well.
Multimedia fans will appreciate the inclusion of Intel's Wireless Display (WiDi) technology. Coupled with a receiver (sold separately for $99) users can broadcast their screens to an HDTV.
Performance and Graphics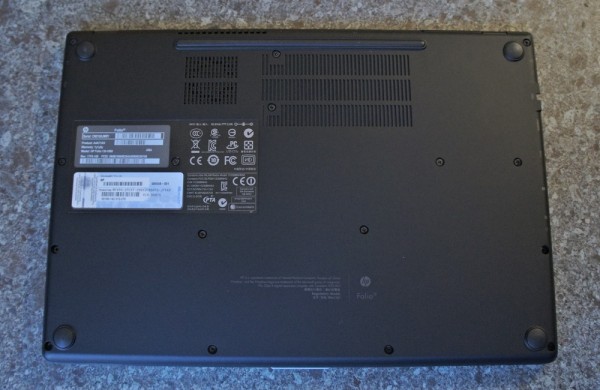 Due to their ultra thin design, ultrabooks all run on ultra low voltage processors. This means that the chips inside are the same as you'll find in regular laptops but with lower speeds to cut down on heat. This also cuts into performance somewhat. The trick is finding a balance between acceptable performance and heat.
The Folio 13's 1.6-GHz Intel Core i5-2467M CPU, 4GB of RAM and 128GB SSD achieve this balance well. The ultrabook handled productivity tasks as easily as multimedia-focused ones.
The notebook zipped through a batch process on a group of 10 hi-res images using Photoshop Elements and a 500 contact mail merge in LibreOffice. At one point I had over 30 tabs open across Chrome and Firefox and saw no signs of choking.
Thanks to the SSD, boot times averaged 24 seconds. The Folio took just 3 – 4 seconds to resume from sleep.
Though you can do some light video editing on this system in decent time, I wouldn't recommend it for anything heavy-duty, especially given the GPU.
Intel's integrated graphics aren't good enough for serious gaming either, but casual and Flash-based games ran well. HD video content played smoothly at full screen and I saw no errant pixilation during transitions between light and dark scenes or hitches during moments of languid motion.
The Folio got noticeably hot during multimedia playback and times of intense productivity. Most noticeable on the bottom, the temperature didn't get hot enough to harm, but was uncomfortable on my lap.
The bottom line is that the Folio's performance is good enough that it can serve as your primary laptop, not just a more portable companion, as long as your needs don't include heavy duty multimedia creation or gaming.
Battery Life
On the LAPTOP Magazine Battery Test, which involves constant surfing over Wi-Fi with the screen at 40% brightness, the HP Folio lasted 8 hours and 2 minutes. That's longer than the Lenovo IdeaPad U300s (6:18) and the Toshiba Portege z835 (5:56) on the same test. In my time with the Folio I've been able to use it for 5 to around 6 and a half hours with the brightness at 60 – 90% while multitasking. So you should get all day use out of it even without having to pull out all the battery-saving stops.
The Bottom Line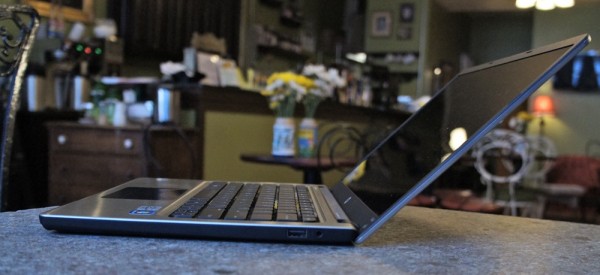 The HP Folio 13 is one of the best ultrabooks we've seen so far in terms of performance, battery life, and design. I would recommend it without hesitation if it didn't have that dodgy touchpad. And that's a hard flaw to ignore considering it's one of the most important elements of a laptop.
At $899 it's only $50 more than the Toshiba Portege z835. While that system is thinner and lighter it can't compete on performance. The Lenovo IdeaPad U300s has a more powerful CPU but costs almost twice as much and has fewer ports. The Folio manages to hit a nice goldilocks zone.
If this ultrabook has everything else you want it just might be worth dealing with an external mouse to get all the other benefits. The clickpad's sensitivity settings are tweakable, and it's possible that there's a way to make it less frustrating to use.
HP Folio 13 Gallery
HP Folio 13 Specs
| | |
| --- | --- |
| OS | Windows 7 Home Premium 64-bit |
| Display (size/res) | 13.3-inches, 1366 x 768 |
| CPU | 1.6-GHz Intel Core i5-2467M (2nd gen) |
| RAM | 4GB |
| Graphics | Intel HD Graphics 3000 |
| Storage | 128GB SSD |
| Optical Drive | none |
| Wireless | Intel 1030 Wi-Fi 802.11 b/g/n; Bluetooth 3.0, WiDi |
| Ports | 1 USB 3.0, 1 USB 2.0, HDMI, Ethernet, SD/MMC card slot, headphone/mic |
| Size | 12.5 x 8.7 x 0.7 inches |
| Weight | 3.3 pounds |
Advertisement