The Gateway NV51B05u is a 15.6″ notebook that uses the new AMD Fusion E-350 processor normally found in smaller 11.6″ ultraportable notebooks. Sticking a processor normally found in a netbook in a larger notebook would normally be a horrible idea, but the new AMD Fusion processor has more than enough power to meet the needs of the budget minded target users who will be considering the NV51B05u.
At a starting price of $469 from retailers like Frys, the Gateway NV51 needs to deliver on performance and overall user experience to weigh in against budget systems that rely on last year's Intel Core i3 processors. In this case, the AMD Fusion powered Gateway NV51 notebook does come through, offering a nice value to buyers.
Gateway NV51B05u Quick Specs:
The Gateway NV51B05u is powered by the AMD Fusion E-350 1.6GHz processor, 3GB DDR3 RAM and a discrete AMD Radeon HD 6130 GPU which helps the system deliver in the graphics department. The Gateway NV51 comes with a 500GB hard drive, 1.3MP webcam and a DVD Super Multi Drive. There are a standard collection of ports and connectivity options including HDMI out. The 1.56″ LED backlit display has a 1366×768 resolution.
Who is the Gateway NV51B05u For?
The Gateway NV51B05u is a notebook designed for the average home user or a student with very simple computing needs. With a big bright screen and capable processor the notebook is great for surfing the web or working on office documents, but can also transition to entertaining with YouTube, Netflix or watching a DVD on the built in drive. While there is a discrete graphics solution, you won't be playing games lie Call of Duty on the Gateway NV51, but you can handle some casual gaming.
Gateway NV51B05u Hands On Video:
Gateway NV51B05u Build and Design: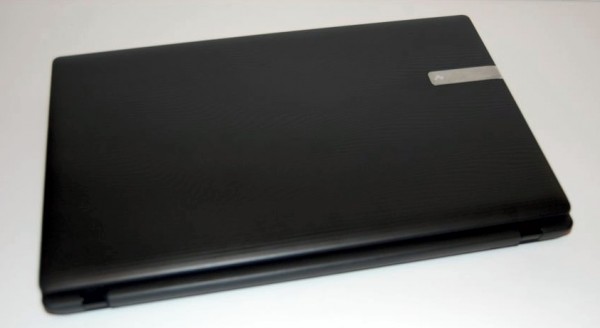 The Gateway NV51B05u stands out from many other notebooks in this price range with a very solid feel, a fingerprint resistant lid and a few other nice touches. The whole body of the NV51 feels quite sturdy in our standard notebook stress test and should be perfectly fine for home or school use.
The metal hinges are sturdy and do a good job of keeping the screen where you put it, even in a bouncy car. We also like that the display can be tilted back pretty far, making it easier to find a viewing angle that works for you.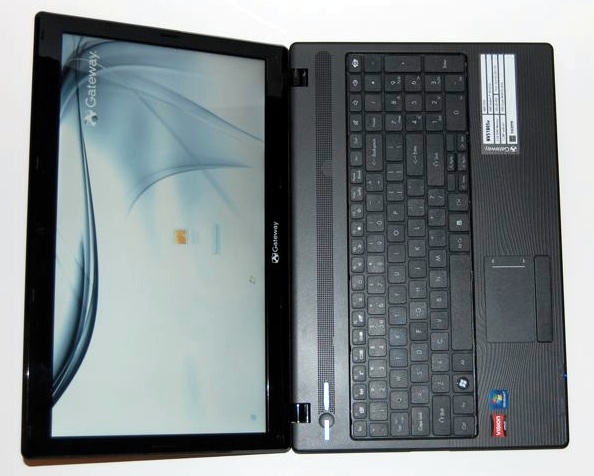 The case is made of plastic, which is to be expected in this price range, but the ridges that run through the plastic on the lid and the palmrest give a nicer than average feel.
The NV51B05u isn't an ultra light, but it is easy to take with you thanks to a compact design and an easy to carry weight.
Gateway NV51B05u Features:
The biggest feature on this relatively average notebook is the inclusion of the AMD Fusion E-350 processor which is more than capable of tackling the tasks and needs of home and student users. The AMD FUsion E-350 dual core processor is coupled with a discrete Radeon HD 6130 GPU which means you can also kick back and entertain yourself with some games and movies.
Gateway NV51B05u Display:
The Gateway NV51B05U has a 15.6″ LED backlit display with a 1366 x 768 resolution, which is on par with the notebooks in this price range. The viewing angles are pretty wide, meaning that you can share this screen with a friend or two for watching a movie if you need to. The display tilts back quite a bit for a notebook of this size and price which allows you to find a nice viewing angle in almost any situation.
The screen is definitely bright enough, and we found that even with the display set at 40% brightness during our battery test the display was bright enough to use comfortably.
Gateway NV51B05u Keyboard and Touchpad: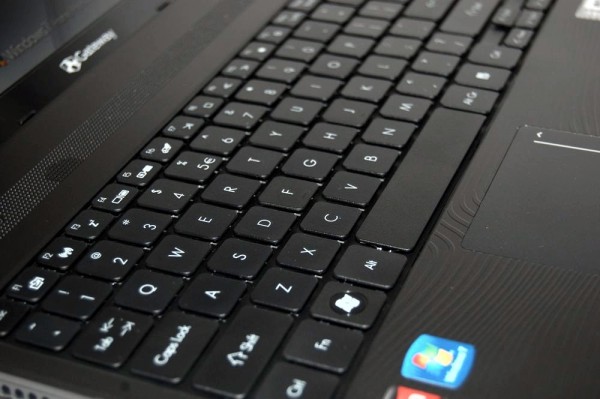 The Gateway NV51 keyboard is an island style keyboard and shows a marked improvement over previous NV51 keyboards, which were nearly impossible for us to use. The keys are a bit close and flat, but they offer a decent amount of feedback and have a nice finish to them. We could type on this notebook for hours without issue, not something we normally find in this price range.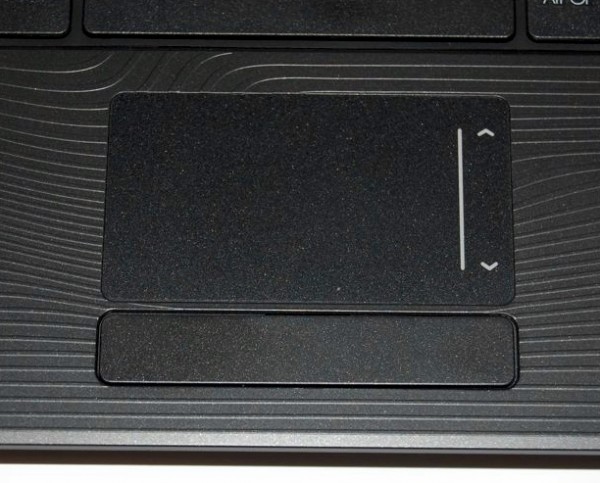 The Mouse on the Gateway NV51B05u is pretty nice. The size is about average for a budget notebook and responsiveness is good. We tried out the multitouch gestures and were pretty impressed with the performance of two finger scrolling. It wasn't perfect, but better than we have seen on many Windows notebooks. The mouse button is one single button, but works out nicely as far as single button trackpads go.
The only real issue we had with the mouse was that our palm would often move the cursor while we were typing for extended periods. This can be adjusted and improved, but it would be nice to have a one touch button to turn off the touchpad during long typing sessions.
Gateway NV51B05u Processor and Performance:
The biggest reason we couldn't wait to test out the Gateway NV51B05u was that it includes the AMD Fusion E-350 1.6Ghz Dual core processor and a built in, yet discrete, AMD Radeon graphics card and claimed to deliver above average performance for notebooks under $500 which normally rely on poor quality integrated graphics.
We tested out the AMD Fusion powered NV51B05u in many settings and overall were pretty impressed with the performance and range of tasks we could accomplish on this affordable notebook.
The first test, was to open up an array of apps that home users will find open at the same time. To do this we tried out Word Starter, Chrome with numerous tabs and a few other random apps open in the background. We played Pandora in one of the Chrome tabs. During this standard use scenario, we had no lag or issues with the performance of the Fusion processor.
We also tried doing some light movie editing with Windows Live Movie maker and edited some photos in Windows Live gallery and were pleased with the results. We wouldn't want to use this machine to edit video professionally, or to edit video every day, but for a few random projects or for splicing and uploading a family reunion clip to YouTube, the NV51 will suffice.
Gateway NV51B05u Multimedia and Gaming:
Thanks to the AMD Radeon HD6130 graphics card, you can actually use this notebook to game and watch HD video content without giving up on too much quality. We tested out the NV51 with HD video and streaming Netflix and had no trouble at all. Normally, when you try to play HD content on a sub $500 system with integrated graphics the video will stutter or drop some frames, but we didn't notice the issue on this system.
When we started gaming on this notebook we were also surprised. In loading up a demo of FIFA 2011 from late 2010, we were pleased to see that the system performed great with the medium setting which was still a great experience on the go. We could play on High, but there was a bit of lag that detracted from the fast pace of the game.
You won't be playing Call of Duty Black Ops, but AMD Fusion and the included Radeon HD 6130 graphics prove that gaming on a sub-$500 notebook is possible and actually enjoyable.
Gateway NV51B05u Audio and Speakers
As far as audio goes, the NBV51B05u will meet the needs of most home users, but you will likely want to grab a good pair of headphones or an affordable set of speakers to keep at home so that you can turn up the volume when you want more sound.
Gateway NV51B05u Heat and Noise
The AMD Fusion processor is designed to be very heat efficient and to go in much smaller notebooks than this 15.6″ NV51, which means we have no issues with heat while using this notebook for normal tasks. Yes, it will heat up a bit when you game on it, but we never got uncomfortable.
Gateway NV51B05u Battery Life
The battery is another impressive area on the NV51B05u. Even though Gateway rates the battery at 4.7 hours, we were able to get 5 hours and 20 minutes of battery life while surfing the web with the screen at 40% brightness. A very impressive number for a laptop in this price range.
Gateway NV51B05u Connectivity:
The GateWay NV51B05u has a decent selection of ports including a HDMI port, which isn't always found on notebooks under $500.
Left: Power, Vent, VGA, Ethernet, HDMI, USB 2.0, Mic, Headphone

Right: USB 2.0, USB 2.0, DVD RW Drive, Kensington Lock
Front: SD card reader near left edge
Back: Battery
Gateway NV51B05u Webcam:
The Gateway NV51B05u webcam isn't the greatest quality, but on the other hand, it isn't a bad webcam. If you just want to do the occasional web chat with a friend or coworker you'll be able to use the built in one without coming across as a fuzzy mess.
Gateway NV51B05u Software:
The Gateway NV51B05u comes with a collection of preinstalled applications like Microsoft Office Starter, Nook for PC and some games. There is also a Norton Internet Security suite. Overall, it's an OK out of the box experience. The Norton Internet Security suite is only a trial, but it's not as obnoxious about asking you to subscribe as other trial apps are.
Gateway NV51B05u Value:
The NV51B05u offers an incredible value for the price. It's one of a few 15.6″ notebooks under $500 that can handle almost anything we ask it to, including playing games that you would want to play. We definitely think that the AMD Fusion E-350 dual core processors are living up to their claim of deliver an affordable, no compromise computer. You can find a similar models available at Best Buy and other retailers, which should offer a similar experience.
Gateway NV51B05u Conclusion:
Sometimes we get a notebook in that exceeds our expectations in almost every area. The Gateway NV51B05u is just such a notebook, and is a perfect choice for many home users who want a no compromise notebook for under $500. Everything from the build quality and battery life to the keyboard and performance really impressed us at the price of $469.
Pros:
Great Performance (for the price)
Nice Keyboard
Good Build Quality
Overall Value
Cons:
Gateway NV51B05u Gallery:
Gateway NV51B05u Detailed Specs:
| | |
| --- | --- |
| Processor | AMD E-Series Processor Dual-Core E-350 (1.6GHz, 1MB L2 Cache) |
| Operating System | Genuine Windows® 7 Home Premium (64-bit) |
| Memory | 3GB Dual-Channel DDR3 Memory |
| Hard Drive | 500GB 5400RPM SATA hard drive |
| Color | Wave Pattern Case Design with Satin Black Lid |
| Chassis | Chassis with ATI Radeon® HD 6310 Graphics with up to 256MB of dedicated system memory supporting Shader Model 5.0 and Microsoft® DirectX® 11 with AMD A50M Fusion™ Chipset |
| Wireless Network | 802.11b/g/n Wi-Fi CERTIFIED™ |
| Optical Drive | 8x DVD-Super Multi Double-Layer Drive |
| Adapter | AC Adapter |
| Application Software | Microsoft® Office Starter 2010 |
| Battery | 6-Cell Lithium Ion (4400 mAh) |
| Battery Life | Up to 4.7-hours |
| Convenience Features | Social Media Key and Dedicated Numeric Keypad |
| Digital Media Software | Cyberlink® PowerDVD™ & Nero 9 Essentials |
| Dimensions (Box) | 2.95″ (H) x 20.16″ (W) x 12.8″ (D) or 75mm (H) x 512mm (W) x 326mm (D) |
| Dimensions (System) | 1.22″-1.34″ (H) x 15″ (W) x 9.96″ (D) or 31-34.14mm (H) x 381mm (W) x 253mm (D) |
| Display | 15.6″ HD Widescreen Ultrabright™ LED-backlit Display (1366 x 768 resolution, 16:9 aspect ratio) |
| External Ports | (3) USB 2.0, VGA Port, HDMI™ with HDCP Support |
| Keyboard and Mouse | Full-Size Keyboard with Multi-gesture Touchpad |
| Media Card Reader | 2-in-1 Digital Media Card Reader (Multi Media Card™ & Secure Digital™) |
| Network | 10/100/1000 Gigabit Ethernet LAN (RJ-45 port) |
| Productivity Software | Adobe® Reader®, Adobe® Flash® Reader, Gateway MyBackup Solution, Gateway Recovery Management |
| Security Software | Norton Internet Security™ (60-day trial) |
| Sound | High-Definition Audio Support, Mono speaker, microphone, headphone/Speaker/Line-Out Jack |
| Warranty | 1 Year Parts and Labor Limited Warranty |
| Web Camera | Built-In 1.3MP Webcam (1280 x 1024) |
| Weight | 5.72 lbs. (2.6 kg) system unit only / 11.22 lbs. (5.09 kg.) box |
Advertisement