Best Buy is offering the Gateway NV50A02u 15.6″ budget AMD powered notebook this week for $399. The NV50A02u has a Triple Core AMD Phenom II processor and offers an affordable, yet capable, mobile computing solution.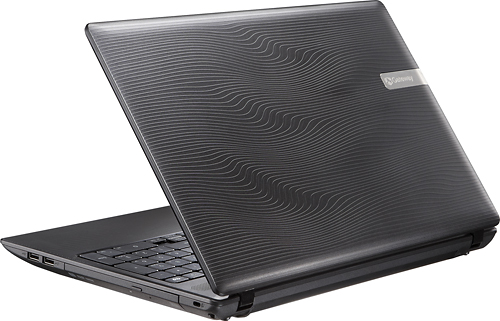 Gateway NV50A02u Quick Specs:
This budget notebook from Gateway has a 2.1 GHz AMD Phenom II Triple Core processor, 4GB DDR3 RAM and a 500GB hard drive. The 15.6″ display has a 1366×768 resolution and is powered by an ATI Radeon HD 4250 GPU with 256MB video RAM.
What can the Gateway NV50A02u Do?
The NV50A02u is suited for the needs of home, student and some small business users. The Triple core processor should provide enough power to handle web browsing, office documents and the photo and video editing needs of average users. With this combo, you will notice an impact in performance while doing intensive tasks like processing a video file to share on YouTube.
Gateway NV50A02u Features:
This notebook has a wave pattern on the lid, similar to the Gateway NV51B05u which we have in for review with the AMD Fusion processor, which looks nice and keeps fingerprints at bay. The laptop has a webcam and comes with Skype preinstalled. The HDMI port makes it easy to connect to your HDTV.
The NV50A02 has a Social Media button which is to the right of the number pad and provides one touch access to the social networking sites.
Gateway NV50A02 Battery Life:
The battery is rated for just under 4 hours, but it will likely come in closer to 3 hours with normal use.
Gateway NV50A02 Gallery:
Gateway NV50A02 Specs:
2.1GHz AMD Phenom™ II triple-core processor N830
4GB DDR3 SDRAM , expandable to 8GB.
Multiformat DVD±RW/CD-RW drive with double-layer support
15.6″ TFT-LCD high-definition widescreen display with Ultrabright technology and 1366 x 768 resolution
500GB Serial ATA hard drive (5400 rpm)
ATI Radeon HD 4250 graphics with 256MB dedicated video memory for lush images and HDMI output for connection to an HDTV.
Social Media key – Allows easy access to popular Web sites, such as Facebook, YouTube and Flickr.
Built-in 1.3MP high-definition webcam with 1280 x 1024 resolution and built-in microphone
2-in-1 digital media reader
3 high-speed USB 2.0 ports
Built-in wireless LAN (802.11b/g/n)
Built-in 10/100/1000 Gigabit Ethernet LAN with RJ-45 connector
Weighs 5.7 lbs. and measures just 1.3″ thin
Dedicated numeric keypad for easy number entry.
Microsoft Windows 7 Home Premium Edition 64-bit operating system
Advertisement