Since CES, we've known that HP is working on its own slate device to take on the magical and revolutionary iPad and today we learned a bit more about the Windows 7 powered HP Slate thanks to a video released by HP CTO Phil McKinney and a leaked HP Slate spec slide that landed on Engadget.
HP's official video demonstrates how HP plans to attack the iPad, focusing heavily on the fact that the HP Slate is running a full computer operating system that is designed with content creation in mind instead of content consumption, that tends to be the big draw for the iPad. You'll also note the dual cameras that will allow you to video chat as well as use the device to take pictures or video of whatever is in front of you.
As Xavier points out on our sister site GottaBeMobile, the fact that the HP Slate runs Windows 7 allows the HP Slate to run iTunes, Firefox and basically any app that can be run in Windows 7. Oh yeah, the HP Slate also supports Flash.
Later in the day Engadget posted a slide that runs down the HP Slate specs, comparing them to the Apple iPad, and providing a rumored price of $549-$599.
The HP Slate will run on a 1.6GHz Intel Atom processor and 1GB of RAM; which puts it on par with many netbooks, though it will support 1080P playback. The Slate will also feature a digitizer that will let users ink on the device to some degree. It's obvious that many users will find the HP Slate more attractive than the iPad, but there are still a few challenges HP will need to overcome before the HP Slate can become as popular as the iPad.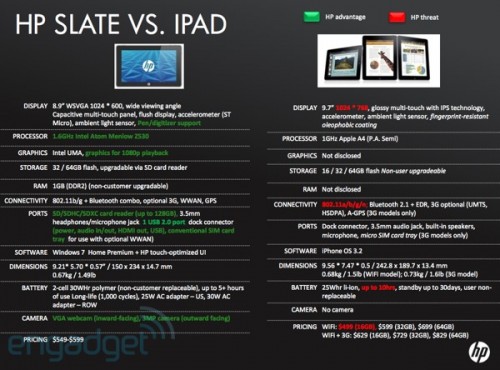 Personally, I wasn't thinking of purchasing the iPad, but since its release I have become fonder of the device and have been contemplating purchasing one. That said, the HP Slate's full OS, ports and more are making me take a closer look at how I would use an iPad and how the HP Slate might be a better fit for my needs. Too early to tell, but these details may be enough to make me hold off until I can get hands on with the HP Slate.
Advertisement