Just like we saw on Black Friday, there a plethora of apps on sale in the iTunes app store including a huge number of EA games like Scrabble, Madden 11 and many more for just 99 cents!
These Holiday app sales are only up for a limited time, but while they are you can score some amazing deals for yourself or gift them to a friend as a the perfect last minute gift for an iPad, iPod Touch or iPhone owner!
EA Holiday App Sales: Pretty much all of the EA apps are on sale, you can find all of the EA iPad Apps on sale or all of the EA iPhone Apps on sale. The top picks on our iPads are shown below. Most of the apps are on sale for just 99 cents, a savings of $9 in some cases.
In addition to these EA apps, there are huge number of additional iPad and iPhone apps on sale for the holidays! Check out a few of our top picks and the full list of iTunes Holiday App Sales from AppAdvice, wait, there are even more Holiday App Sales.
iPhone App Sales:
iPad App Sales:
These are just the tip of the iceberg when it comes to app sales, so pull out your iPad, iPhone or iPod Touch and get shopping since many of these sales won't last long.
To give an app as a gift, find the app you want to give in the app store and click on "Gift This App" in the upper right corner. From there all you need to know is your recipient's email address and you're good to go; you can even gift an app from your iPad or iPhone.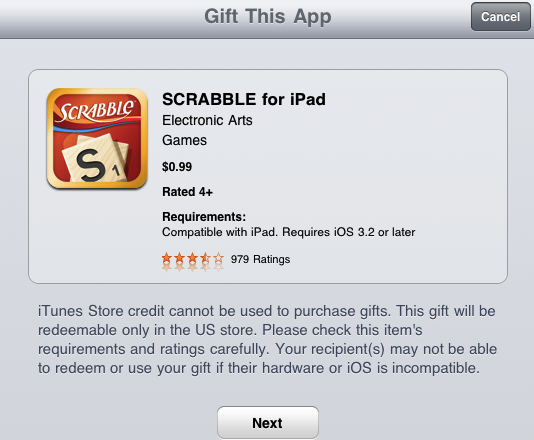 Advertisement