Arnold from MacRumors discovered some digital breadcrumbs that hint that Apple is testing the next generation iPhone. This may mean there's an iPhone with significantly different features compared to the iPhone 3G.
The code in the iPhone's latest firmware update refers to the "iPhone 2.1", which has yet to be announced by Apple.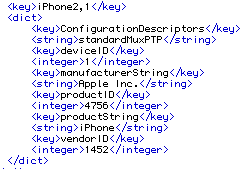 According to Macrumors:
Apple uses these models numbers to distinguish between different hardware models. The original iPhone carries the model number of "iPhone 1,1" while the 3G iPhone is labeled "iPhone 1,2". These numbers do not change for simple storage increases and instead represent functionally different devices.
It's anyone's guess as to what new features will be added to the next generation iPhone. Increased battery life tops my iPhone wish list.
via MacRumors
Advertisement