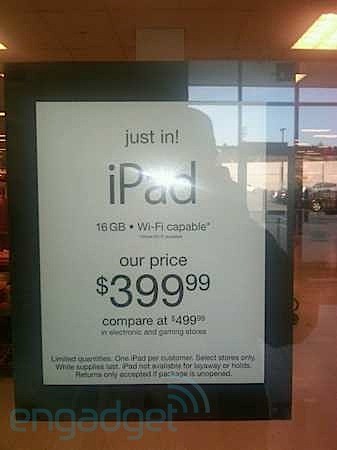 If you've been waiting for the price of the iPad to drop, you better head to your local TJ Maxx or Marshalls! Both of these discount stores are offering brand new iPads for $399 — a savings of $100 on an item that is rarely ever discounted.
MacRumors and Engadget broke the story this morning and it appears that this will be an ongoing deal offered at select TJ Maxx stores. Some stores are reportedly holding stock for Black Friday, which would be the cheapest deal for an iPad on Black Friday. According to the TJ Maxx twitter account the $399 iPad locations are unadvertised.
One of our friends, a local iPhone and iPad developer in Toledo, OH, was able to score one of the new iPads earlier today and reported five more in stock, but within an hour the store had sold out.
Expect these discounted iPads to continue moving quickly throughout the holiday season! If you want to get one you may need to stop by TJ Maxx or Marshalls on a regular basis or slip the manager a $20 to call you when a shipment arrives!
Advertisement